1 Who will be the first-ever Dalit to occupy the post of the Chief Justice of India?
2 What is the name of the line dividing Pakistan and Afghanistan?
3 Which last Sikh ruler of Punjab presented the Koh-i-Noor diamond to Queen Victoria?
4 In which year was the Indian National Congress founded by Scotsman Allan Octavian Hume?
5 Which is the largest circulated newspaper in Andhra Pradesh?
6 Where is the IISco steel plant situated?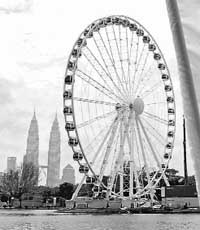 7 In which state is the Kishau dam being built?
8 Name the first Sikh cadet of Pakistan.
9 Where is the world's largest mobile ferris wheel situated?
10Who recently became the first Indians to be married in a hot air balloon?
11Who was the FIFA World Player of the Year for 2006?
12With which sport is Koneru Humpy associated?
13Which country recently won the women's Asia Cricket Cup for the third successive time?
14Name the first Indian cricketer to have been sent home from abroad during a Test series on account of poor form.
15Who recently became the first cricketer to take more than 700 Test wickets?
Name`85`85`85`85`85.........`85
Class`85`85`85`85`85.`85..`85`85
School address`85.`85......`85
Winners of quiz 274:
The first prize by draw of lots goes to Gagan, 9th, Govt High School, Khuda Lahora, Chandigarh-160014.
Second: Japneesh Khroud, X, Gen Gurnam Singh Public School, Sangrur-148001.
Third: Twinkle Sood, 7th-B, Mt Carmel Sr. Sec. School, Thakurdwara, tehsil Palampur, district Kangra, pin 176102.
Answers to quiz 274: Jigme Khesar Namgyel Wangchuck; Ganga, Yamuna, Gomti, Krishna, Tapti; Sukhbans Kaur Bhinder; Diet; Infosys; Sunita Williams; Singur; Dr Chitra Bharucha; Suva; Augusto Pinochet; 84; One; Adam Gilchrist; 53; Guangzhou (China).
Cash awards of Rs 400, 300 and 200 are given to the first, second and third prize winners, respectively. These are sent at the school address.
Note: Kindly mention the pincode of your place to facilitate the delivery of the prize money.
Answers can also be sent at quiz@tribunemail.com
— Tarun Sharma