M A I N N E W S
15 skeletons identified
* Victims' kin given relief
* NHRC notice to UP Chief Secy, DGP
Parmindar Singh & PTI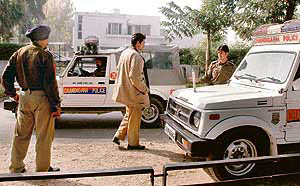 Police Control Room vehicles and personnel are deployed outside the Sector 27 residence of Moninder Singh Pandher, an accused in the Nithari sexual abuse and murder case, in Chandigarh on Tuesday. — Tribune photo by Manoj Mahajan
Noida, January 2
Fifteen of the 17 skeletons recovered from near Moninder Singh Pandher's house, where children were murdered after being sexually abused, have been identified.
Ten bodies were identified by one of the co-accused, Surendra Koli, when he was confronted with photographs of missing persons of Nithari village, during interrogation, Superintendent of Police (Noida) Soumitra Yadav said.
Five other bodies were identified by the parents and relatives of the missing children after clothes and slippers recovered from Moninder's place were shown to them. The remaining two are yet to be identified, he added.
In a day of rapid developments, the Chief Justice of India designate, Mr Justice G. Balakrishnan, called for a thorough probe into the Nithari incident, while the National Human Rights Commission issued a notice to the Chief Secretary and the Director-General of Police, Uttar Pradesh, to submit within two weeks a factual report in this regard.
Meanwhile, the state government stepped up damage-control measures at Nithari village today.
While a high-level probe committee constituted by the state government spent the day in Noida, the state government distributed a relief of Rs 2 lakh each to next of kin of 12 victims. Besides, blankets, rice and sugar were also distributed.
Secretary (Home) Ashok Kumar Sinha and Additional Director-General of Police (Law & Order) A.C. Sharma spent the day holding meetings with district and divisional officers, who briefed the members of the high-level team. In the evening, the committee inspected Moninder Singh Pandher's residence in Nithari for about an hour.
They told mediapersons that they had come to inspect the scene of carnage and collect evidence. "Now, we shall call experts - CMO and other doctors - to advise us in the matter. Let us come to some conclusion, and we shall get back to you," Mr Sinha said.
The day saw more claimants from Sectors 45, 27 and 50 of Noida, and from Ghaziabad and Badarpur on the Haryana border holding pictures of their wards who, they claimed, had gone missing in recent months.
In the afternoon, the CPM took out a procession, demanding death to the culprits and a CBI inquiry into the sordid case.
The processionists raised slogans and squatted on the road as they were not allowed to proceed beyond Ram Vihar Colony by the police.
SSP R.K.S. Rathore said the police had sent teams to Chandigarh, Ludhiana and Haldwani to search Mohinder Singh's houses there. He has a 7-acre farm in Ludhiana.
Though some guns were seized from his Nithari house, no surgical knives or blades were found there, the SSP said, adding that from information gathered so far, organ trade was ruled out.
Meanwhile, at a meeting under the aegis of the Indian Medical Association., Noida chapter, doctors said organ trade was not possible under the given circumstances.
Dr Anil Goel of Max and Vinayak Hospitals, Dr Vijay Khare of Fortis, Dr Subash Singal, Dr Pratibha Singal, Dr Subash Gupta and Dr Vivek Tandon of Metro Hospital were among those who ruled out the organ trade theory in the Nithari case. The Bar Association, at a meeting, decided that no Noida advocate would defend Moninder Singh and Surinder in the court. The members observed a two-minute silence as a mark of respect to children who were done to death.