PUNJAB

HARYANA

JAMMU & KASHMIR

HIMACHAL

REGIONAL BRIEFS

NATION

OPINIONS

MAILBAG

BUSINESS

SPORTS

WORLD


Every Wednesday & Saturday

PM comes home, leaves goodwill
Two high-profile and momentous visits by the Prime Minister, Dr Manmohan Singh, to his home town were nostalgic and sent out positive vibes to the people of the holy city during 2006.
BJP leaders bring down "illegal" kiosks
The pulling down of temporary kiosks installed by shopkeepers in the IDH market and other parts of the city took a political turn with the BJP openly coming forward against such installation at such a pace. The kiosks were put up by the Municipal Corporation, Amritsar, allegedly at the behest of Congress leaders.
Man who made difference to many lives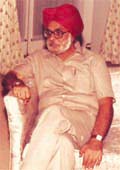 A community is enriched each time a prime mover questions the way things are done,and makes way for the new. One such visionary was Sardar Dilbir Singh whose wise counsel would tide over the rough times and pave the way for development and growth of enterprise. He was also an astute mediator who could resolve many a political or social differences.
Sardar Dilbir Singh

Prof H.S. Bhatia: an academician of distinction


Dr Harbhajan Singh Bhatia, Professor, School of Punjabi Studies, Guru Nanak Dev University, Amritsar, has joined as the Director, Academic Staff College of the university.
Prof Harbhajan Singh Bhatia, Director, Academic Staff College, GND University.— Photo by Rajiv Sharma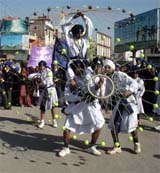 Sikh youth perform gatka during a procession on the occasion of Gurpurb of Guru Gobind Singh. — Photo by Rajiv Sharma

Illegal clubs continue to flourish in Rambagh
January 3, 2007
Breaking free from shackles
December 30, 2006
Stink in Ram Bagh
December 27, 2006
Restoring eyesight his vision
December 23, 2006
Save Virsa Bhawan
December 20, 2006
Farmers keen to breed fish
December 16, 2006
Gulab Singh's fort decaying
December 13, 2006
Khalsa spreads light of education
December 9, 2006
Poor children need no ban
December 6, 2006
Aroma business struggles to stay afloat
December 2, 2006