Punjabi Antenna
A sad start
Randeep Wadehra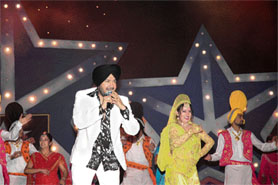 Punjabi media hasn't risen above song 'n' dance shows
The New Year has already arrived. Celebrations were held and resolutions made, triggering a hope for something novel to occur on the idiot box. Alas, 2007 continues from where 2006 left. And, if you have a look at the Punjabi television scene, music and more music – good, bad and indifferent — but music nonetheless remains the staple.
Is the small screen all dull 'n' dismal then? No, thanks to the Punjab elections, our politicians have been the saving grace. Amarinder Singh, along with his coterie, has been all over the small screen – inaugurating anything and everything his acolytes could lay hands on. Other Congressmen keep parroting the Maharaja's great contributions to Punjab's real and imaginary progress.
Now, for the news channels like Punjab Today and Zee Khabran, the opposition parties simply do not exist. One hardly gets to watch Parkash Singh Badal, Simranjit Singh Mann or a BJP spokesman getting decent airtime to reach out to the viewers. Frankly, lopsided news is no news. It is sheer propaganda.
Not a single reporter has dared or cared to ask inconvenient questions to the present as well as aspiring people's representatives. No impartial reportage has been done by any news channel on the actual performance of the Congress government or its Akali-BJP predecessor. After all, the Press has to play a conscience-keeper's role. When 'play-safe' becomes media's motto, the polity gets imperiled. And, this is what we are witnessing in the region.
As for entertainment, the new year has just begun. It is possible for new ideas to crop up and take shape that will go beyond love songs. Although the sensual/physical aspects of a culture are important, the intellectual and creative ingredients are vital too. Why not have special programmes on the region's artistic and scientific achievements as well as its contributions to national and international activities in different fields? Let there be discussions by experts on the downside too, viz., poor gender ratio, falling agricultural outputs, rising debts and the resultant social implications.
There is so much for the Punjabi media to do and all it can think of is airing hybridised music and mindless beauty and singing contests. Worse, it is all too willing to become the mouthpiece of the powerful. Can anything be sadder than this?