COLUMNS



THIS ABOVE ALL

SIGHT AND SOUND

GOOD MOTORING

AUDIO SCAN

MUSIC ZONE

WEBSIDE HUMOUR

FOR CHILDREN



CROSSWORD

RHYME TIME

ROOTS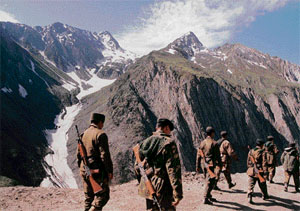 Last year saw about 130 suicides in the Army. Admitting that the deaths are related to stress, the Army now plans to recruit 400 psychiatrists besides adopting other stress-busting measures. Vijay Mohan reports
On December 1, a lieutenant colonel posted on a staff appointment in one of the counter insurgency formation headquarters was found dead in his room.
'I like on-the-edge films'
WHILE MANY MODELS have become top-notch heroines, their male counterparts haven't been so lucky. Be it Arjun Rampal, Deepak Malhotra or Dino Morea, none of then have been able to make it to the top five slot. The only exception, perhaps, is John Abraham. Not only was he a rage when he was into modelling, he also continues to be one of the hottest properties in the Indian film industry today.
Robot, fix thyself
Cornell University researchers have developed a robot that has the ability to discover itself and adapt to injury after losing one of its limbs. The four-legged robot is not pre-programmed to walk. Like a newborn animal, it explores itself and learns to use its limbs to move. When a leg gets damaged, it repeats the process and works out a new method of locomotion.
FASHION 2007
Junk the jeans, and dress up
Shweta Thakur
While greys, pinks and lace are set to dominate wardrobes in 2007, the natural look will be preferred as far as make-up goes, say fashion gurus. According to designer Priya Kataria, both knee-length and long dresses will be in fashion in 2007. "The palette will offer hues like greys, off-whites, beiges, rose pink and other shades of pink," she says.