'I like on-the-edge films'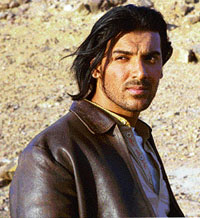 John Abraham: Delighted with Kabul Express
WHILE MANY MODELS have become top-notch heroines, their male counterparts haven't been so lucky. Be it Arjun Rampal, Deepak Malhotra or Dino Morea, none of then have been able to make it to the top five slot. The only exception, perhaps, is John Abraham. Not only was he a rage when he was into modelling, he also continues to be one of the hottest properties in the Indian film industry today.
Srabanti Chakrabarti caught up with the handsome hero to find out more about the man, the actor and his latest film Kabul Express.
You've been making news lately, what with a controversial film, swimwear calendar and a clothesline by your name.
To say the least, it feels great. I am absolutely delighted to reach this point of my career. Apart from doing movies, I feel it is through these alternate channels (calendars, clothesline) that I can interact with my fans and relate to them. Plus Subi (Samuel - the photographer for the calendar) is a dear friend of mine and there's no way I could have said no to him. We both have Mallu background and call each other Mallu! I am really happy that my hard work of all these years is finally paying off.
Tell us something about Kabul Express. It is a different kind of film but did not fare well at the box office.
It is a fantastic film — that is all I can say. And it has been accepted very well in the global market. Let me share with you an instance that happened when we went to promote the film in North America. Before the movie released in Toronto, there was a bit of controversy and apprehension about trivialising an issue like 9/11. We had two screenings — one for the North American audience and the other for the Asian audience, predominantly Pakistanis, Afghani and Indians. Believe it or not, there was a standing ovation after both the screenings.
I am very proud to be associated with a film like this. In fact, this is the only movie to be completely shot in Afghanistan after the Taliban regime.
How did Kabul Express happen?
Kabir Khan (the director of the film) approached me and asked me to read the script of a new film he was planning. I had earlier heard of Kabir as an award-winning documentary filmmaker so I told him I will get back after reading the script.
Frankly speaking, the moment Kabir told me that this would require shooting in Kabul, I had decided in the affirmative. I thought this was a golden opportunity for me to visit and shoot in a location that till now I had seen only in CNN and BBC.
Is it true that you received death threats while shooting for the movie?
Yes, there were some radio interceptions by RAW after which I was advised by the authorities not to go out for the shoot. I spoke to Aditya Chopra (the producer) and they stopped shooting for three days. The production team and Kabir did a fantastic job after that. They spoke to the Indian Embassy and when we went out to shoot, there were more security personnel than unit members of the film.
The Afghan authorities also helped us a lot in ensuring our security. But there was always a worry of bombing or a bullet flying over our heads. After I returned to India, it was like coming back to the Garden of Eden.
You also fell ill during the shooting
Yes. I was running fever (102 degree centigrade) continuously and with that I had to shoot in minus 15 degree centigrade. The most pleasant weather we got in Kabul was 4 degree centigrade! Unfortunately, I was diagnosed with asthmatic bronchitis and was allergic to the fine dust particles there. By the time I got out of there and came to India, I had to be hospitalised. It turned out, I had typhoid too. But thankfully, I became fit in some time. Now when I see Kabul Express, I feel it was worth all the trouble.
You seem to have this uncanny knack of working with first-time directors.
I follow my gut feel while selecting a film. If I like the script, I say yes. I like doing films that are on the edge and are kind of crazy and enjoy the process. And most first-time directors like to do films on crazy topics, guess that is why most of my films are with debutant directors.
How was working with Arshad Warsi?
Arshad is a brilliant person and a fantastic actor. Arshad is the most underrated actor in our country today. Till now, we have mostly seen his fantastic comic timing, but he is a very complete actor. I don't have any qualms in admitting that that I have learnt a lot from Arshad Warsi while working for Kabul Express. He helped me a lot with a number of my scenes. Working with Arshad is addictive!