Ready for the Masters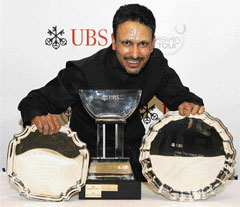 India's No. 1 golfer Jeev Milkha Singh, who had a glorious 2006, writes about his determination to make his presence felt at this year's biggest events
It has been my lifelong ambition to play at the Masters. Walking down the 18th green at the Chandigarh Golf Club in my early years, I would often tell my caddie about my dream of walking the 18th at the Masters and he would simply shake his head and ask me get on with my hitting.
Making his debut at the Augusta Masters will be a dream come true for Jeev. — AFP photo



Last of the titans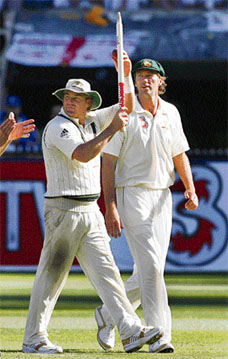 Australia's Shane Warne (left) and Glenn McGrath, two all-time great bowlers, played their final Test against England at Sydney. — Reuters photo
Saina: The untold story
Amanpreet Singh
What does it take to make a badminton star like Saina Nehwal? Ask her father Harvir Singh. If Saina battles it out on the badminton court against the world's best players, it has been no less a battle for her father to let her do the same. Rarely a middle-class family can think of spending half of the monthly income on an eight-year-old child's training without knowing if the gamble would pay off.
IN THE NEWS
Ball of fire
Ivninderpal Singh
Indian cricket witnessed many ups and downs in 2006, but the player of the year was undoubtedly Santhakumaran Sreesanth, who played a key role in India's historic Test wins over the West Indies and South Africa. The 23-year-old Kerala speedster has cemented his place in the team as well as in the hearts of Indian cricket fans.


Eves rule the roost

Unfortunate spat

Bout of success