Marrying late is the trend
Vimla Patil
"Legal is often lethal," say young people who are wary of marriage and its responsibilities. They give several reasons for putting off the final commitment.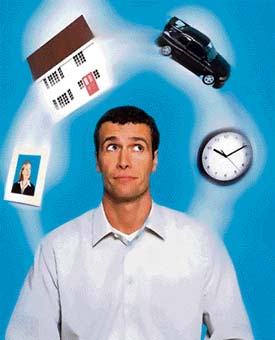 It's just work, work, work," says the new blockbuster star Vidya Balan, "I don't have any time for romance, let alone marriage." Vidya is still enjoying the first flush of her super success which came with Parineeta and then with Lage Raho Munnabhai. Later this year, she awaits the release of more films like Eklavya, Salaam-E-Ishq and Guru. Vidya has no time even to breathe because exciting film offers are coming her way.
At a senior level, Shilpa Shetty does not have a problem of work pressures, but she is not willing to marry unless she finds a man who wants no 'space' in the relationship. "Everybody these days wants 'space', she says, but I believe in an intimate relationship, there is no place for 'space'. I will be possessive of the man I marry. My mother is an astrology expert and she has predicted that I will marry late. That's okay by me."
Top superstars like Aishwarya Rai, Sushmita Sen, Preity Zinta and Rani Mukherjee have charted a similar course — and remain unmarried even as they are passing the milestone of 30 in their lives. These stars constantly hedge questions about their desire to marry for obvious reasons. They are enjoying their success and raking in the moolah before they commit to a demanding relationship. Following in their footsteps, supermodels, wannabe models and even career or businesspersons — who are determined to climb the ladder of success, money and fame — are delaying their marriages indefinitely for several reasons.
Sonali Dewan is a super successful mediaperson who works for a TV news channel. She has to travel for days to cover news stories. "My life is bizarre," she says, "I run around the country at a short notice and cannot guarantee when I will be home. Which husband will tolerate this? My work is uncertain and sometimes dangerous. I can't involve anyone else in this even if I am in love. Until I am brave enough to give this up, I will not marry and this means waiting till I am ready. Like me, women all over India have now discovered that a 'career' is not just a path to money. It is a personal quest to find the reason for one's being in this world. When you discover your real identity, you have lasting happiness.
"I don't want to sacrifice this contentment for anything. Women delay marriage for several reasons but among these, the most important is that they have at last got encouragement from families and the Constitution to reach the acme of their achievement in every endeavour. They are hungry for success and self-reliance in wealth. They are working like zombies to get their fill of these. Perhaps, to go with this phenomenon, men too are delaying marriages. Additionally, for a woman, marriage is followed by motherhood, which is a huge responsibility. Once you have a baby, you have to 'give' it all your life. Children become your first priority and that is frightening when you love your work."
Thirtyfive-year-old Ajay Valicha supports this view. "I could have married long ago. I dated many women — and I liked some of them enough to marry. But I was always in doubt about the 'right time'. I felt that I should have a good house, all the comforts needed for living and 'mad money' to enjoy travel and luxury before I got into a serious relationship. Many of my friends have landed in serious marital problems because of money problems. These days, career women or daughters of well-to-do families are used to a rich standard of life. They expect all conveniences instantly after marriage. The concept of 'building a home together' is now extinct. So a man has to think whether he will be a good enough provider to his family. If the wife is working, there are more problems of adjustment. Children mean a huge responsibility. Like me, others are frightened of heartbreak and broken marriages and their repercussions on children. Due care, family's concurrence and the 'right time' syndrome causes long delays in marriages."
Sadaat Khan, an IIM graduate who has just turned 30, says he 'can't even consider marriage' till he is qualified to earn a dream salary or income. "I am getting a rare opportunity to go to the US for higher education. My middle class parents have worked hard to save for my future and I will not disappoint them. The theory here is, the higher your specialisation, the better are your chances of earning more at a senior position. I graduated and worked for a foreign bank for some years but could save nothing. Now I am going to study international capital markets in the US and will get a super job. Then I will first support my parents. Marriage is the last priority at the moment. Today, the edge of competition in very high jobs is so sharp that a fraction of a point can make you lose your advantage. I can't take wild romantic decisions when so much is at stake!"
Women have different reasons for delaying marriage. "I am a fashion model," says upfront Dipti Grewal, "I have enough men fawning on me. I can get as much sex as I want without marriage. In today's liberal urban society, there is no dearth of suitors who will give you everything you want. I work hard; so I have no need for companionship. I earn good money; so I don't need support from a man. If you ask me, I would only get married to see myself in a Ritu Kumar wedding outfit because I love her work. Otherwise marriage is a no-no at the moment. I will think about it when I am at least 32. Women in India have shown that they can make a success of marriage and motherhood after 30. Madhuri Dixit found a fabulous man in Sriram Nene and had two sons when she had done everything she wanted to do in her career. Raveena Tandon married late and has a wonderful life today. Marriage is dicey at the best of times and the more mature the women, perhaps it is better!"
In everyday life, depending upon the social strata and the income levels of families, young men and women delay their marriages for various reasons. Some sons and daughters have to repay the loans taken by their parents or themselves for higher education. Some have to help their families in completing their responsibilities of educating siblings or marrying elder sisters. Sons in Indian culture are seen as heirs responsible for the welfare of the family and they often have to pay medical bills, support households and be there whenever needed. They have to prioritise their decisions and marriage sometimes takes a backseat. Parents, too, don't mind delaying the marriage of a son because they want to complete their 'responsibilities' before his wife comes in to exercise her authority over him and his money. These are traditional responsibilities like old-age provisions, daughters' marriages and sons' education.
Broadly, the reasons for the present trend of late marriages are five: First, most urban young people can get into relationships and have sex without too much guilt at a younger age. Living-in – even among students – is common. There is less urgency or pressure to legalise a relationship. Second, most young people are stressed out with the rat race and competition in education and employment to worry about making a commitment, which they think is serious and permanent. Third, marriage frightens many because of the scenario of divorces and break-ups which they see around. They are familiar with the misery and devastation that follows. They feel everyone cannot go through heartbreak with a smile. Fourth, career and income or wealth building comes first, even for women. And fifth, young people want the perquisites of luxury before they marry. They are busy buying property, gizmos, all kinds of possessions and taking expensive vacations long before they hitch up with a legal partner. "Legal is often lethal," they say, "So informal relationships and friendships are far better bets for the young right now."