PUNJABI REVIEW
Rich in imagery
Surinder Singh Tej
Rukhan Di Dastaan
by Varinder Walia
Ravi Sahit Parkashan, Amritsar
Pages 112. Rs 120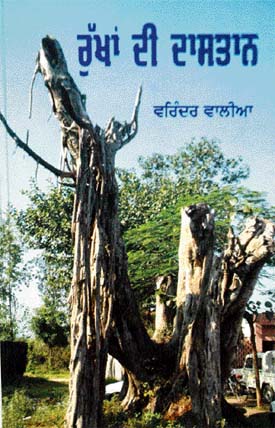 Newspaper journalism is perenially based on hard facts. Facts are generally considered sacrosanct. And the constant emphasis on thesacrosanct nature often takes its toll. It makes scribes hard-boiled, cynical, sceptical and somewhat sneering even in their personal lives. Emotions take a backseat, creativity is stilted, and jargon rules all over. But some scribes are blessed. They do not allow their cyncism to take over sensitivity. Even as they chase, catch and capture hard facts, a window is kept open for their creative vision. Facts are imbibed and absorbed but with a humane approach. The mind works mechanically, but the soul remains elusive. It retains its effusiveness. And when an opportnity arrives, this creative spirit unleashes itself in forms more sanguine and passionate than the bland or bouncy news-stories.
Varinder Walia ia one such journalist. A veteran of newsreporting in English for more than two decades, he suddenly changes track and comes out with a collection of short stories in Punjabi. This is his second collection that has been published after a long hiatus of 23 years — the first one (Khabarnama) had come out in 1981. This hiatus has made a huge difference to his skill. No amateurish pretensions or asymmetrical ebulience this time. Rather, it is maturity of thought and lexical eloquence all the way in this volume. The language is smoother, refined and flowing. The themes are refreshingly original, especially in stories such as Daera-dar-Daera, Gutter, Rathwan Di Maut. Sometimes, the spirit of a reporter does make a cameo, especially in Bhanta Amli or Sanjhi Dhupp, and this allows some didacticism to creep in. But this does not spoil the overall impact. Rather, it imparts a satirical dimension to characters and situations. Stories such as Rukhan Di Dastaan and Surkh Hashiya add a philosophical tinge to the collection. Noted Punjabi writer and critic Joginder Kairon suggests on the blurb that Walia's stories need to be read again and again to tap the depth of his thoughts and richness of his expression and imagery. This, certainly, is a valuable suggestion.


Bhasha: Sidhant Te Sarokar
by Dr. Paramjit Singh Dhingra
Ravi Sahit Parkashan, Amritsar Pages 140. Rs 150


Noveli Bhasha: Sanchar Te Vihar
by Dr. Paramjit Singh Dhingra
Ravi Sahit Parkashan
Pages 112. Rs 150

Language is considered a prime form of communication. This quality burdens the language itself to find its linguistic moorings and evolve channels and parameters of growth. Punjabi, despite having an ancient origin, had a chequered past in terms of its lexicographical and literary evolution. But after Partition, serious efforts have been made to give it a theoretical edge and impetus and evolve this language more scientifically. Dr Paramjit Singh Dhingra is one such scholar who is engaged in this endeavour. And the level of his commitment is manifest from the two volumes under review.
While Bhasha: Sidhant and Sarokar is a collection of research papers, Noveli Bhasha: Sanchar Te Vihar is more focussed on a single subject i.e. evolution of linguistic skills and cannons for novels. Most papers in the first volume dwell upon the problems being faced in standardisation and modernisation of Punjabi. The approach towards the subjects in these twin volumes is fairly scholastic. There is little for the lay readers, but plenty of insights and reference material for research students.