Whose land is it anyway
The circus of protest was limited to Singur—at best to West Bengal—while the problem affects millions across the country. The only outcome was to draw the attention of those who could look beyond Mamata's saline drip to the larger problem of land alienation, writes Pratik Kanjilal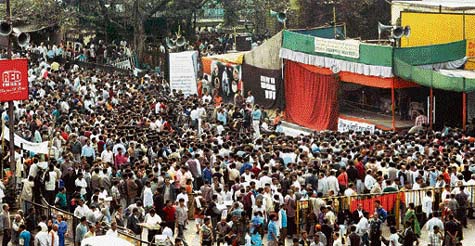 Now that the dust has settled after almost a month of turmoil over Singur, there seems to be only one positive outcome of the whole affair— you, dear reader, are very unlikely to ask: "Singur? What's that?" Land alienation is already a noticeable problem in India and as the economy continues to boom, the proliferation of special economic zones (Sezs) and the plant and infrastructure associated with them will only make it worse. The fracas between Mamata Banerjee's Trinamool Congress and the West Bengal government of Buddhadeb Bhattacharjee over the acquisition of 997 acres of farmland at Singur for a Tata automobile plant has drawn the attention of the nation to a problem which will increasingly preoccupy us in the years ahead.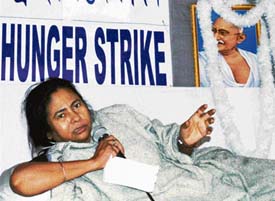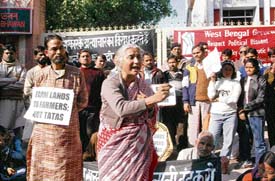 Culture of protest

: Mamata Banerjee on hunger strike and Medha Patkar protesting in Kolkata
However, Banerjee's agitation has achieved little else. In the polarised state of West Bengal, her politics consists in being seen as a thorn in the side of the Left and this campaign often looked more like bear-baiting than a serious attempt to secure the best interests of the farmers of Singur. It depended on strident accusations of the use of force in securing land which now seem to be tenuous, given that a confident state government has challenged her to produce evidence. And throughout, Banerjee has aggressively painted herself into a series of corners and graciously agreed to be rescued from them by face-saving offers from third parties. It's all very colourful and entertaining but it's a farcical travesty of politics, a Jim Carrey-like act with a provocative slogan for its only agenda: "Somebody stop me!" Inevitably, it drew attention away from the issue at hand and focused it firmly on Mamata Banerjee and the movement deteriorated into a contest of will between her and Buddhadeb Bhattacharjee. And the people of West Bengal—hopeful of finally regaining industrial opportunities in their state that strikes and other strident 'pro-people' activities by politicians and workers' unions had driven away decades ago—looked on with alarm.
Banerjee opened proceedings by organising vandalism in the Assembly, which was apparently attended by language that would make the most unparliamentary of Parliamentarians blush like beetroots. She ended the affair by allowing herself to be blandished into ending a 25-day fast by abject requests from some of the best addresses, including Rashtrapati Bhavan, the PMO and Calcutta's Raj Bhavan and the chief minister's office. In reality, Buddhadeb Bhattacharjee's Left Front government was poised to arrest her and remove her to the VIP ward of the government's SSKM Hospital. Besides, a battalion-strength delegation of BJP leaders had descended on President Kalam in Delhi to seek his intercession, and it would have been bad form to stand up her friends in the NDA.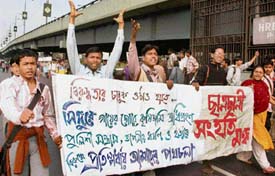 Students take out a procession to express solidarity with the farmers at Singur
Similarly, in the week before Christmas, Banerjee permitted the Christians of Kolkata to save her from almost certain embarrassment. She 'deferred' a 48-hour wildcat bandh she had called in response to the mysterious murder of a Trinamool supporter in Singur, ostensibly because it would have interfered with the community's festival shopping. In reality, the people of Kolkata, who had already weathered three bandhs in three weeks, two of which were called by Banerjee, were unlikely to submit meekly to yet another disruption of normal life. Besides, the Kolkata High Court had invoked a 1997 ruling of the Kerala High Court banning bandhs, which was upheld by the Supreme Court, and had directed the state government to ensure that the people were not held to ransom. Gleefully, Kolkata newspapers dubbed her 'Mamata Claus' and depicted her lying on fast in a Santa suit, or surrounded by reindeer and Christmas cakes.
It is a pity that most people will remember the Singur affair largely for Mamata Banerjee's antics and the derision they elicited, because it offered an opportunity to think seriously about land alienation, which will increasingly affect the country as it proceeds down its chosen path of market-driven development. Despite the heat and dust that they raise internationally, the Narmada and Tehri movements are about people who live in river valleys. The rest of India's population is largely unmoved by their fate. Singur, however, has brought home the truth that anyone, anywhere, can be turfed out by industrial development. It has made displacement a truly national issue.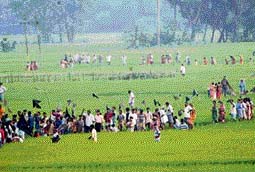 The Indian economy is growing at an unprecedented rate. If you believe the buzz in the Street, the Sensex will hit 20,000 points in a year. If you don't (and you shouldn't, if you value your money), do bear in mind the fact that even George Soros, who loves fast-growing markets to excess, expressed concern about an overheated market when he was in India recently. Now, you don't have to be an economist to figure out that if this market trend persists, agricultural land will come under tremendous pressure. Plain common sense will suffice.
Economic growth fuels growth in production facilities, which can only be established by converting land under the plough to industrial use. Production units use power, which means more generation units, which tend to sprawl over (or inundate, if they are hydel) a lot of land. Once fabricated, the product requires a distribution network, which spells a need for more roads and railtrack. And finally, it must be warehoused and retailed: the near future holds hundreds of thousands of malls and shopping centres.
Have we left anything out? Ah, yes, human beings. People, the most important element of an economy. The people who are empowered by employment in these new industries and the already prosperous, who consume their products. They have to live somewhere and housing is a serious land-hog. If you live in a suburb, very probably, the land on which your house stands sprouted spinach or radishes not very long ago, and the housing boom has now spread to small towns like Rudrapur and Dehra Dun. In your own neighbourhood, you will find unconscionably large numbers of unskilled workers engaged in marginal occupations, such as domestic work, scavenging, cutting hair, mending punctured bicycle tyres, slaughtering chickens, helping out in shops or whatever. Most of them are former peasants who have already been alienated from their land, and the boom has barely begun. In the years to come, it will only get worse. Collectively, the number of displaced people will run into the millions.
Land use conversion and land alienation are inevitable riders of an economic boom. This is a matter of especial concern in an overpopulated country where land is scarce, where the majority of people depend on agriculture, do not have marketable professional skills and are not supported by a welfare system. For the poor Indian, land is the only indefinitely renewable resource, an assurance of livelihood for generations on end. Government compensation offers only a fraction of its cumulative value, especially given the official rates and the corruption which usually attends its disbursal. Land use conversion will change the very nature of our society, forcing people to move to new places and learn new ways of living and working— or, if they are found to be unequal to change, of dying.
However, it would be juvenile to reduce this to a development versus people issue and try to resolve it by political confrontation in the streets, which is essentially what Mamata Banerjee has done. It's all very exciting and draws the crowds like flies to sweets, but it is incapable of offering solutions. Protests by elderly village women sporting empty cooking utensils with the slogan Chai na Tatar motor gadi, chai amader bhaater handi! (We don't want the Tata car, we want our bowl of rice!)' helped pitch industrial development against the farming community. Everyone who was anyone got caught up in the excitement over Singur. In West Bengal, Medha Patkar, various factions of the Left and sundry Naxalites rubbed shoulders with the CBI and BJP leaders including Rajnath Singh and George Fernandes— surprise entrants in the lists, given their party's enthusiasm for industrial development. The circus of protest was limited to Singur— at best to West Bengal. This problem affects a majority across the country. The only outcome it produced was to draw the attention of those who could look beyond Mamata's saline drip to the larger problem of land alienation.
Assuming that the number of special economic zones and projects will multiply in the years ahead, case by case negotiation between governments and parties representing local interests will prove to be inadequate. There is a need for central oversight—if not central control—over the land being allocated to such projects in each state. This is not to deter development but to compute the cost of development, to decide if it represents a good investment and examine if projects might be located on low-grade land rather than productive agricultural land.
It may be recalled that this is precisely how the move towards environmentalism had started in India. Back in the 1980s and early 1990s, attention was drawn to the growing problem by activist NGOs, journalists and public interest lawyers. If it were not for them, we may all have been polluted to death long ago. In response to public interest litigation and after Parliamentary debate, norms were framed which apply countrywide and a separate ministry was set up to enforce them and issue clearances to complying units. In contrast, framing rules for SEZs remains in the hands of state governments and no one is tracking developments nationally.
In the days after the Singur drama, Bhattacharjee took the first step in this direction, putting on the brakes on the rate of investment in his state. He committed himself to only four special economic zones of the 24 that his government has passed in principle. And he will proceed to acquire land for the first of these contracts—with the Salim Group of Indonesia for a highway project and an SEZ—only after a full debate within the Left Front and with the Opposition parties. One hopes that he will include specialists and NGO workers without a political agenda in the discussion.
However, state-level initiatives can only provide a beginning. It is imperative that the Centre gets into the act. It should call for data from all states on land use conversion, initiate a Parliamentary debate on the patterns that emerge and evolve guidelines for state governments. And while one hesitates to propose a body to curb the problem - it would probably do its best to make people's lives more difficult - we must have at least a whistle-blower institution. It's a difficult process, but the alternative would be to hand over an important issue of development to the politicians, who will only take it to the streets in order to entertain us all. And, of course, to further their own careers.