Rhyme of the road
Driving down from Bombay to Goa is an enjoyable experience, observes Ervell E. Menezes as he relives one such journey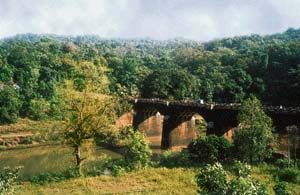 The bridge at Rajapur town, in the area known for its Rajapari mangoes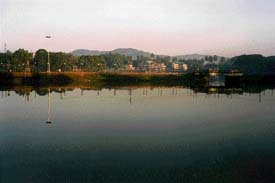 The lake at Sawantcoadi town. It is here that those who avoided the Portuguese inquisition or conversions escaped to. — Photos by the writer
Sometimes one gets a feeling one was born on the road for there are few pleasures greater than being on the road, driving or being driven, that is. To see the silver strip of road stretching endlessly over hill and dale, rivers or lakes, villages or towns, is the very essence of life. What we see around us is life in its infinite variety.
Since my earliest trips were from Bombay to Goa, this route has a special fascination for me. Satyajit Ray's Pather Pachali means "the song of the road." With apologies to the great filmmaker, I attempt to sing my song of the road.
It was the Bombay-to-Goa route, via Pune, Satara, Kolhapur and Belgaum that we first ventured on this journey as a schoolboy and mere passenger in the early 1950s. In the 1960s, we were old enough to drive our Hillman Minx with the rush of young blood and the excitement of throbbing adventure. I saw my first road accident, just out of Lonavala, and the sight of two dead bodies was certainly traumatic.
There were other anecdotes more pleasing, like halting atop the Khandala Ghat and admiring the view. The beauty of being on the road is that one's schedule is entirely your own. You can stop when you want and move at one's desire, admire nature in its pristine beauty or have a cup of tea at a village stall.
Once we were almost stranded while crossing a rivulet (on a detour caused by a broken bridge) and the laidback villagers wouldn't move a limb to help us. These anecdotes all add up to the nostalgia of the song of the road.
"Heavenly shades of light are falling`85" sang the Platters and their music still lingers in my ears.
Bombay to Goa is also the name of a Hindi film but today the route is much traversed with Goa being built up as the Promised Land. I also made umpteen trips on this route but by bus and know every bend in the road. More recently, I do it in the company of my nephews. Guess they are aware of my love for the road. So when one of them asked me if I was willing to hit the road, I like Barkis, said "I was willing," which of course is an understatement.
Actually, one can cover the 580-km route in 10 hours but then one tends to get stressed, so we thought we might as well do it in a relaxed manner and finished well inside 12 hours. We left Mumbai at 6.35 am and via the JJ Hospital flyover were on the outskirts of the city by 7 and past Panvel in a little over an hour. On the NH No 17, the traffic thinned out and the drive was more pleasant. We were in an Accent, I was told and when it got warm switched on the airconditioner, these are the benefits of modern technology. Our breakfast stop was at 8.30 near Nagothane, the IPCL place. never had a better tea, laced with ginger, in years and told the restaurateur so.
Refreshed, we were ready for another stint of driving. Sorry, not we but my nephew. I've stopped driving for decades and am not conversant with the new machines. So my nephew was at it with renewed vigour. This route is known for its innumerable mini ghats. The biggest of them is the one approaching Khed, the Poladhpur Ghat, reminiscent of Kambatki on the Pune-Satara road. What a view from up there!
On the way up one can see one of Shivaji's forts at Raigad in the distance. How the altitude always lends enchantment to view. From 9 am to 11.30 am, it was smooth driving.
From there, another spurt right up to Pali where we stopped at one of my nephew's eating holes, a Happy Punjabi Dhaba at Lanja, at 2.30, which is a few km from Hatkamba, the principal town of Ratnagiri, famous for its aphos mangoes. Normally, the landscape is rather dry but after this year's marathon monsoon, it is still lush green. Chiplun is probably the biggest town en route and it also marks the halfway point. There are many factories, essentially chemical. It has a headstart over the rest of the Konkan.
Our conversation was briefer as siesta time was on and it was an effort to keep one's eyes open.
My nephew looked tired and the stop at Pali seemed imperative. We had dal fry, chicken and rotis and that sort of restored some of our energy. Music is an important component of modern life and my nephew had is stack of music discs which he kept changing regularly. We began with Bob Dylan and his Blowing in the Wind and Times there are a Changing and went on to Jamiroquoi, Steely Dan, M.S. Gopalakrishnan and other immortals who are all deeply embedded in my subconscious.
My own favourites seem to have dried up since the 1970s. Now they are borrowed ones from my nephews and niece of which I may not know the names of the singers but can surely hum the tunes. One of them is the late-1980s favourite Tracy Chapman.
We then set out at 3 pm, exactly after a half hour break. This would be the home stretch and like bullocks wanting to get home for food, it was faster. He took a few risks, the one's he avoided earlier, but we managed well. We did get a convoy of the next day's buses going to Mumbai and Sawantwadi and its narrow roads are not the best place to cross them but we managed safely.
The lake at Wadi, as it is called, is full with plenty of rain and Patradevi and Banda whizzed by. We thought we'd make it by 6 pm, but we got a shower around 5. Imagine rain in November! It was getting dark and at 6.05 we reached our destination at Bastora, Xell, somewhat tired but happy nonetheless.