Mumbai meri jaan
Traffic Signal is about streets of Mumbai where all kinds of people live, survive, jostle and yet retain their basic humanity, reports Shoma A. Chatterji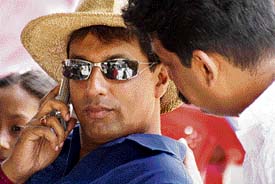 Madhur Bhandarkar's passion lies in human-interest stories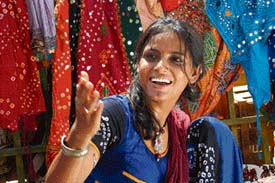 Neetu Chandra, who stars in Traffic Signal
Madhur Bhandarkar draws attention everywhere, all the time. Chandni Bar shot him to fame. If his Page 3 bagged the top award at the National Film Awards a couple of years ago, the slickly produced Corporate was chosen to be the opening film at this year's IFFI at Goa. Satta is his favourite film. His chief talent lies in discovering the underbelly of a megalometropolis like Mumbai and laying it bare for his audience. He touches places and people none of his peers in the industry are even aware of. For the few who are aware, they are scared of treading on the slippery ground of the box office via the audience. Madhur might have taken a gamble. But just look at the way it has paid off!
Traffic Signal is the name of his latest film, scheduled for release in January 2007. "I believe there are many topics like this one in India that can and should be placed on celluloid. Despite what some may feel, I do not consider myself a mainstream cinema man. I love making films on specific issues such as Satta, Page 3, Chandni Bar and Corporate. My basic passion lies in human-interest stories," says Madhur.
"For nine long years, I would walk from Bandra to the Siddhi Vinayak Temple in Dadar (West). During these walks, I noticed this different world where people wait for the signal to turn red to cross the street. This germ of a concept began to grow and soon, I began to think about the kind of people who wait to cross, kind of people who just wait, and people waiting in cars and public transport and commercial vehicles who wait for the signal to turn green. So, I decided to present both sides – the one on the street and the one from inside the vehicles. Traffic Signal is a collage of life on the streets of Mumbai where all kinds of people live, survive, jostle and yet retain their basic humanity," he explains.
Beneath the surface simplicity lies a thriving industry that draws capital from people waiting at traffic signals. The workforce of this sector could compare favourably with that of any average MNC. Men, women and children are thrown together through destiny and hunger. Among these are beggars of varied shades and hues – lepers, eunuchs, handicapped. Then there are the street urchins to rush in with a duster to wipe the glass on the dashboards of rushing cars. Drug addicts, flower and fruit sellers, young boys selling pirated bestsellers, sunscreens, sunglasses, etc. and of course, coarse-tongued prostitutes who line the traffic signals at many points.
"This is only the beginning of the story. Each signal, they say, has a 'manager' who collects a certain percentage of the day's earnings from every single person trying to eke out a living at the signal. The pecking order broadens as each manager has to hand over the weekly 'cut' to the person who is in charge of all signals covering a given region. The collector of each region deposits this to the local Mafia don, or kingpin, who then ensures that this reaches his Big Boss who is generally distanced from this place and who has direct links with political leaders," informs Madhur.
Traffic Signal captures just one such signal that is representative of all signals in a metro like Mumbai. The protagonist Sisila, is portrayed by Kunal Khemu who made his debut in Kalyug and left a mark even if the film did not. When the film opens, Sisila has grown from a street orphan to manager of the traffic signal. The people working at the signal define his family. His links and clashes with the powers-that-be such as the collector, the mafia don, etc. and his love-hate relationship with some of his fellow street people form the narrative strength of the film. His ethical and economic priorities are forever forced to surrender to his struggle for survival where life is an accident and death is the only truth.
Others in the cast are Neetu Chandra, Ranvir Shorey, Upendra Limaye and filmmaker Sudhir Mishra who makes his debut as the mafia don. The surprise package is Konkona Sen Sharma in a guest appearance as a prostitute. She initially refused the assignment because she felt she would not be able to fulfil the demands of the character. "When Madhur approached me he said it was just the role of a confident street worker, smoking cigarettes. I wasn't sure. But he insisted. It was embarrassing to use some of these words in front of the whole unit. But Madhur had faith in me," says Konkona.
Traffic Signal has 60 characters and was shot in 35 days in Mumbai on a streamline budget of Rs 4 crore. It will be released with 210 prints across the country sometime in January.
Percept Picture Company headed by Irang Desai, has produced the film. "It is a hard-hitting film, I can promise you that," sums up Madhur.