Unforgettable Bimal Roy
For all his class, Bimalchandra Hemchandra Roy was a film-maker of the masses, writes M.L. Dhawan in a tribute to the maestro whose death anniversary falls tomorrow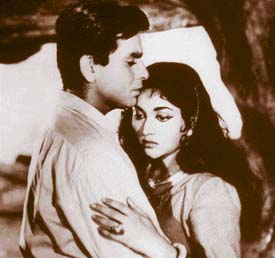 Dilip Kumar and Vyjayantimala in Madhumati
Bimal Roy was hardly 20 years old when he migrated from East Bengal to Calcutta with his widowed mother, two brothers and a trusted companion—his camera. P.C. Barua, a noted film-maker, engaged him to do the publicity stills of his films. His expertise with camera paid off and he was elevated as a cinematographer.
New Theatre boss B.N. Sarkar saw potential in Roy and assigned him the task of making Anjangarh (1948). That was the time of rising political passions and the film dared to touch upon burning social issues. It dealt with the abolition of the princely states, the sweeping away of the takht and the taj and ornate mahals of the maharajas by defiant mobs that emerged from the shadows of autocracy onto the path of democracy.
As Bimal Roy had seen the ordeal his widowed mother had to pass through, he turned out to be quite supportive of women protagonists in his films. Shifting to Bombay, he directed Maa (1952), which was a tearjerker with Leela Chitnis as a long-suffering mother and Bharat Bhushan as her son. Parineeta (1953), a touching love story by Sarat Chandra, was about a girl Lalita (Meena Kumari) who is married secretly to Ashok Kumar and believes that a wife must remain faithful irrespective of a similar reciprocation on the part of her husband. The humanist dimensions which characterised a great part of his oeuvre catapulted these films and Roy to dizzy heights.
Bimal Roy hit the bullseye with Do Beeghaa Zameen (1953) which was the story of an impoverished farmer Shambhu Mahato (Balraj Sahini) who valiantly fights to save his do bighaa zameen from the clutches of the village landlord. The film is more relevant now when farmers are forced to commit suicide under heavy debts and are being dispossessed of their land under the garb of Special Economic Zones.
Carrying his all-seeing camera into the heart of human enigma, Roy explored the most elusive inner scapes of women protagonists and built up strong public opinion against their oppression and exploitation. There was profound social realism in his films, which preached reforms without platitudes. Biraj Bahu (1954) questioned family and social cynicism towards working women. Biraj (Kamini Kaushal) makes and sells dolls to supplement her family income. Sujaataa (1959) debunked the caste system by depicting the dilemma of Sujaataa (Nutan)—an orphan Harijan girl reared by an upper-class family and her quiet struggle for acceptance. Devdas placed on celluloid the social ramifications of a man of high birth who tries to move away from his feudal, upper-class roots to marry a girl of low caste. While Devdas (Dilip Kumar) dithers, Paro (Suchitra Sen) marries an old widower and suffers the fate of a Hindu wife. Devdas revolutionalised the concept of cinema and changed it from entertainment to social concern.
In Bandini (1963), Roy explored the darker side of his protagonist Kalyani (Nutan). The poisoning scene in the film shows that oppression beyond limits can drive a person to doom and death.
With Madhumati (1958), Roy shifted tracks and genre by making a ghost story based on Ritwick Ghatak's script. The tormented soul of Madhavi (Vyjayantimala) rises like the proverbial Phoenix to wreak vengeance on the man responsible for her death. The essence of creativity is to keep growing all the time. He had done just that in Do Beghaa Zameen, Devdas, Sujata, Bandini and Madhumati, etc which catapulted him into the pantheon of all-time greats.
His films were truly a reflection of society and its people of his times. He explored new modes of expression but he did not lose touch with his personal creative credo, grounded in the golden era of Hindi cinema. In Parakh (1960), he dealt with the topic of village politics. Some of his films were not money-spinners yet his honesty was discernible in every frame.
He did not allow commercial considerations to overtake his creative instincts. His films were cult-classics in which he remains perennially alive though he succumbed to deadly cancer and died in sleep on January 8, 1966.