Violence mars Bengal bandh, 1500 held
Tribune News Service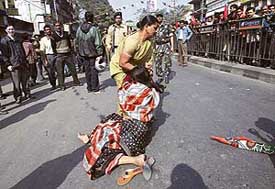 A polcewoman detains an activist from the Trinamul Congress in Siliguri during state-wide bandh in Bengal on Monday. — Reuters photo
Kolkata, January 8
The CPM had shown maximum restraints today after yesterday's carnage in Nandigram village during today's Bangal bandh, on a call given by opposition parties in protest against the killings at Nandigram and farmers' evictions for providing lands to industries.
Veteran politburo leader Sitaram Yechuri, now in the city, declared the land acquiring problems at Nandigram and elsewhere would be handled politically in future but he endorsed Chief Minister Buddhadeb Bhattacharjee's policy of industrialisation in the state.
The bandh, which was observed on a call given by the Congress, the Trinamool Congress and SUCI, also witnessed a few incidents of violence here and other places in which over 1500 persons were arrested.
CPM secretary Biman Bose and Buddhadeb Bhattacharjee claimed that the people had rejected the bandh call. Protesters went on the rampage and attacked the police, burnt buses and trams and ransacked the CPM's party offices. But the CPM workers, despite provocations from the Opposition, remained silent.
The CPM party office near Lockgate was attacked and urnt by angry farmers of the Nandigram Krishi Bachao Committee.
A meeting was held at the village at the instance of the district magistrate and the police where all party leaders resolved to cooperate with the local administration in restoring peace and normalcy in the area.
In Kolkata, the house of Mr Sudhangshu Sil, CPM MP in north Kolkata, was ransacked by protesters. A group of SUCI workers, mostly women, demonstrated in front of Writers Buildings and burnt effigies of the Chief Minister. Over 100 SUCI workers and supporters were arrested on the spot.
In southern part of the city, near the Gariahat-Rashbehari area, a procession was taken out by Subrata Mukherjee, former Kolkata mayor, protesting against the land grabbing at Singur and Nandigram. The police arrested 250 protesters after a clash.
The protesters pelted stones on the running vehicles and two buses were also burnt. The police resorted to mild lathicharge and arrested 70 persons.
There were road blockades and obstructions on the rail movement at several places in the state. The bandh was partly observed in some places in districts like Howrah, Hooghly, 24-parganas, Burdwan, Birbhum, Malda, Dinajpur, Coochbehar and Darjeelings.
Meanwhile, the state Transport Minister Subhas Chakraborty claimed before medipersons that 11 persons died in yesterday's carnage and nine belonged to the CPM.