AUDIOSCAN
In tune with Asha
Asha & Friends (Mauj)
Asha Bhonsle never stops surprising you. The living legend keeps on rediscovering herself and winning over new fans even at the age of 73.
At a time, when established singers scoffed at the remix trend, she joined the race and left all wannabes in the shade. Now she has paired with some of the best-known achievers from various fields who are not often heard singing. The result is electrifying.
The songs have been composed and conceptualised by Shamir Tandon.
Sharing the mike with her are Sanjay Dutt, cricketer Brett Lee, Urmila Matondkar and Sa Re Ga Ma Pa Lil' Champs. Not only do they add novelty value to the album, they can actually sing.
Sanju baba has already been heard in various films as also private parties. Asha says about him: "I thought of Sanjay Dutt after seeing Munnabhai MBBS. I realised there were some portions in the songs which he sang himself. He has a bass voice, which is important for male singers. He has the right sense of tune and melody."
Cricket lovers know that Australian speedster Brett Lee can strum the guitar and sing fairly well. He agreed to sing at the cajoling of Tandon. "He was very excited about singing with me, and couldn't believe I was more than double his age," says Bhonsle. Lee even uses a few Hindi words in between.
Urmila Matondkar is even heard asking in one track whether she can sing. Asha reassures her and she actually fares well.
The same is true of Zee Lil' Champs Sanchita Bhattacharya, Diwakar Sharma, Sameer Mohammad, Abhra Kanti Saha and Pawni Pande.
Sanjay Dutt's "Aapke dil mein thodi si jagah chahiye`85" and Brett Lee's "Haan main tumhara hoon`85" are in remix versions too.
Volume I has been introduced. The second part of the project will presumably have Asha singing with three other non-professional singers.
Doorie (Tips)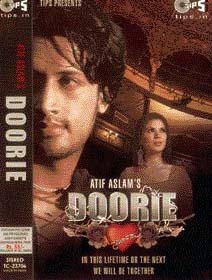 One Pakistani singer who has been on a roll in India is Atif Aslam. Ever since he recorded his Woh Lamhey`85for Mahesh Bhatt's 2005 film Zeher, he has been more popular here than he was perhaps in Pakistan.
The remix version of this song became an exceptional hit and played continuously on almost all radio stations for nearly nine months. The playback in the film was slow while the remix version for the airplay was hot. The procedure worked and became the standard for Atif.
He recorded a song for another 2005 film Kalyug. Juda hokey bhee`85 was a slight variation of his ever-popular number Aadat`85. Once again the song in the film was slow while the one played on the radio had a popular beat. The magic worked again.
This success got him three songs in Man Push Cart, a Hollywood movie of an Iranian director, in which he also did a cameo role.
His new track Tere bin`85 from Bas Ek Pal too became a hit.
He has now come up with his second album, Doorie, which boasts of several hummable numbers like the title song Doorie`85, Ehsaas`85, Hum kis galli ja rahe hain`85, Kuchh is tarah`85, O re piya`85 and Mahi ve`85. Needless to say, all of these are "house mix, Euro mix, soul mix, dance mix and freaky mix".
Through his unique singing style, Atif has attracted considerable fans and they are likely to lap up these songs too, considering that they have a magnetic quality running through them.
As is the trend these days, most of them are being also offered as ringtones.
— ASC