M A I N N E W S
Boost border talks, say Manmohan, Wen
Rajeev Sharma
Tribune News Service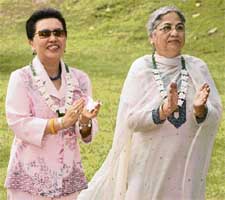 Ms Gursharan Kaur (right), wife of Prime Minister Manmohan Singh, and Col Khunying Chitravadee Chulanont, wife of Thailand's interim Prime Minister Surayud Chulanont, attend a programme for spouses as part of the 12th ASEAN Summit in Cebu, central Philippines, on Sunday. — Reuters
photo
Cebu (Philippines), January 14
The Prime Ministers of India and China, Dr Manmohan Singh and Mr Wen Jiabao, respectively, today directed their Special Representatives (SRs) on boundary talks to pursue these negotiations "with vigour and innovation".
The two Prime Ministers had a bilateral meeting on the sidelines of the India-ASEAN summit here and reiterated their resolve for resolving the border issue amicably "so that this no longer remains an issue," National Security Adviser M. K. Narayanan said.
Mr Narayanan, the Indian SR for holding Sino-Indian boundary dispute talks, begins next round of delicate negotiations with his Chinese counterpart Dai Bingguo at Hyderabad House in New Delhi on January 17-18. The two Prime Ministers' direction to their respective pointmen for the boundary talks is being seen in the informed circles as an indication that the two sides might as well pursue an out-of-the-box solution to the vexed problem.
While the two sides have already exchanged maps in the Middle Sector, China is understood to have taken a hardline approach in dealing with Eastern and Western sectors. At the last round of talks, the Chinese laid a strong claim to a large territory of Arunachal Pradesh, including Tawang, in the Eastern sector.
Indian position has been that the final resolution of the problem needed to be found in such a manner that existing populations on both sides of the Line of Actual Control are not disturbed.
Mr Narayanan described the Manmohan-Wen meeting today as "extremely useful and fruitful" which logically and sequentially followed Mr Wen's visit to India in April.
In response to a question from this correspondent, the NSA said the Indo-US nuclear deal and Chinese support for the deal at the Nuclear Suppliers' group did not come up for discussion at the two Prime Ministers' meeting.