Exhibition: People get to know Army
Chandigarh, January 16
In an endeavour to bring the public closer to the Army and to give them an insight into its technological prowess, a two-day exhibition 'Know Your Army' was inaugurated here today.

A 130 mm gun provides an imposing view as a paratrooper glides through the air during the inaugural ceremony of 'Know Your Army' an exhibition organised by the Western Command as part of the Army Day celebrations in Chandigarh on Tuesday. — Tribune photo by Manoj Mahajan
Punjab students watching clouds for NASA
Mohali, January 16
For the past one year, at least hundred students of 10 schools of the state have been working on an assignment to watch clouds. As part of a global project promoted by National Aeronautics and Space Administration (NASA), these students note down the shape of the clouds overhead and report to the project centre at Colorado University, USA.
Sale of stamp papers at e-sampark centres
Chandigarh, January 16
The sale of non-judicial stamp papers through e-sampark centres is gaining a lot of popularity in the city. The sale summary for January 15 shows that as many as 375 stamp papers were sold.

Watch Out
M.K. Mahajan Chairman Dr IT Planets Limited, a Chandigarh-based company credited with bringing IT revolution in the city and its periphery, will be in Mumbai on Wednesday in connection with plans to expand the company.
In Town


Nandini Mcclurg A research scientist, Colorado University, U.S.A, is in the city to visit schools in Punjab. She is involved with project Cloud Sat: a NASA ESSP Mission Programme. The Cloud Sat mission was designed to observe the seasonal cycles with assistance from students across the globe.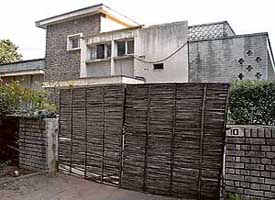 Chandigarh Calling
The Jalandhar-based off spinner Harbhajan Singh 'Bhajji' is into big league not only in sports but in life style also. The 'offie' from the humble background is all set to move to this four-kanal palatial bungalow No -10 in Chandigarh's posh Sector 9 (see photo).

Boon for some
Power of music
Quite a rush

Too many scribes
Dog menace

ISO mark will ensure transparency, says UT police
Chandigarh, January 16
The UT Inspector General of Police (IGP), S. K. Jain, inaugurated the workshop on ISO 9001: 2000 certification for all police stations, community relations units and all public window services that are available at the police headquarters in Sector 9, here today The workshop was held in the Traffic Police Auditorium in Sector 29.
Science Congress: No dates yet
Chandigarh, January 16
The much-awaited Chandigarh Science Congress, earlier scheduled to be held on January 24 and 25, has now been postponed. Dates for the event - the first of its kind in the tricity - have been advanced following the non-availability of Union Minister for Science and Technology Mr Kapil Sibal for the inauguration of the conference on the dates planned earlier.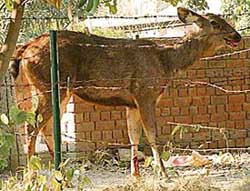 Sambar enters school, creates a scare
Chandigarh, January 16
For the local policemen, it was a wild sambar chase. As the antelope slipped from area under the jurisdiction of one police station to another, the men-in-khaki kept passing the buck.


The sambar that strayed into the city in front of houses in Sector 46 in Chandigarh on Tuesday. — Tribune photo by Vinay Malik

Bansal should get more funds for city, says Dhawan
Chandigarh, January 16
Mr Harmohan Dhawan, president, Chandigarh Vikas Manch, today stated that it was the duty of Mr Pawan Kumar Bansal, Minister of State for Finance, to help generate additional revenue for the city. "The ministry that he is a part of gets Rs 3,000 crore as planned and unplanned budget, however the city only gets 1000 crore from it," stated Mr Dhawan while addressing a press conference at his residence today.
INLD protests against 'anti-farmer' policies
Panchkula, January 16
The Indian National Lok Dal(INLD) activists led by Mr Ajay Singh Chautala, secretary-general of the INLD and Rajya Sabha MP, today, took to the streets to protest against the "anti-farmer and anti-people policies" of the Haryana Government.

The Indian National Lok Dal (INLD) cavalcade led by Mr Ajay Singh Chautala's vehicle makes its way to the District Secretariat in Sector 1,Panchkula, on Tuesday. — Tribune photo: Malkiat Singh
Admn plans courses, discourses for prisoners
Chandigarh January 16
The Chandigarh Administration has planned various new initiatives like scooter and refrigeration mechanic courses, beautician training programme, drug de-addiction counselling and spiritual discourses for the welfare of the jail inmates.
Man run over by train
Chandigarh, January 16
A 32-year-old man was crushed to death by a train near Pashupati Temple close to Mansa Devi Complex, this morning, here. He sustained serious head injuries in the mishap and died on the spot, the police said.
TBRL celebrates Raising Day
Chandigarh, January 16
Terminal Ballistic Research Laboratory, a premiere laboratory of the Defence Research and Development Organisation, today celebrated its 40 th Raising Day at Sector 30.
Decomposed body found in Sec 39, foul play ruled out
Chandigarh, January 16
The decomposed body of a man, who was in his mid-forties, was recovered from a house in Sector 39 here this morning.
Blankets, sweaters given to needy
Chandigarh, January 16
The Durga Das Foundation today distributed blankets among slum children studying at its night schools, men and women under its community welfare projects and construction labour working at the Strawberry Fields site in Sector 26 here.