Chug into the Railways

Who hasn't travelled on a train in India without feeling a sense of awe at the enormity of a system that connects places and people with an efficiency not normally associated with things Indian. If one were to be further informed that this is the second largest system in the world under one management, and that it carries 13 million passengers and 2 million tonnes of freight every day through over 63,000 route kilometres and more than 7,000 stations, it would reinforce this feeling. Indian Railways is the artery of India's growth and existence. People from Dimapur in Nagaland in the Far East can travel to Amritsar in the North-West, while pilgrims from Kanyakumari at the southern most tip of India can pray at the Amarnath shrine in the Himalayas.


Careercature
Sandeep Joshi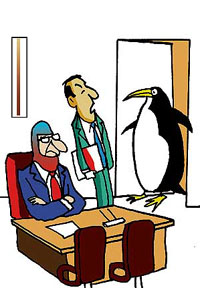 Sir, he says he is ready to join our Antarctica branch without any special allowance.

Unusual job titles are a sign of the times
Amy Joyce
Chief something or other. Senior blah blah blah. Director for the whatever region. Vice-president of lots of stuff. It used to be much more common that titles meant the same thing across industries. You knew where a vice-president stood. Or a director. But now we've got titles for everything, and some things that don't really exist. Just spend a few more years on the job and watch that title grow.


Overseas education an evergreen choice
Ajay Mittal
The prospect of an overseas education has always fascinated Indian students and the incentives that are being offered by all major universities across the world have given the Indian youth a wide range of options in terms of courses, universities as well as the choice of countries. At a time when studying as well as getting a good job in India is becoming more and more difficult because of the quota system and immense competition, the number of students migrating to countries like the USA, UK, Australia, Canada and New Zealand is increasing every year.


Indian, UK lawyers set to share work experiences
In the first signal of Indian law firms getting ready for global competition, lawyers from India will sign a pact with their British counterparts to share experiences, exchange information and impart training.


Clear thinking aids right career choices
I.M. Soni
Napolean Hill's book 'Think And Grow Rich' makes a lot of practical sense. Thinking is one of the hardest things in the world to do. In many cases, disorder is the only order that prevails in the mind. Disorder leads to inefficiency and wrong judgement in choice of career, sour equations in office and verbal blunders in interviews.


Healthcare sector to be short of 45,000 docs by 2012
The healthcare industry of India will face a shortage of 45,000 doctors by 2012 and 3,50,000 nurses for primary and secondary care by 2015, with quality of services offered by the sector expected to deteriorate further, industry body Ficci has said.


New-age IT professionals get bored easily, want quick jumps
New-generation information technology professionals are restless, get easily bored and want to go up the ladder quickly without becoming experts, says a senior official of Infosys and human resources management specialist.


Bits & bytes
Aviva to transfer 2,900 BPO employees
The UK-based insurance giant Aviva plans to transfer 2,900 employees from its third party BPO partners, EXL and WNS, to its own offshore division - Aviva Global Services (AGS), in the current calendar year, a company executive said in Bangalore recently.


Career Hotline
Avenues in ayurveda
Pervin Malhotra
Q I am currently in Class XII (PCB). I wish to pursue my career in ayurvedic medicine. Can you please tell me which institutions offer a course in BAMS?