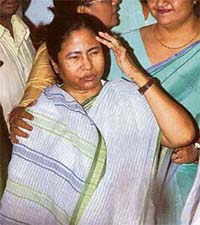 Trinamool Congress supremo Mamta Banerjee addresses the media after her release from a nursing home in Kolkata on Wednesday. — PTI photo
Media opposes ban on exit polls
New Delhi, January 17
Some media organisations have opposed a petition in the Supreme Court for banning the opinion and exit polls amidst election process, saying that such a prohibition would directly come in conflict with freedom of speech and liberty laid down in Articles 19 and 21 respectively.
Polio cases worry Nitish govt
Patna, January 17
The Nitish Kumar-led NDA is worried over the alarming rise in cases of polio in Bihar. Official sources disclosed that while launching the first polio round for 2007 last week, chief minister Nitish Kumar asked the state health department to properly coordinate with all governmental and non- governmental agencies with the pledge to work with "renewed vigour" for eradication of polio.
Transfer attacker judge: SC Collegium
New Delhi, January 17
Taking a tough stance on an unsavoury incident of two Gujarat High Court judges fighting over a dispute, the Supreme Court Collegium has recommended the transfer of Justice B J Shethna to Sikkim as a punishment for allegedly giving fist blows to his colleague Justice P B Majumdar.
Hearing in Sidhu case to continue today
New Delhi, January 17
Former cricketer and BJP leader Navjot Singh Sidhu in his effort to get the Supreme Court nod for contesting byelection to the Amritsar Lok Sabha seat, vacated by him today sought to invoke people's mandate theory for the staying of the judgement on his conviction.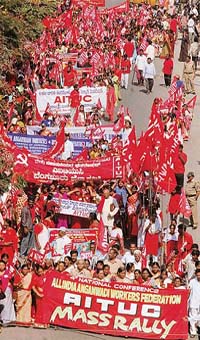 Members of the All India Trade Union Committee ( AITUC) participate in the fourth national conference of All-India Aganwadi Workers Federation in Hyderabad on Wednesday. — AFP
Nithari: Probe panel raps police, admin
New Delhi, January 17
The committee, constituted to investigate allegations of sexual abuse and serial killings of children in Noida's Nithari village, has pinned down the police and the administration for its "apathy and indifference" to reports of missing children.
Noida probe not proper: Babbar
Lucknow, January 17
If the Rs 6 crore reportedly spent every year by the Noida authority for cleaning the drains had in actual fact been spent on doing so, the Nithari case would have surfaced much earlier and many precious lives could have been saved.
Mumbai cops' terror hunt takes them to jails
Mumbai, January 17
A warning by the Intelligence Bureau that the Lashkar-e-Toiba may carry out terror attacks on the Republic Day parade has caused the Mumbai police to scan suspects within the city's jails.
Asom name opposed
Guwahati, January 17
Eminent citizens, including Dada Saheb Phalke award winner Bhupen Hazarika, have strongly opposed the Assam Government's move to change the name of the state to 'Asom'.
Pardon: Haryana submits records
New Delhi, January 17
The Haryana Government today placed before the Supreme Court entire jail records regarding the grant of pardon to several murder case convicts by the previous Om Prakash Chautala Government allegedly to facilitate their premature release.
BJP for stern action against secessionists
New Delhi, January 17
In a sharp reaction to the recent killings of migrant workers in Assam by ULFA, the BJP today demanded stern action against the secessionist elements in the northeastern state.
TN bans corporal punishment in schools
Chennai, January 17
Following complaints by many parents and reports of torture on students by teachers, the Tamil Nadu government today abolished corporal punishment in schools in the state.
Woman drugged, molested in car
Mumbai, January 17
A 40-year-old woman was allegedly drugged by four unidentified persons and molested in a car in Central Mumbai, police said here Wednesday.



Videos
'Guru' and 'Anwar' running across the theatres in the capital.
(56k)
A ray of hope for orphaned kids in Gaya.
(56k)
Hema Malini dazzles during Ardh Kumb.
(56k)