CHANDIGARH

LUDHIANA

JALANDHAR
New

DELHI

HIMACHAL PLUS
New

AMRITSAR PLUS

LIFESTYLE
New

BRIDES WANTED

GROOMS WANTED

OTHERS

HOW TO PLACE ADVTS
In Science & Technology today
Big cats to battle it out in Malwa
Chandigarh, January 18
The Malwa region, once famed for its sand dunes and jungles, is now known for its political heavyweights. The region, with 65 Assembly seats, has been dominating the state's political landscape in various forms for the past four decades. Virtually, it has emerged main electoral combat zone in this Assembly elections.
CCS discusses Pak firing in Akhnoor
New Delhi, January 18
The Cabinet Committee on Security (CCS) today met here to discuss a sensitive agenda packed with strategic moves vis a vis Pakistan, Afghanistan and Myanmar and assess the implications of unprovoked firing from the Pakistani side in Akhnoor yesterday.
SHILPA BACKTRACKS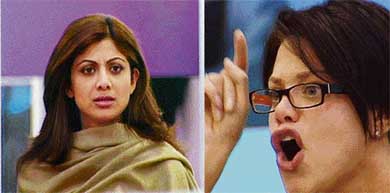 'I don't feel there was any racial discrimination happening from Jade's (right) end. I don't think that's true. I think there's lots of insecurities from Jade but it's definitely not racial.' — Reuters photo


In videos


Protests, disgust over "racism" in Celebrity Big Brother. (56k)


Brown says Britain will not tolerate racism. (56k)


India: The Tasks Ahead
SPECIAL SUPPLEMENT
125TH ANNIVERSARY CELEBRATIONS,
INAUGURAL SESSION

HOROSCOPE
FORUM
Forum provides our readers with an opportunity to express their views on some of the vital issues facing the country. The new question being posed is:
How can Indian hockey be saved?
The answers can be
e-mailed to:
forum@tribunemail.com
H.K. Dua
Editor-in-Chief

Relief to seven PCS officers
Chandigarh, January 18
In a relief to seven PCS officers, whose appointment on compassionate grounds had been set aside by the Punjab and Haryana High Court on November 7 last, a Division Bench of the High Court today directed the Punjab Government not to remove these officers from their job till further orders.
LM Thapar dead


New Delhi, January 18
Noted industrialist and Chairman of Ballarpur Industries Ltd Lalit Mohan Thapar passed away yesterday. Assocham President Venugopal N Dhoot described Mr Thapar as one of the pillars of Indian industry and said with his death a vacuum has been created which would be difficult to fill in.— UNI

Complaints to EC


Number, any number, even roll number
Chandigarh, January 18
That the Election Commission receives a large number of complaints as regards irregularities and violations of the code of conduct is a fact well-known. What is not that well known to the public is the number of frivolous and non-election related complaints that the EC is burdened with during poll time.

E - Revolution 2005:
A Two-day IT conclave

Assembly Elections - 2005

Turbans

Chandigarh is 50

EARLIER FEATURES
Congress leaves Mulayam
January 18, 2007

Jolt for Badal as Delhi votes Sarna way
January 17, 2007
PM: Pacts on Siachen, Sir Creek far away
January 16, 2007
Boost border talks, say Manmohan, Wen
January 15, 2007
PoW kin welcome: Pervez
January 14, 2007
SC cancels 'tainted' NDA-given oil outlets
January 13, 2007
Supreme Court asserts
January 12, 2007
Expulsions fine: SC
January 11, 2007
Bodies of four children found from Brar's mill
January 10, 2007
Humane rehab policy soon
January 9, 2007