Middle class looks at Tier II, III cities

Italian marble floors, bar, modular kitchen, a state-of-the-art bathroom and a swimming pool in the backyard: luxury has just got redefined, and that too, for the middle class, as far as housing is concerned. With real estate prices in the NCR region soaring, developers are looking at greener pastures in Tier II and Tier III cities. In fact, the boom has just begun in Kundli, Sonepat, Panipat in Haryana and Rudrapur in Uttaranchal, where luxury apartments, affordable even by the middle class, are fast coming up.
Shops make-up to resemble malls
Retail scenario changes as established outlets change the looks, says Shveta Pathak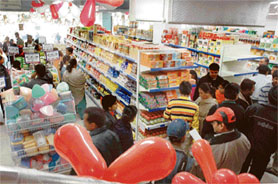 The first mall that came up in Punjab had raised many questions, most as to whether these malls would succeed. More than one year down the line a significant shift in the scenario seems to have occurred. On one hand are the residents waiting for more malls to come up "for a better shopping experience" while on the other an increasing number of retail chains are coming up in the state offering a shopping environment on lines similar to malls.
An increasing number of retail chains are coming up in the state offering a shopping environment on lines similar to malls. — Photo by Sayeed Ahmed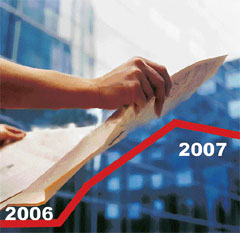 Returns on infrastructure funds may plateau
Funds investing in infrastructure sector posted the best returns in 2006 but are unlikely to repeat the performance this year as such stocks have turned expensive and may not sustain their momentum, fund watchers said. Three of India's top five equity funds in 2006 were pure infrastructure funds, data from global fund tracker Lipper showed. The other two also invested heavily in companies building infrastructure or supporting it.
GREEN HOUSE
Indoor plants feel the chill
Satish Narula lists ways to tackle frost
Horticulture for apartments has a different meaning. Same plants, if planted on the ground floor, grows differently than if grown on the middle or the top floor. The management of the indoor plants at various levels needs a fresh look for the best results. In case of indoor plants, each and every leaf matters. Any plant that seems to be dragging feet becomes an eyesore.


Preferring India!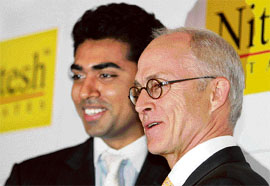 Managing Director of US-based Citigroup Property Investor David Schaefer (right) speaks to Managing Director of Nitesh Estate, Nitesh Shetty, at a press conference in Bangalore. Citigroup has announced its partnership with Nitish Estate, one of Bangalore's leading real estate developers, to develop a $100 million luxury hotel. The group is planning to invest another $400 million in the booming Indian urban real estate market. — AFP photo.
TAX tips
Completion certificate not needed for claiming IT rebate
Q. Kindly clarify if income tax rebate on home loan is available only after the completion certificate has been secured from the municipal committee, HUDA etc. I have taken a loan of Rs.6 lakh from ICICI Bank for renovation of my house. Earlier, I had applied to HUDA for completion certificate five years ago but that has not been granted yet. Am I eligible for IT rebate on this loan (which was for renovation/addition) without having been issued a completion certificate by HUDA? No need to say that I had completed the construction of the house five years ago.
Buzz on Bourses
PNB arm pact with Iffco Tokio
New Delhi: PNB Housing Finance Ltd, a wholly owned subsidiary of Punjab National Bank, has tied up with Iffco Tokio General Insurance to provide its customers with fire and personal accident insurance policies, along with the housing loans.