Shades of politics
Randeep Wadehra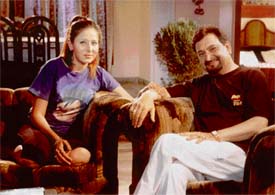 Donny Kapoor with B.B Verma in Rustam-e-Hind. A sequel of the movie is in the offing
Punjabi electronic media never ceases to surprise one when it comes to matters political. Just when viewers were convinced that the news channels were biased in favour of the ruling party in Punjab, the Opposition began to make its presence felt on the small screen, although in a less forceful manner. Then entertainment channels too joined the act.
Recently one watched Sukhbir Badal on Punjab Today holding forth on the omissions and commissions of the Amarinder Singh government. As if that was not enough, the ETC channel was playing a music video that described Parkash Singh Badal as Punjab's best Chief Minister ever. Now, political cut and thrust adds colour to election campaigns, but when the channels that seemed out and out pro-Congress somersaulted in favour of the Akalis one was left breathless. What was the reason? Political pressure? A quid pro quo? A change of heart or lucre changing hands? Your guess is as good as mine.
Punjabi cinema is trying o catch up with Bollywood in more ways than one. Since sequels are in vogue, the makers of the Punjabi flick Rustam-e-Hind too are making its sequel, tentatively titled Siyasat. You will remember that the movie revolves around the intrigues and petty politics that bedevil the careers of budding as well as established wrestlers. Apart from actors like Guggu Gill, Donny Kapoor, etc, it had famous wrestlers like the Arjuna Award winner Jagdish Bhola and Parminder Dumcherri in the cast in order to lend authenticity to the narrative. Actor-writer-lyricist B. B. Verma points out that a lot of research on real-life wrestling heroes had been done to make the film a success. He promises similar inputs for the sequel which will depict real-life dirty politics that mars our sports scenario.
There is a lot of frustration among film artistes based in Chandigarh and Punjab. Although there are a number of production houses and coordinators based in the region, only a few are above board in their dealings. Some hire young artistes promising them rates as high as Rs 4000 per day, but eventually pay them at the rate of Rs 800 or less. At least one artiste has said that he got nothing for his work. There is certainly an urgent need to nip this evil in the bud by checking exploitative tendencies. Moreover it is essential to have a statutory regulating mechanism that would not only decide the payment rates but also ensure a fair deal to all concerned. The region is becoming a hub for film productions. Let an environment of healthy work ethic be inculcated right when the industry here is still in its nascent stage.