Reaching for the Pole Star
This girl from a middle-class home in Pune did the country proud by parajumping over the North Pole and South Pole without any earlier experience in the sport. Gagandeep Kaur on Sheetal Mahajan's hi-flying triumph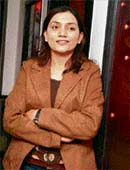 Parajumper Sheetal Mahajan
True to her name, Sheetal Mahajan is quiet 'cool' about her achievement of parajumping over both the North Pole and South Pole.
All of 24 years, and she has already accomplished a rare feat for the country — of jumping without practice over both the North and South Pole. It becomes all the more meaningful, when one learns that she is a simple middle-class girl from Pune who had never been in an aircraft.
Sheetal Mahajan always wanted to accomplish something big but she didn't leave it at that. She decided to fulfill her dream by parajumping from a height of 2,400 ft above the North Pole and South Pole. In 2004, She became the first person to jump over the North Pole without any earlier jumps to her credit. And on December 15, 2006, she became the first woman to do a free-fall para jump over the South Pole. Sheetal's story is an example of sheer grit and determination.
"I wanted to achieve a first for the country and the idea of parajumping came from Sqn Ldr Kamal Singh Oberoi, a parachute instructor at Pune's National Defence Academy, who travelled to the North Pole for sky-diving. I decided to do the jump without any practice," says Sheetal. She comes across as an extremely calm person who is sure about what she wants and how she is going to go about achieving her goal.
Sheetal's father, Kamalkar Mahajan, is a mechanical engineer working for Tata Motors in Pune. While she got her parents' support for the second jump above South Pole, they disapproved of her first jump over North Pole. Finding a sponsor was also a hurdle. But Sheetal, made of sterner stuff, decided to go ahead without her parents' support. Her father's employer, Tata Motors, decided to partly fund the effort. The Government of Maharashtra is also one of the sponsors.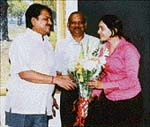 Sheetal being felicitated by the Maharashtra Chief Minister
The cost of parajumping is high and her father had to mortgage the house and sell part of the village land so that she could fulfil her dream. "The total cost was more than Rs 1 crore and I was only able to get sponsors for around Rs 80 lakh. For the rest of the amount, my father had to take a loan against our residence," says Sheetal, recounting the problems she encountered. Now, she hopes to repay the loan at the earliest.
Sheetal is also the recipient of the National Adventure Tenzing Norgay Award (Air Category) and this is the first time that this award is being conferred on a civilian. This award is conferred on armed forces personnel. She was a student of geology (B.Sc part II) at Pune's Fergusson College when she made the jump over the North Pole. Her quest for more made her start working on mission South Pole almost immediately. She approached the Navy, which has the country's only team of skydivers, for instructors and was turned down. Not one to give up without a fight, she approached President APJ Abdul Kalam, who in turn asked the Navy to help her.
The two jumps were also different from each other in more ways than one. While the first was a static line parachute jump where the parachute opened by itself, the jump on the South Pole was a freefall accelerated jump from at least 10,000 ft without opening the parachute.
In the second jump, she was assisted by two instructors, who withdrew at 4,000 ft when she manually opened the parachute.
Sheetal has big ideas for the future. "Only the people in the armed services have access to this sport (skydiving) in India. I would like to make this sport popular in the country. I plan to start an academy for this. I will also be participating in the World Championship in July this year," says Sheetal. —TWF