'Many websites misuse photos'
Bengali actor Tanushree Dutta hasn't made waves in the industry yet. But she has a number of films like Risk and Speed in her kitty. Excerpts from an interview by Vickey Lalwani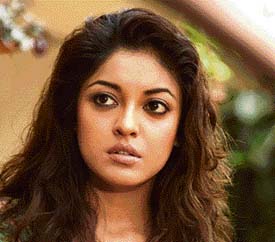 It was surprising to see a glam actress like you as a lead in Risk?
Well, Vishram Sawant (director) was looking for someone who could deliver in three departments — oomph, dance and acting. Vishram met me and figured out that I would fit the bill.
You recently did a sizzling number in Bhagam Bhag. How will you compare Randeep Hooda (in Risk) with Akshay Kumar and Govinda (in Bhagam Bhag)?
Personally, I haven't known anyone. But professionally all of them were very supportive of a new actress like me. They are very organised, and conduct themselves with a lot of dignity, and are very, very hard working.
Your name has appeared in a porn escort website.
It's very unfortunate. But there are so many websites who misuse pictures of actresses and women in media just to promote their website for no rhyme and reason. I think the best solution that I could figure out was to send them a legal notice. I am talking to my legal advisors regarding them.
Which are your forthcoming films?
Harry Baweja's Speed, Raj Kanwar's Raqeeb, Subhash Ghai's Good Boy Bad Boy and Priyadarshan's next. — TWF