Artist in exile
Exile and the artist are something new for a country like ours known for its liberalism and tolerance. Has M.F. Husain actually chosen to flee or is it a new marketing technique by this artist who has always thrived on controversy? Nirupama Dutt probes this question as Husain fails to return home on promised dates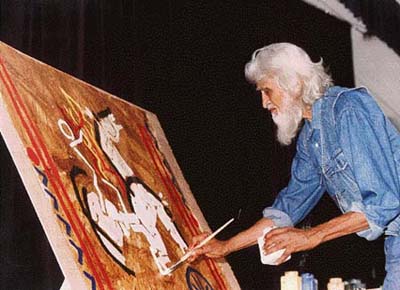 Maqbool Fida Husain, undoubtedly the most popular and prolific contemporary Indian artist, laughs at the word 'exile'. His is a full-throated laughter of a man who has seen 90 plus one seasons of life and creativity. The irony is that he says this while in exile of sorts, away from his home country.

Is it a willing suspension of disbelief when the maverick painter, whose one canvas fetches a crore and more, says: "What is 'exile'? Because I've been wandering all over the world for the last 50 years? I have been working all the time, there is no such thing as exile.

In fact, my exhibition is opening on December 30 in Kolkata. And I'll be there." He said so to Shekhar Gupta walking the talk with him in Dubai last year. However, it was not Gupta who walked the talk but Husain who did so. December came and went, and January is almost gone but Abba Husain is still to return home.

Shrieking silence

His family is sadly silent, his friends vocal and angry, and a handful of intellectuals and artists who are trying to raise the conscience of the nation to bring back a beloved painter home find their voices drowning in slogans of hate. Following Barkha Dutt's debate on NDTV, an angered man cries out against her defense of his bare-bodied paintings: "How will she react if Husain paints a nude portrait of Barkha Dutt and auctions it in an art exhibition." There is much else, too unfit to print.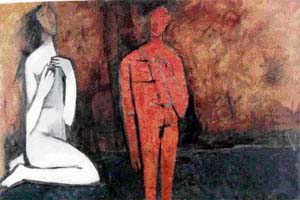 Two figures, 1958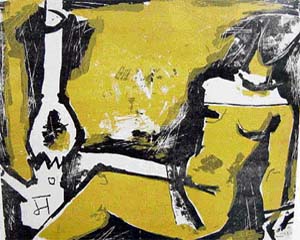 Lady and Lamp, 1956
When such a tone takes over, all reason is lost. It is Hai! Husain in ways more than one. His detractors want him done to death and finished, and they are even announcing awards and rewards ranging from lakhs to crores. His admirers are crying out against such treatment meted out to a painter who has perhaps contributed the most in putting modern Indian painting on the international art map. His is also an amazing story of struggle, courage and resilience, rising as he actually did from the streets.
The painter of hoardings has came a long way but he is now an outsider to not only to the land that he was born to but also to its life and beliefs that spread themselves on his canvases.
Changing colours
The Husain story is probably the saddest reflection on our times and their growing intolerance. Terror unleashed on art and artists, writers and writing, singers and music is not something new to the world. We have seen it all too often but it happened in climes that were fundamentalist and totalitarian. Fatwas to death are issued against artists and writers as in the case of Salman Rushdie, Taslima Nasreen or Orhan Pamuk.
Surprised at the upsurge of intolerance in India, a Pakistani poet, who had once sought exile in India, on a visit in the late 1990s, read out a very satirical poem on the changed mood of the country. The poem went something like this: Tum bhi ham jaise nikale/ Ab tak kahan chuppe thhe bhai... (So you too turned to be like us/ Where were you hiding all this while brother`85) Proving her words true, some persons tried to assault her when she was reciting in a symposium organised at Jawaharlal Nehru University.
That was a time when increasing attacks on art and artists had begun in India. Theatres showing Deepa Mehta's very fine film Fire were defaced and she was not allowed to film Water in India. Her statements on gender issues were seen as a grave threat to our ancient civilisation by the morality brigade. Husain's painting of Saraswati in bold simple lines and a bared body had already been destroyed by the Bajrang Dal in 1996. In 1998, the wrath was turned on a painting titled Sita Rescued. And last year it was anger unleashed at Bharat Mata, a painting meant to go on auction to raise funds for victims of the Kashmir earthquake but the Apparao gallery was pressured into withdrawing it. Husain said he had never given the title but that did not change matters. Interestingly, the titles given to Husain's anti-Hindu paintings on the Sanatan website and Sanskar Bharati pamphlets are not Husain originals but those given by Prafull Goradia in his book Anti Hindus.
Twist in the tale
Husain's rather serene and symbolic portrayal of a bare-bodied woman on the map of India was too much to take. What followed was unprecedented. In May 2006, the Home Ministry advised the police chiefs of Delhi and Mumbai to take 'appropriate action' against the artist. The Hindu Personal Law Board president Ashok Pandey announced a Rs 51 crore reward for eliminating artist M F Husain. Congress Minority Cell leader Akhtar Baig offered Rs 11 lakh to any 'patriot' to chop off the painter's hands for hurting Hindu sentiments. His apology and subsequent departure from the country did not end the witch-hunt and a gallery holding an exhibition of his works was vandalised in London and forced to remove the show.
Ironically, all this when the 'liberal' Congress is in power and Husain was always close to the party. Recall his painting of Indira Gandhi as Durga and the title of 'court painter' that he earned during the Emergency. When the controversy arose about the Sita painting, painter Vivan Sundaram went on record saying: "The intimidation is fascist in nature. This attack has crossed all barriers. They have intruded into a person's private space—an artist's home. The state must to do something about this. This is becoming a kind of rallying action. They are targeting art and artists because they have no political agenda to pursue." This was said of the Bharatiya Janata Party but what about the Congress or the climate under Congress rule.
Prolific painter
There is much more to Husain than the controversy. A prolif ic painter, he painted by the streetlights at night in Mumbai of old, He overcame much with struggle, labour and an immense talent to become the country's foremost artist. The long and hard practice of painting cinema hoardings turned his brush into a magic wand of sorts. It is sheer pleasure to watch him work and he has often worked in full public view.
The Indian art market has never been as prosperous as it is now and to Husain should go much credit for bringing artists to such a position. Many art galleries received encouragement and support from the painter. Besides, he is as good a showman as he is a painter. He knows how to be in news whether it means perching his frail frame on a scaffolding to paint the forehead of a tall building, or making quite a splash with his bare feet, painting a horseback in the middle of the white cube of a gallery or putting much of his money in celluloid to celebrate his fetish for Madhuri Dixit's derri`E8re. He is only being honest when he says: "Even marketing is an art form. I've created a whole new phenomenon of how to market. And I am not defensive about that. I do market my work. Also, because all these big dealers are now becoming defunct."
There are advantages of riding controversial waves but the dangers, too, are there. There are some in the art world and outside who still hold that this 'exile' is yet another Husain tamasha, which will further hike the prices of his paintings. Is this naughty white-haired wizard, who is a veteran at the game of art, having a last laugh as he paints on and into immortality? Perhaps so but he is also proving a point that there never was an artistic period or an art-loving nation for that matter.



Husain has no case to answer. For, there is nothing restrictive or self-limiting about the Indian identity the Mahabharata asserts: it is large, eclectic and flexible, containing multitudes. This is why I have been particularly happy to add my name to the petition circulated by many of our country's leading artists and writers, asking the President to confer upon Husain the highest award of the land, the Bharat Ratna.
—Novelist Shashi Tharoor
Husain must speak, must lead, must stand by his art — not apologise and withdraw. Most importantly, he must return to the place of his roots. To apologise is to give the lie to his art, cheapen it as a shallow thing.
—Shoma Chaudhry, Tehelka
It is sad that a painter whose portrayal of Hindus gods and goddesses was next in popularity to the calendar art of Raja Ravi Varma has been banished as anti-Hindu.
—Shamsul Islam, theatre activist
When future scholars write the social history of this past decade in India, a major trend they will undoubtedly note is the upsurge of intolerance. Right since the Babri Masjid was demolished in December, 1992 by a frenzied mob out to settle "scores with history", there has been unrelenting violence, discrimination and humiliation against groups of people. They are vilified simply because they happen to disagree with something, or have different beliefs, faiths, or ethnic origins. Books are burned (e.g. Ambedkar's Riddles of Hinduism), eminent artists (M.F. Husain) attacked, and newspaper offices (Mahanagar and Outlook) ransacked.

—Praful Bidwai, columnist
The Husain controversy is no longer a predictable Hindu-Muslim debate nor is it only about the orthodoxy of the BJP. The Congress party is just as accountable.
—Barkha Dutt, Managing Editor, NDTV