TELEVISION
Yet another heist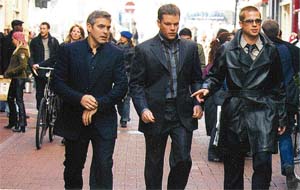 Ocean's Twelve: Mission Impossible
It's been three years since Danny Ocean (George Clooney) and his gang—euphemistically called the 'Crew'— robbed Las Vegas casino tycoon Terry Benedict (Andy Garcia) of his millions and his girlfriend (Julia Roberts). Benedict has finally tracked everyone down and he tells them to return the money or suffer the consequences.
Knowing that the odds are stacked against them, Ocean's gang heads to Amsterdam for a big heist. But what no one realizes is that the ultra- smooth Rusty Ryan (Brad Pitt) has ulterior motives for leading the gang to Amsterdam. It turns out that his flame, Isabel (Catherina Zeta-Jones) makes big bucks in Amsterdam by tracking down high-profile thieves such as Ocean. Unknowingly, Ocean goes ahead with his plan to for a dangerous museum heist that will either make or break the gang once and for all.
That, in a nutshell, is Ocean's Twelve. Don't miss the gut-wrenching thriller on Monday, January 22 at 9 pm on HBO. It will set you in the mood for more cool crime capers.
KBC's monkey gang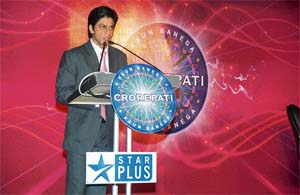 Shahrukh Khan all set for the big day
Guess what's occupying Shahrukh Khan the most these days? No, not his forthcoming films but Kaun Banega Crorepati. And guess who his contestants are at rehearsals? No, not some high profile film stars or cricketers but his son and his friends.
"The monkey gang" as they are called, play the game with much interest. In fact the gang members were the only contestants who won Rs 2 crore during all the dummy rehearsals (of course with a little help from daddy and the production crew)!
An insider says that such is Shahrukh's fear of being unfavourably compared with the Big B that he rehearses upto six hours daily with undivided attention without any breaks or phone calls. To test his reflexes, he recently called for rehearsals when he had not rested in 48 hours. Now that's commitment Shahrukh style and bodes well for the show.