CHANDIGARH

LUDHIANA

JALANDHAR
New

DELHI

HIMACHAL PLUS
New

AMRITSAR PLUS

LIFESTYLE
New

BRIDES WANTED

GROOMS WANTED

OTHERS

HOW TO PLACE ADVTS

Pak-based militants reject Mirwaiz's call
Islamabad, January 21
Signalling the widening divide between moderates and hardliners in Kashmir, a conglomerate of Pakistan-based militant groups has rejected Hurriyat leader Mirwaiz Umar Farooq's call to give up armed struggle to pave way for a peaceful negotiated settlement of the issue.

World page: Mirwaiz, PoK govt form working groups


J&K page: Mirwaiz statement may ease tension


Chandigarh page: Sajjad suggests evolutionary model on Kashmir
Bir: Review or I quit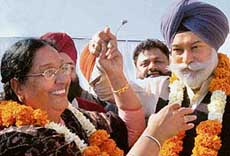 Mohali, January 21
Mr Bir Devinder Singh today appealed to the All-India Congress Committee chief, Mrs Sonia Gandhi, to review the decision to allocate the Kharar ticket to Balbir Singh Sidhu.
FOES TURN FRIENDS: OSD to the Chief Minister Lakhvinder Kaur Garcha joins hands with Mr Bir Devinder Singh at a rally in Mohali on Sunday. — Tribune photo by Vicky Gharu




India: The Tasks Ahead
SPECIAL SUPPLEMENT
125TH ANNIVERSARY CELEBRATIONS,
INAUGURAL SESSION
| | |
| --- | --- |
| | PUNJAB: It's a flag war in Kanuwan |
| | HARYANA: State likely to be power surplus in 5 years |
| | HIMACHAL: Govt failed to secure hike in 11th Plan: Dhumal |
| | |
| | |
| | LUDHIANA: Six burglars arrested |
| | DELHI: Ambedkar's statue broken |
| | OPINIONS: Blast in space |
| | BUSINESS: Govt may put pension funds in stocks |
| | |
| | |
| | SPORTS: India survive Shiv scare |
FORUM
Forum provides our readers with an opportunity to express their views on some of the vital issues facing the country. The new question being posed is:
How can Indian hockey be saved?
The answers can be
e-mailed to:
forum@tribunemail.com
H.K. Dua
Editor-in-Chief

Punjab Votes '07
Vets on poll duty; livestock left to die
Chandigarh, January 21
Punjab's livestock has been left to die. With veterinary officers and pharmacists being pulled out of hospitals for election duty, the livestock stands exposed to an epidemic outbreak.
Gangrape Case
Mayawati demands CBI probe
Lucknow, January 21
The madarsa gangrape case is turning into a major embarrassment for the Mulayam Singh Yadav government just before the Assembly elections as Bahujan Samaj Party chief Mayawati today demanded a CBI probe into the case.
Advani admits disputes in BJP
New Delhi, January 21
In a candid admission senior BJP leader L.K. Advani today acknowledged that organisational disputes did exist in the party and regretted that they came out in the open.


Boy killed in B'lore police firing
Bangalore, January 21
Communal rioting in the IT city today left a 12-year-old boy dead and 25 others injured when the police fired on a rampaging mob, which had torched two buses and damaged several other vehicles besides looting shops in the Shivaji Nagar area here.


Monday Special
Unmarried Biharis 'owe' it to kala azar
Patna, January 21
Even as the Bihar Government targets to turn the state free of kala azar (black fever) by 2010, this hardly brings cheers to the homes of many.
HOROSCOPE

E - Revolution 2005:
A Two-day IT conclave

Assembly Elections - 2005

Turbans

Chandigarh is 50

EARLIER FEATURES
EC clears Gill as new Punjab police chief
January 21, 2007

Inflation soars to 2-yr high
January 20, 2007

Mulayam must quit, says Cong
January 19, 2007
Congress leaves Mulayam
January 18, 2007
Jolt for Badal as Delhi votes Sarna way
January 17, 2007
PM: Pacts on Siachen, Sir Creek far away
January 16, 2007
Boost border talks, say Manmohan, Wen
January 15, 2007
PoW kin welcome: Pervez
January 14, 2007
SC cancels 'tainted' NDA-given oil outlets
January 13, 2007
Supreme Court asserts
January 12, 2007