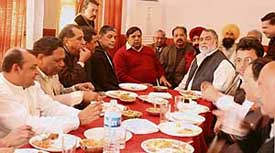 Meeting a political leader is an arduous task most of the times. These days, however, the scenario has changed. What makes it even more interesting is that not only do political leaders listen to people, they do so patiently even when the things said to them are not so nice. A case in point was a recent interaction between industry and political leaders. Industrialists not only levied all kinds of allegations, they themselves arrived late for the meeting. Politicians could do nothing but wait for them and later, listen patiently, smilingly, to even the allegations.
English or Punjabi?
When SAD leader Mahesh Inder Singh began addressing industrialists in English at a meeting held recently, a couple of them asked him to speak in Punjabi instead. The leader, while promptly replying that he spoke in English as the questions asked to him by industrialists were in that language, added in a lighter vein, "If I had replied to your queries in Punjabi, a lot of you would have said that Akalis are uneducated..," making the entire gathering burst into a laughter.
Poor services
Call dropping rates seem to be at all time high. Despite high competition, woes of mobile phone users remain largely un addressed. Residents complain that it is common not to get through when they dial a certain number or get disconnected while talking. Service providers, on the other hand, never admit their fault and consumer not only has to suffer on account of poor services but even pay for excess charges which accrue on account of fault of companies only.
Politicians' promise
Politicians are known to go back on their promises after they are elected. But this Congress leader chose to break the promises during the campaign only. He placed an order for 200 copies of a newspaper with a circulation executive of the daily. However, on delivery, he refused to take 100 copies arguing his picture was not used in that edition. ''We politicians make such promises only" he remarked without batting an eyelid when reminded of his promise.
MC remembers birds
After ruining the ecology of the city by not taking care of parks and green belts, which forced birds to perish or flee, the Municipal Corporation's love for birds has suddenly come to the fore. In its new year calendar, it has printed pictures of rare and under extinction birds, sending the message to preserve those.
'Westernised' maid
A friend got a new maid from Chandigarh after "hard-labour". Although she found the new domestic help quite modern but being in service, she had no other option. The maid asked her employer which festivals fell in the month of February so that she could visit her 'mom'. The employer informed her politely as there was no festival in February, it would be better if she went to celebrate Holi (in March). The employer thought that she needed her the most in February as her daughter was to take final exams. The maid interrupted the employer saying,"you have forgotton the main festival- Valentines' Day? We wait for the day throughout the year. I must go and wish my friends on February 14". Poor employer kept on criticising western culture.
Just tea
A mentally challenged youth is often seen in Bhadaur House market. Covered well with woollens, the youth stands in the car-parking to get the warmth of sun. Children and youngsters of the area irritate him by snatching his stick, teasing him. He often asks a fellow journalist for a cup of tea and 'kulche-chane' available near the parking. Recently when the fellow journalist tried to give him Rs 20 to get whatever he wanted, he refused to take the money and made the fellow journalist clear that he just wanted a cup of tea and not the meals, so better give a two rupees coin only.
Number plate
Cops are supposed to protect laws. But more often than not , they are found on the wrong side of law. While the Punjab Police forces people to use authorised number plates of specific, size, colour and font on their vehicle, a police Gypsy of Samrala carries the registration number crudely scribbled with fingers on the car. The Gypsy makes a good impression on how the law should be followed.
Bus Vs taxi
Samrala Chowk is daily witnessing confrontation between the taxi drivers and staff of private buses. The bus staff objects to the presence of taxis at the stop alleging the taxi drivers lure passengers meant for buses. This causes unruly scenes daily especially in the evening. Most of the times, the transporters, who are more in number force taxi drivers to vacate the vehicle. Their muscle men recently harassed some girls who had just stopped at the crossing to take other women friends with them. But the muscle men were not convinced and gave them a hard time. It was only when the girls called for help from passersby that the transporters relented.
Poll fervour
Not only has election mood rubbed on political leaders and their supporters, common man too is not left untouched by the same. Jokes on politicians are common at public gatherings these days. As a resident narrated, "two women were hurling abuses on each other. Reacting to the first one, the second said she wished that the husband of the first one became a politician. In that case, he would either be meeting people or be seen in jail!"
Power cuts
Power supply has began playing truant again. Cuts have become frequent and also of longer duration. City residents are a troubled lot as poor power supply gives them bad summers and now the effect is showing in winters too! Adding to their woes is rising electricity bills. Now, this is one problem that seems never ending.
Women power
The city seems to have become a good statement on Women Power. Women are occupying most of the important seats of power in district administration. There is Ms Kanwaljit Kaur Brar who is posted as ADC, Dr Indu as SDM-West, Ms Amrit Kaur Gill as SDM-East, Ms Pinki Devi as District Revenue Officer and Ms Anupam Kaler, Executive Magistrate and SMO Manjit Kaur.
(contributed by Shveta Pathak, Kanchan Vasdev, Shivani Bhakoo and Jupinderjit Singh)