It's an ad, ad world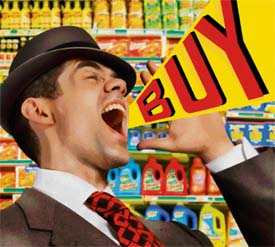 Thanda matlab Coca Cola…Daag achhe hai... No one can eat just one… are messages that have become part of the Indian psyche. Who hasn't followed the antics of the cute pug dog with the pink tongue tailing the little boy, or the little boy/girl splashing in the mud, or Aamir Khan endorsing Coca Cola…or hundreds of others.
Everyday, we are bombarded by messages in the visual or audio form, coaxing us to buy a particular product or service. Whether it is a brand of cola, a computer, the latest model of a car, or a service that transports you to exotic locations, the message always is that of persuasion. This is advertising.
Advertising serves to persuade people to buy a particular product or service, to attend an event, or to create awareness, or influence social attitudes on matters of general concern. There are many creative ways by which advertising achieves these ends — mainly through print — newspapers and magazines; audio-visuals — radio spots; film and television commercials, computer websites and CD-roms; and displays — like hoardings; exhibitions, market stalls, sponsorship of events and so on. Professionals in the creative area of advertising create these messages.
Creative calling
The Creative Department is responsible for conceptualising and designing advertisements in the form they appear in print, audio-visuals or display. This requires the working together of two disciplines: a) copy-writers, those who handle the text (or 'copy', as it is called in advertising jargon); b) visualisers and graphic artists, those who work on the visual and artistic aspect of the ad.
The Creative Department, once it is briefed on the campaign, evolves an idea for projecting the ad, keeping in mind the audience the campaign is targeted towards, the socio-economic background, where the ad will be placed and so on. The copywriter then provides the appropriate slogans, jingles or scripts, or any other textual matter, Papoo pass ho gaya…while the Art Department handles the visual aspect — 'Amitabh Bacchan as a villager celebrating Papoo's victory with Cadbury chocolates'. This can include dramatised sequences, still photographs, layouts, graphics, symbols, logos, etc. There are also visualisers and graphic artists who convert the designs into finished works or slides.
No particular academic requirements or subjects are necessary, but creative talent, in ideas, artistry or written skills. To become a copywriter, you must be at least a graduate with a good all-round education and a flair for writing.
Copy right
A general awareness of current affairs and social trends is also necessary for the job. Computer literacy and a command over more than one language can be an asset. Most agencies conduct a copy test to evaluate the candidate's creativity.
Artistic talent is the main requirement of the art department. A degree/diploma in commercial art from a reputed design school is necessary for a post here. Knowledge of computer graphics and design related programmes is an asset.
There are a limited number of institutions which offer training in advertising for copy-writers. Most of these are postgraduate training programmes. These include a general PG diploma or degree in mass communication, where advertising is one subject along with public relations and sometimes journalism too.
Delhi University offers advertising as a vocational subject for the BA programme, while one college, IP College, offers a BA in mass communication, for which admission is based on an entrance test.
The applied art course is a degree programme offered by several colleges of art, and is normally of three to four years. Applied art or graphic design is also offered as a 4- year undergraduate course at several design institutes, including the National School of Design, Ahmedabad, Apeejay School of Design, and several others.
The eligibility for most of the postgraduate training programmes is graduation, in any discipline with a minimum of 50 per cent marks. Admission to an art college, or design institute is based on an entrance exam, which includes a drawing test to ascertain creative ability.
Skill sets
More than any academic requirement, those entering the creative area of advertising need to have good communication skills, a vibrant imagination, an ability to think out-of-the-box, command of language, creative ability, team spirit, ability to withstand the high stress levels of an extremely competitive environment and ability to work under pressure.
Most ad agencies are happy to recruit anyone with talent. Large agencies have separate departments handling each of the different creative assignments, while smaller ones club together several jobs handled by a small team where copywriting and visualising work could overlap. There are also openings in the advertising departments of private or public sector companies, or the advertising section of a newspaper, journal, and magazine. Work with graphic or multi-media organisation working on websites are other assignments for creative advertising professionals. There are many graphic artists who also take on freelance work.
Money matters
A career in advertising brings attractive remuneration and perquisites. Freshly trained graduates can begin with salaries of Rs 10,000-15,000 per month. However, with some experience they can rise fast, specially those with talent. A successful ad man's salary, after 4-5 years of service, is generally in the range of Rs 25,000 — Rs 50,000 per month, depending on the agency.
Advertising is not a glamorous profession as most believe it to be. Those who join must be prepared to work long hours and under much pressure and deadlines.
But success comes early to those who show promise, and rewards in this industry are directly commensurate with the initiative displayed and results achieved. So, if you are someone with whacky ideas, a good sense of humour, skilled with words and language, or a wizard with a pen and brush…then yeh hi hai right choice!
Training talk
Some of the important institutions for PG diploma in Mass Communication are:
Mudra Institute of Communications, Ahmedabad. (MICA)

Indian Institute of Mass Communications (IIMC), JNU campus, New Delhi.

Rajendra Prasad Institute of Communication and Management, Mumbai.

Bhavan's College of Communication and Management, Mumbai.

Bhartiya Vidya Bhavan, Kasturba Gandhi Marg, New Delhi.

National Institute of Advertising.

Narsee Monjee Institute of Management Studies, Vile Parle (West), Mumbai.
For Commercial Art/ Graphic Design Courses:
College of Art, Tilak Marg, New Delhi.

College of Art, Sector 10-C, Chandigarh.

National Institute of Design, Ahmedabad.

Apeejay School of Design, New Delhi.

Symbiosis Institute of Design, Pune.
Some advertising agencies have also started their own training institutes. Other than the well established Mudra Institute of Communication, Ahmedabad, new entrants include, RK Swamy/BBDO, Contract, the Lintas College of Communications, and the Clarion College of Communications.
The writer is a noted career expert