ADVERTISEMENT

CHANDIGARH

LUDHIANA

JALANDHAR
New

DELHI

HIMACHAL PLUS
New

AMRITSAR PLUS

LIFESTYLE
New

BRIDES WANTED

GROOMS WANTED

OTHERS

HOW TO PLACE ADVTS

HOROSCOPE
Day 1: Sidhu rolls in, Singla prays
Amritsar, January 24
The arrival of Mr Navjot Singh Sidhu and Congress stalwart and Finance Minister Surinder Singla to battle it out for the Amritsar Lok Sabha seat has enlivened the election scene here. Mr Sidhu arrived here this morning with fanfare. On the other hand, Congress candidate Surinder Singla made a quiet entry.

Editorial: Slugfest at Amritsar
EC notice to CM, Badal
New Delhi, January 24
The Election Commission today issued show-cause notices to Punjab Chief Minister and Congress candidate Amarinder Singh and Shiromani Akali Dal president Parkash Singh Badal for violating the Model Code of Conduct.

Editorial: Sound of money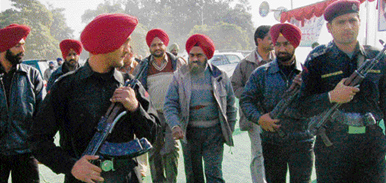 Dullo squad:

Mr Shamsher Singh Dullo, Punjab Congress chief, heads for an election rally of the Kharar candidate, Mr Balbir Singh Sidhu, in Mohali on Wednesday. — Tribune photo by Vicky Gharu


ADVERTISEMENT


India: The Tasks Ahead
SPECIAL SUPPLEMENT
125TH ANNIVERSARY CELEBRATIONS,
INAUGURAL SESSION




FORUM
Forum provides our readers with an opportunity to express their views on some of the vital issues facing the country. The new question being posed is:
How can Indian hockey be saved?
The answers can be
e-mailed to:
forum@tribunemail.com
H.K. Dua
Editor-in-Chief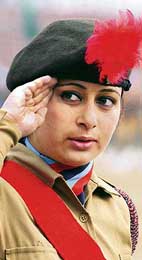 J-K POWER: An NCC cadet salutes during a Republic Day rehearsal parade at the Bakshi Stadium in Srinagar on Wednesday. — AFP

Indians among 750 held by US immigration officials
Washington, January 24
US immigration officials have arrested more than 750 foreign nationals, including Indians, in one of the largest such enforcement actions carried out so far in the country. Most of the arrested during the week-long raids in five southland counties of the Los Angeles area were Mexican nationals, but the list of those picked up were from 14 nations, including India.



India win
India snatched a thrilling 20-run victory over the West Indies in the low-scoring second one-dayer to take a 2-0 lead. (Details on Sports page)

Typo? 87 missing Army men turn into paper
Chandigarh, January 24
In a major faux pas, the Punjab Police has made a hash of forwarding an important message received from the Ministry of Home Affairs, Government of India, issuing a security alert for the Republic Day celebrations. The message sent on January 15, listed 87 Army personnel whose identity cards had gone missing since December 2006.

E - Revolution 2005:
A Two-day IT conclave

Assembly Elections - 2005

Turbans

Chandigarh is 50

EARLIER FEATURES
It's Sidhu vs Singla
January 24, 2007

SRE-1 brought home
January 23, 2007
Tatas begin work at Singur
January 22, 2007
EC clears Gill as new Punjab police chief
January 21, 2007
Inflation soars to 2-yr high
January 20, 2007
Mulayam must quit, says Cong
January 19, 2007
Congress leaves Mulayam
January 18, 2007
Jolt for Badal as Delhi votes Sarna way
January 17, 2007
PM: Pacts on Siachen, Sir Creek far away
January 16, 2007
Boost border talks, say Manmohan, Wen
January 15, 2007
PoW kin welcome: Pervez
January 14, 2007