M A I N N E W S
Fifth Gen combat aircraft in Putinís sales bag
Girja Shankar Kaura
Tribune News Service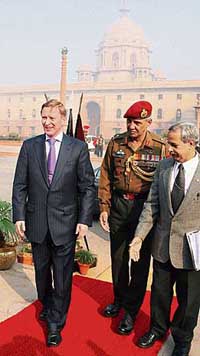 Russian Deputy Prime Minister and Defence Minister Sergei Ivanov arrives for a welcoming ceremony in New Delhi, on Wednesday. ó AFP photo

New Delhi, January 24
Russiaís efforts to remain a major defence partner with India came to the fore today with Deputy Prime Minister and Defence Minister Sergei Ivanov announcing here that India was favourably inclined to develop and manufacture a fifth generation strike aircraft with Russia and the two countries would also develop and manufacture a medium multi-role transport aircraft.
The two countries will hold talks here tomorrow and both leaders are likely to dwell on a possible agreement on the fifth generation aircraft and make an announcement.
The announcement from Mr Ivanov, who is also among the favourites to succeed President Putin when he steps down after two terms at the office in 2008, also assumes importance in the wake of Russia realising that India will spend about $30 billion in the next decade on acquisition of the state-of-the-art weapon systems.
The importance that Russia is attaching to its defence ties with India can be gauged from the statement of Mr Ivanov where he said that the defence relationship between India and Russia had changed from buyer and seller to joint development and production of weapon systems. He termed the defence ties as dynamic and said this reflected our strategic ties.
The visiting minister was interacting with the Indian and Russian media after holding the sixth meeting of the Indo-Russia Inter-Governmental Commission on military technical cooperation with Defence Minister A.K. Antony.
On the progress of the aircraft, Mr Ivanov said the fifth generation aircraft will be air borne by the end of 2009. Russia has allocated substantial part of its national budget for this project.
Highlighting the high points of the meeting between the two ministers, Mr Antony said the parleys were result oriented and the next round of talks will be held later this year in Moscow. The two ministers then signed an agreement to jointly develop and manufacture a medium multi-role transport aircraft for the air forces of both countries and for commercial purpose also.
The two sides also signed an important agreement for licensed production of RD-33 engines for MIG 29s at Hindustan Aeronautics Limited, Nashik. The two ministers also reviewed the progress made on the refurbishment and refitment of aircraft carrier Gorshkov, rechristened INS Vikramaditya, for the Navy.
The Russian Minister said his country would be putting on offer the MiG-35s for $ 2 billion for 126 medium multi-role combat aircraft required by the IAF. The others in the race include F-16(Lockheed Martin), the F-18(Boeing), Grippen(Sweden), Rafael(France) and Eurofighter (UK).