M A I N N E W S
Day 1: Sidhu rolls in, Singla prays
Varinder Walia
Tribune News Service
Amritsar, January 24
The arrival of Mr Navjot Singh Sidhu and Congress stalwart and Finance Minister Surinder Singla to battle it out for the Amritsar Lok Sabha seat has enlivened the election scene here.
Mr Sidhu arrived here this morning with fanfare. On the other hand, Congress candidate Surinder Singla made a quiet entry. He went straight to the Golden Temple to pay obeisance.


GETTING THEIR ACT TOGETHER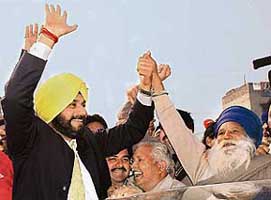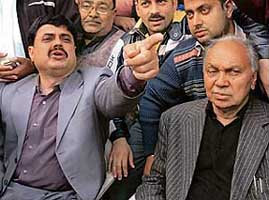 Mr Navjot Singh Sidhu, BJP nominee for the Amritsar Lok Sabha seat, gets a warm welcome on his return after getting relief from the Supreme Court ; and (right) the Congress nominee, Mr Surinder Singla, with dissident Congress leader Yoginder Pal Dhingra in Amritsar on Wednesday.
— Photos by Rajiv Sharma

A large group of mediapersons from the print and electronic media who had gathered in strength at the District Courts complex for the filing of papers by Mr Sidhu were surprised as the cricketer-turned-politician did not do so.
Supporters of the BJP leader described it as a mock exercise and said that Mr Sidhu would file the papers tomorrow. However, the secretary of Mr Sidhu clarified that some important documents were yet to be completed, hence the delay.
The electioneering campaign of Mr O.P. Soni, Congress candidate from Amritsar West received a major boost with the arrival of Mr Singla at his house. The Finance Minister accompanied Mr Soni for the filing of his nomination papers.
Mr Singla acted as peacemaker when he visited the residence of the district Congress president, Mr Yoginder Pal Dhingra, who had staked claim for Amritsar North and had decided to contest the poll as an Independent.
Mr Singla said he was confident he would be able to persuade him to back the official candidate. A record 36 candidates from different parties and Independents filed their papers today, the prominent among them being sitting Congress MLA from Beas Jasbir Singh, Mr Sardool Singh, Excise and Taxation Minister, the Congress MLA, Mr Jugal Kishor Sharma, BJP candidate Anil Joshi, Mr Rajender Mohan Singh Chhina, BJP, Mr Om Prakash Soni, Congress, Prof Darbari Lal, Deputy Speaker, Mr Harpratap Singh Ajnala, Congress, Mr Sukhbinder Singh Sarkaria, Congress, and Mr Gulzaar Singh Ranike, SAD.
For the Lok Sabha byelection, three candidates, including one from the BSP, filed papers.
The All-India Christian Dalit Front (AICDF) today said it would oppose Mr Sidhu in the coming elections as he had not looked into the problems being faced by them.
"We had asked our community members to support Mr Sidhu during the last elections. But he did nothing for the community and we will not support him during these elections."