Realty soars on FDI wings
by Peeyush Agnihotri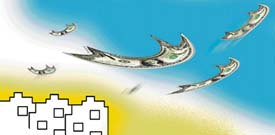 Ever since the government eased the foreign direct investment (FDI) norms a year ago, the realty mania refuses to subside. Two days ago, US private equity firm Apollo Management, in a tie-up with Sun Group, decided to pour in around $2 billion into the Indian real estate. Last week, Morgan Stanley Real Estate announced investing Rs 675 crore ($152 million) in Oberoi Constructions, one of the leading Indian real estate developers, close on the heels of Citigroup partnering with Bangalore-based Nitesh Estate.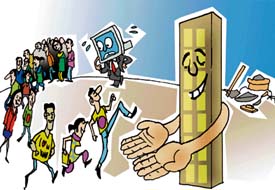 Realtors, retailers & recruitment!
Matching their investment plans of over thousands of crores in the booming Indian malls and realty, multinational firms are making a beeline for top B schools to hire talent.
Realty cools as Punjab goes to polls
Investors are waiting for election outcome, says Kirandeep
The coming Assembly election in Punjab has cast a shadow on those planning to buy property in the Mohali district, which had been witnessing a tremendous boom over the past one year as the colonisers have acquired much of land in the district.
Avoid 5 construction methods
Use latest and effective techniques, advises Jagvir Goyal
Some construction methods introduced decades ago as per materials and equipment available at those times are still prevalent in India. There is a vast improvement in the quality of materials and availability of equipment now and these old and bad methods are no more relevant in today's times.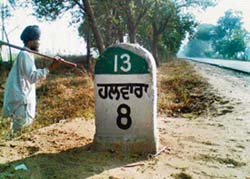 Halwara airport impasse hits realtors
Airports always hold a great deal of fascination for real estate dealers. However, two fairly good chances that the realtors in Ludhiana had to encash upon, proved to be too shortlived.


Once the airport proposal was shelved, deals ran into rough weather. — Photo by Sayeed Ahmed
'Biggest' compensation deal
A mega land-for-land and cash component package gets AP Cabinet's nod, reports Ramesh Kandula
It was described as the "biggest land compensation deal" in the country and may serve as a model for future acquisitions in the urban areas of Andhra Pradesh.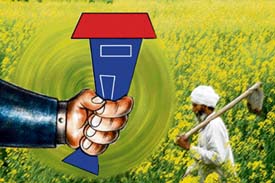 Taken for a ride in Faridabad
Sellers cry foul as cheques bounce, reports Bijendra Ahlawat
Though the transformation in the real estate sector is on in this industrial city of Haryana with hundreds of acres of agricultural land in the area located on the eastern part lining the town acquired by over two dozen builder companies, residents of several villages have alleged cheating by the companies in the purchase of their land.
Crisil study on cement price
The government's move to remove customs duty on portland cement is not expected to have any impact on the domestic industry as the prices of the commodity in the Indian market are lower than landed price, according to a study.
Bharti realty arm plans

Hindujas plan for Qatar

Berggruen Hotels

FII holding in Ansals

Parsvnath in Ranchi

Nirula's new format

Puravankar on Oracle

Discussion on realty
TAX tips
No lock-in period for remitting sale proceeds abroad
By S.C. Vasudeva
Q. I am settled abroad and am not likely to get back. I have inherited house from my father. I would like to sell the same and am interested in getting money repatriated to the US. Is it possible to do so?