Often psychopaths are born as such though events
in their lives may also shape their behaviour
How does a psychopath's mind work
Simmi Waraich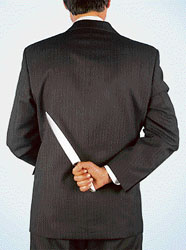 Psychopaths are adept at putting on a false veneer from a very young age
Surendra Koli, one of the accused in the infamous Nithari case, apparently told the police recently that he still felt like killing. After all this? Why? How does the mind of such a person work? Who is a psychopath?
Basically, people with an antisocial personality are characterised by a pervasive pattern that shows disregard for the rights of others since the age of 18 years. Psychopaths, it is argued, should be classified separately rather than placed under the antisocial personality disorder simply because the crimes they commit are heinous, often beyond belief.
Robert Hare describes psychopaths as "intraspecies predators who use charm, manipulation, intimidation, and violence to control others and to satisfy their own selfish needs. Lacking in conscience and in feelings for others, they cold-bloodedly take what they want and do as they please, violating social norms and expectations without the slightest sense of guilt or regret."
However, they understand from an early age that society expects them to behave in a conscientious manner, and therefore they mimic this behaviour when it suits their needs.
Who's a psychopath
Dr Newman, a psychologist who has studied psychopaths, believes that psychopathy is essentially a type of "informational processing deficit" that makes individuals oblivious of the implications of their actions when focused on tasks that promise instant reward. Being focused on a short-term goal such as sexual pleasure, Newman suggests, makes psychopathic individuals indifferent to other cues such as the victim's fear. Thus when focused on something else, they become insensitive to emotions entirely.
Cause of disorder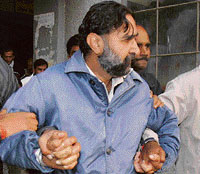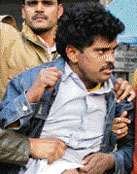 Moninder Singh Pandher and Surendra Koli, co-accused in Nithari killings
Often such people are born as such though events in their lives may also shape their behaviour. A psychologist who had interviewed Ted Bundy, a serial psychopath who murdered several women in the US, related an incident involving his Aunt Julia in which she woke from a nap to find that her body was surrounded by knives, which someone had placed around her while she slept. When Julia looked up, she noticed her nephew, Ted Bundy, standing at the foot of her bed and smiling. Bundy was three years old at the time.
Bundy later said that a part of himself from a very young age was fascinated by images of sex and violence and that he kept it very well hidden. He also led an apparently normal life and worked as a volunteer at a suicide crisis centre alongside a crime reporter Ann Rule who was writing articles on the "Ted" murders which, unknown to her, her young friend was committing!
India has also known its share of psychopaths. Raman Raghav, who killed 45 pavement dwellers in Mumbai, was possibly the most notorious. The Hisar killer who picked up children and sexually abused them before killing them was another psychopath. He was found to be a man who was sexually inadequate with grown-ups and who derived a sense of power by preying on hapless children.
The fragmentation of social relations with rapid urbanisation are possibly a contributory factor towards emotional disorders. Families are more often than not nuclear now, children being the losers with both parents working to make ends meet. How often do neighbours these days even know who is living next door, what do they do and what is happening there?
Seek easy targets
The psychopath often selects soft targets. Like in the Nithari killings, children from a lower socio-economic class were made easy targets. Their parents did not have enough social and political clout to have an impact and the police ignored the complaints made by them. The psychopath, being aware that his crimes are likely to go unnoticed, becomes more and more daring with each crime.
If Moninder Singh and Surendra are proven to be the killers, it could be said that 'living alone' and 'alcohol' are factors which could have led to the emergence of the "true selves" - the true psychopathic self which had been hidden away due to the pressure of society. For, it is not that easy to be a paedophile and a killer under the eyes of one's family. We all wear our veneers, our "false selves" in front of others, and intelligent psychopaths learn to wear a mask from an early age.
With fragmentation of societal relations and the social pressure of families disappearing fast, the chance of giving in to one's "id", the seething cauldron of primitive impulses becomes easier.
Poor awareness
In India, awareness about paedophiles is lacking. While in the developing nations, paedophiles who have criminal records are required to register with the police and their movements are monitored, in India we like to believe such people do not exist. Often paedophiles are again upright men and women who in fact seem to often attract children. They may appear likeable and when others learn of their acts, it may seem hard to believe that of them. However, paedophiles do not usually kill the children.
Surendra Koli has said he still wants to kill. Some psychopaths are extremely clever and are able to present a reformed self in front of psychiatrists. One such killer convinced two psychiatrists that he was reformed and they recommended his release - all that while he had the head of one of his victims in his car trunk. Another was released after three years in prison and he went on to kidnap and kill four young girls despite his mother warning the Belgian police not to let him go.
Basically such people - deviants of human nature, without any conscience - have always existed. It is we as members of society who have to look within us and ask ourselves whether we are vigilant neighbours. Are we only concerned with ourselves or do we care about what is happening in our neighbourhood - to our maid's children, our dhobi's children who live in makeshift tiny huts, far from their villages where they were once safe? Do we even give them a second look?