Dilemma of Indian immigrants
Manju Joshi
Bye-Bye Blackbird
by Anita Desai. Orient Paper Backs.
Pages 224. Rs 175.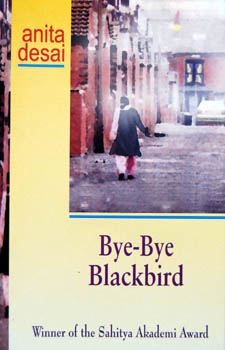 Anita Desai delves deep into the psyche of her characters. The writer aims at truth, and there in lies her success. Bye-Bye Blackbird, her third novel, published in 1971, examines the plight of Indian immigrants in London.
The book is divided into three parts—Arrival, Discovery and Recognition, and Departure. Dev arrives in England for higher studies. He stays with Adit Sen and his English wife, Sarah. Dev gives up the idea of studying and starts looking for a job. Unable to find any, he thinks of returning to India. But it is well settled Adit who decides to leave London. Meanwhile, Dev manages to find a job and stays back.
Racism is prevalent in England. The treatment meted out to Indians disturbs Dev. He hates being called a 'Wog', as Indians are humiliated in public and private places. England is said to be full of Asians, but Dev's visit to countryside changes his attitude towards England. As for Adit, he finds himself living in a 'little India' in London. He loses his former rock-solid mental and emotional balance, while Adit's English wife Sarah feels like making claim to a life and an identity that she never owned.
Desai highlights the physical and psychological problems of Indian immigrants and explores the adjustment difficulties that they face in England. She gives beautiful descriptions of the busy London and the quite retired life in countryside. The characters are not so real, but their inner conflicts and crisis remain the same that every immigrant undergoes.
Adit loves London and finds it to be more progressive than India. Now, he sees India through the laziness of clerks, unpunctuality of buses and trains, flies and boredom. In London, he finds himself a complete stranger and feels that everybody lives in hiding. Meanwhile, Dev the "unwanted immigrant" feels like returning to India—a place of sun, security, status and freedom.
Nostalgia affects these immigrants. They feel so homesick that even a music concert by a second-rate musician warms up their frozen blood. Adit realises the unreal life that he has been leading in London. He starts valuing India more and is able to relate himself to his motherland.
Human relationships and their existence being Desai's major concerns are very well brought out in the novel, especially in her female characters. Sarah is not at her ease when she visits her parents. Her parents although staying in the same house hardly communicate. There is that stoic-reserve of Sarah, which Adit is never able to reach. Dev loves his loneliness. In fact, all her characters live within their own isolated world, and each one of them is afflicted with an abnormality—identity crisis.
On the whole, the novel symbolically represents East-West encounters. Blackbird is none other than the immigrant, whom London says goodbye.