Restless man of letters
Kashmiri Lal Zakir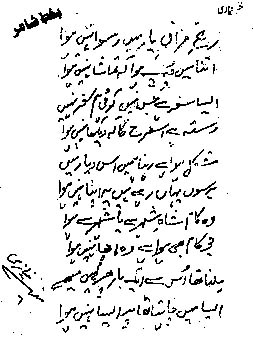 Fifteen years ago, I met Munir Niazi in an Indo-Pak Mushaira jointly organised by the Haryana Urdu Akademi and the Sham-e-Bahar Trust, Ambala Cantonment. But I knew him before that through his ghazals that often appeared in the leading magazines of Pakistan. At that time, books and magazines from Pakistan were easily available in India. Therefore, writers from both the sides knew what was being written in poetry and prose. Munir Niaziís couplet, which I had read in a magazine about 20 years back, impressed me very much:
Aadat hi bana lee hai tumney to Munir apni
Jis shahar mein bhi rehna uktaye hue rehna
In fact, this couplet sums up the personality of Munir Niazi. He was always restless and uncomfortable in every environment and in every city. Even in his home, he was unsettled and not fully adjusted. When I went to Pakistan about five years back, he invited me to spend an evening with him at his home. One of his disciples, Niaz Hussain Lakhvera, had escorted me to his beautiful house that had a big lawn dotted with fruit trees. He took me to his lawn to show fruit trees. He also offered me some fruits and grapes. I felt he had a great love for trees and flowers.
Munir was not very social and did not attend meetings of writers and poets. He loved to be alone and spend time brooding and composing his couplets. It was unfortunate that he was issueless. After the death of his wife, he married a close relative of her late wife and took great care of her. Whenever he came to India, he took special care to purchase some clothes for her. He would select the clothes himself and never accepted anybodyís choice.
The last meeting I had with him was two years back at Kurukshetra, where the International Punjabi Conference was held. Fakhar Zamaan, the president of the conference, told me that Munir Niazi had come, but was not traceable. It was after a two-hour search that I located him in the Parakeet Tourist Complex of Pipli. A man at the reception conducted me to his room, where he was sitting alone and enjoying his drink. Munir Niazi was a bacchus lover and he loved to spend most of his time in her company. When I knocked at his door, he opened the door and hugged me. He told that the organisers of the conference had brought him with them and put him up at the tourist complex, of course, with a bottle of wine. He was feeling very miserable. I took him out of his room and put him in my car and showed all the places in Kurukshetra, which are considered to be historical ones, including that Piple Tree, where Lord Krishna is believed to have delivered the immortal message of the Geeta to Arjuna during the Mahabharata war.
After spending two hours with me, he came back to the tourist complex and we had a cup of tea together. I requested him to give me his latest ghazal in his own handwriting, which I wanted to publish in the latest issue of Jamna Tat, the literary magazine of the Haryana Urdu Akademi. It was very nice of him that he agreed to do it. The ghazal later published in one of the issues of Jamna Tat. I am quoting that ghazal for his admirers to enjoy:
That was our last meeting, although we were in touch with each other on telephone. Sometime back I wanted to invite him to India in a mushaira along with some other poets of Pakistan. But the Pakistan Government was conferring the Sitar-e-Imtiaz award on him that very day when the mushaira was to be organised in Chandigarh. Therefore, he could not come and many of his admirers were disappointed.
I remember once when we had an Indo-Pak mushaira at Pinjore Gardens in which many poets of eminence from India and Pakistan participated, it was Munir Niazi who stole the show.
My last contact with Munir Niazi was about two months back when I asked him to send Kuliat (collection of all his books in one volume). He told me that whenever somebody would visit India he would send it to me. Unfortunately, I could not get his Kuliat till now. But his disciple Niaz Hussain Lakhvera told me recently that before his death Munir had asked him to send his Kuliat to me as soon as possible, as he had been feeling bad about having not been able to send the book so far. And whenever I get it, I shall arrange a special function and invite his admirers and lovers to listen to his poetry, which always touches the heart.
Last year, my daughter Prof. Kamlesh Mohan went to Pakistan in connection with her research work. Munir Niazi spent some time with her and sent his four lines as a gift to me. I always love to recite these four lines.
In Pakistan, I had four friends ó Ahmad Naseen Qasmi, Qateel Shifai, Mumtaz Mufti and Munir Niazi. A couple of months back when Ahmad Naseem Qasmi died, I felt that because of Munir Niazi my tribe was still alive. But now with his death, I feel that I have lost my tribe.