Dance is No 1 hit
From merely add-ons or extras to the storyline and characterisation, song and dance sequences have graduated to the status of a hero, becoming the heart and soul of films. Srabanti Chakraborty looks at how the 'dance master' has turned choreographer and occupies centrestage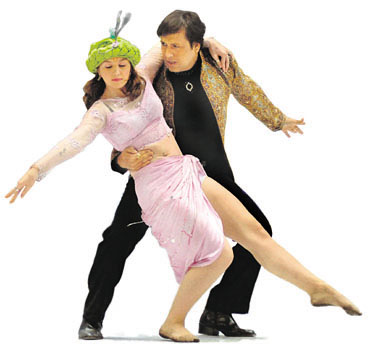 Welcome to the new world of ultra-specialisation in Bollywood which has resulted in the master-ji metamorphose into the director of choreography. Where more than a crore is spent just on shooting a single song, where the choreographer is more famous than the director and where being a good dancer is equally, if not more important, than being a good actor!
Things have changed a lot from Saigal's days when picturising a song meant sitting under a tree or moving around slowly. Today it is as important as directing the rest of the movie. Says Sandip Soparrkar, one of Bollywood's most-known dance teacher and choreographer (having directed the song sequences for movies like Mangal Pandey, Zubeida, Kyun Ho Gaya Na and Holiday), "Indian films and song-and-dance have been inseparable ever since the early days and it is nothing new. Credit goes to Saroj Khan for this transformation. The recognition we have today is largely due to her. Today a dance or a song picturisation is an integral part of the film, which was not the case earlier."
Explains Vaibhavi Merchant, better known as the dance director of the famous Kajra Re from Bunty Aur Babli, "Indian movies always had a special place for song and dance. Even in the West, Indian dance is very much in vogue and they appreciate song-and-dance situations in Indian movies a lot." She admits the change but has a different way of looking at it, "Yes there has been a lot of change in our profession, but I guess the change is in the titles, designations, technology and way of dancing– the guru-shishya parampara still exists in our industry."
Merchant feels, in today's world, it is not enough for a choreographer to be a good dancer. Says she, "You need to know a lot of techniques, shot angles and directorial skills to become a good choreographer."
Circa 1935, Bombay: Kundan Lal Saigal is filming a song sequence for one of his films. Playback singing is yet to come to existence and thus filmmakers have to rely on syncrhonised sound. Saigal is singing (actually singing and not just lip-synching) while moving behind trees and wooing his beau. To provide the accompanying music, a troop of musicians sitting on a trolley are following Saigal. Behind them a sound recordist, cameraman and all other technicians running with microphones and other accessories to ensure that the sound quality is good. The song, music and dance – all being done simultaneously and in one take with the director managing everything.
Circa 2007, Mumbai: A song sequence being shot in a suburban Mumbai studio. The final version of the song is yet to be recorded since the much-in-demand singer's dates are not available. However, the music track is there and a dummy voice has been put on the track for the dance sequence to be filmed. Otherwise, the lead pair will fly off to another country for shooting the climax and after they return for three straight months, dates are not available. The director of choreography is calling the shots and training the hero, while the director of action is working out the fight sequences to be shot later in the day. The overall coordination is being done by the director of the movie. The digital instruments blurt out the song which the heroine lips-synchs to and the song is canned (or rather saved on a portable hard disk – going by the latest go-digital trend in the industry).
Uday Shankar's Kalpana
Come to think of it, the elevation of the dance director's status probably started way back in the 1940s when the legendary Uday Sankar directed the highly acclaimed Kalpana. Viewers and critics sat up and took notice of the fact that even serious dance could play an important role in movies. Till then, choreography largely meant moving around trees or at the most sitting below the window of a palace in rains and singing a sad song.
While the pre-playback era had limitations of movements due to direct recording of the song, the early days of playback singing removed that barrier. It was in the 1970s that dancing started being considered as a really important aspect of a film.
Special mention must be made of various Raj Kapoor movies. Pyaar Hua Ikraar Hua from Shree 420 is still considered as one of the best love songs ever picturised in Hindi film history. Song sequences were still very much a director's baby and all the masterji had to do was to tell the actors how to dance in some songs.
Merchant admits, "Earlier, a dance director was not briefed properly before he or she went to choreograph a song. It was like – here's the song, now make the actors dance to it. Today, thankfully, the choreographers are very much a part of the movie-making process and are briefed properly. A song plays a pivotal role in the film today."
Things started changing with the growing popularity of Shammi Kapoor and his brand of rock-and-roll and twist. Indian dance forms slowly started giving way to their western counterparts. While there would always be a Waheeda Rahman excelling in a Kaaton Se Kheech Ke Woh Aanchal or Piya Toh Se Naina Laage Re, western dance forms were slowly making steady inroads. Be it Shagird or Teesri Manzil, the suave hero had everyone dancing to his steps. One should also thank the jumping jackass Jeetendra for popularising dance in Hindi films. His gyrations in Caravan and other movies did give him the sobriquet of being a dancing hero.
In the mid-1970s, Nasir Hussain, R D Burman and Rishi Kapoor developed a deadly trio in Hum Kisise Kam Nahin and had the entire nation dancing to Bachna Ai Hasino. In the early 1980s, the trend of dances attaining more and more importance in a film continued with the success of Jeetendra-Sri Devi movies. The double-meaning loaded lyrics of Indeevar, disco-'inspired' music by Bappi Lahiri and pelvic movements of Jeetendra and Sri Devi became popular. So did Mithun Chakraborty and his disco dancing through Disco Dancer, Kasam Paida Karne Wale Ki and Dance Dance.
Madhuri's magic
A dance number in the earlier decades was an one-off incident if it was not a musical like a Teesri Manzil or Hum Kisise Kam Nahin. But with the advent of Jeetendra and Mithun-da, a non-dancing song became a one-off event in a movie. (Today, however, we have covered a full circle with the dancing number being a special event and most songs being meaningfully choreographed.)
Prominent choreographers

Shiamak Davar

Sandip Soparrkar


Farah Khan

Saroj Khan
But the master-ji had to wait for another decade and sing (or dance!) Ek Do Teen to achieve the celebrity status he/she enjoys today.
Saroj Khan and Madhuri Dixit created magic with Ek Do Teen in the film Tezaab. The entire nation was dancing to Khan's footsteps Dixit's style and that is perhaps the first time the choreographer came into the limelight. The common man started realising that there was someone else behind the camera, other than the director, who made these songs look nice. This new-found status was cemented through Beta and Madhuri's Dhak Dhak which had the entire nation's movie-going males salivating at the dangerous curves of Madhuri Dixit.
Says famed choreographer Terence Lewis, "This was more than welcome. Today's choreographer has to look after everything from the human beings on the set to the camera angles – the role is not just limited to dance. Ek Do Teen and Dhak Dhak perhaps also signified the increase in the vulgarity scale if a dance number in a Hindi movie. Expectedly, choreographers have an answer to this. Explains Soparrkar, "I specialise in Latin American dance, which demands a lot of sensuousness. This particular dance form requires some amount of exposure and it fully depends on how you portray it. I have done it very aesthetically in all my films, particularly Holiday." He feels, this holds good even for other dance forms – how you portray the sensuousness is all that matters. "This is extremely important in a cultural country like India. I have portrayed a lot of sensuality without being vulgar in Mangal Pandey.," says the choreographer. He gives one more example, "Let's take the new Don and its song Yeh Mera Dil for example. Kareena looks extremely sensuous and gorgeous. But she manages to carry herself throughout the 'item number' without being vulgar. That is how it should be." But what he indirectly admits is that some item numbers fail to do so and attain success with cheap vulgar stunts.
Lewis, whose choreography of the songs in Nach and Antara Mali's portrayal made the air-conditioned interiors of a theatre warmer than a sauna bath, has a point to add, "When I started doing Nach with Antara Mali. I had no problems with her, since she is a very good friend and I worked very hard to portray her beautifully on screen. Unfortunately, when I finally saw the movie, I was disappointed. They had portrayed it kind of differently."
If Saroj Khan made the country realise that the dance director made all those magnificent song and dance situations happen, it was Farah Khan who gave the much needed glamour and media attention to the profession. Her clever use of slow motion in Pehlaa Nasha from the film Jo Jeeta Wohi Sikandar has attained legendary status. Farah proved to the world, once again, that there was a lot more to picturising a song than just dancing. Actually, it was from Farah's time that the title Choreographer or Director of Choreography was attached to dance directors. Starting late-1980s, a song- and-dance became no less a money spinner (and spender as well) for a movie than its star cast or fight sequences. In Tezaab, the dance sequences became so popular that the director introduced a new song after the film became a hit. The objective? To ensure that viewers come to the theatres again just to watch the new song. And it worked as well. The tradition was followed later in Aamir Khan's Dil and a number of other films. In fact, choreographers have spent up to a crore in creating dream sequences of songs. And the producers did not mind at all. Because a Kajra Re or a Crazy Kiya Re could make or break the fate of the film.
And what about item songs? The yesteryear songs are sensuous yet not vulgar. Helen with the bare minimum clothes looked much classy than a fully clothed item girl of today. "Item songs are like dessert after a meal! You really need to have an item song in a Hindi commercial movie! But that does not mean you need to forcibly put an item song – it should flow naturally," says Vaibhavi Merchant whose picturisation of Kajra Re drove everyone crazy. Merchant even cites financial benefits for having an item song. "A number of films which have flopped have had item songs that were big hits and have been telecast on Indian television for years. These days even a lot of promos have item numbers!" What she is basically trying to say is that item numbers have become USPs of a film.
"My ultimate aim is to make a song glamorous and presentable, "explains the Kajra Re choreographer. "I liked the Crazy Kiya Re number from Dhoom 2. Vaibhavi has been able to show Ash in a very sexy dress without making it too vulgar. That is what I think people should do," comments Lewis.
Television shows have also added to the glamour quotient of choreographers. Not only have they come on the other side of the camera, their weekly presence has also made the audience realised that a lot of hard work goes behind creating those dream dance sequences we see in movies.
So the next time, someone in your neighbourhood says that he or she wants to take up choreography as a career option, don't think they are kidding! You can get themselves admitted to any of the dance schools of any of the famous choreographers. With the new millennium, the Masterji has truly metamorphosed into the Director of Choreography.