Babul shows the way
The theme of widow remarriage that Babul deals with has been attempted before. M.L. Dhawan takes a look at the socially relevant films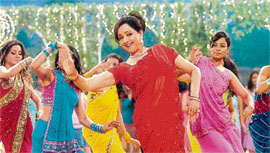 Babul forces one to think about the trauma that a young widow faces due to outdated customs

Over the years the film makers have considered their social obligations and used the power of their medium to provoke the viewers to react to the issue of rehabilitation of a widow. Through their landmark films on the issue, the film makers have used potential in their hands for the social changes our politicians can never dream of accomplishing.
The impact of their films about widow is evidenced from the fact that when Ravi Chopra (whose film on this theme Babul is being screened everywhere) was asked about what had sparked him off to make a film on daring and progressive theme of 'widow rehabilitation' replied that that had happened with a family friend from Delhi who married off his widowed daughter-in-law when his young son died in the prime of his life. The theme really impressed Ravi Chopra a lot and his mind started ticking about a film on the subject.
Whenever films about widow (s) is/are discussed Duniya Na Mane (1937) made by V. Shantaram finds a place at the top. In the film Nirmala (Shanta Apte) — a young girl refused to accept aged and old vakil sahib (Keshavrao Date) as her husband. The old husband sees the error of his ways and before committing suicide, writes her a letter advising her to remarry, since a widow's life is worse than that of an unhappy married woman. In Subah Ka Tara (1954) V. Shantaram again tried to propagate the idea of widow rehabilitation. He dared not go against the prevailing conventions, customs and traditions and the poor widow gets burnt in house she was living in when she dared to love and talked of marrying Pradeep Kumar. Ramesh Saigal in Shikast (1953) broached this subject. Nalni Jaywant — a widow depicted superbly the helplessness, frustrations of her life. She loves Dilip Kumar but she is unable to express her feelings due to social rigidities. Unable to break the shackles of society, she dies.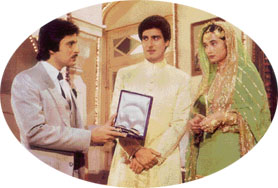 Muslim matrimonial laws took a rap in Nikah
Through his path-breaking Phool Aur Pather (1966) OP Rahlan endeavoured to change the mindset of the people about the place of a widow. When custodians of society questioned the relationship between rakish and wayward Raka (Dharmendra).... and widow (Meena Kumari), she displaced a riot of emotions with unmatched passion and created an alluring image of a widow who can be deified. She lit up the screen by projecting the entire gamut of emotions of the protagonist. Her inspired acting made the film a rare feminist phenomenon.
Raj Kapoor belonged to the generation of film makers who combined entertainment with a purpose. Quite out of blue, he took the theme of widow rehabilitation in Prem Rog (1982) which made a forceful plea of sanity and progressiveness in an oppressive traditional society. On the wedding night Manorama (Padmini Kohlapure's) husband dies in a road accident. When Deodhar (Rishi Kapoor) wants to give back to Manorama her happiness and self-respect by marrying her he faces the wrath of Thakur clan.
'Are widows still being burnt alive?', Raj Kumar Santoshi answered this question through the tale of Ram Dulari (Rekha) in the film Lajja. Ram Dulari's a widow clawing ineffectually at the chords of charpoy that pins her down to the ground where she is gang raped and burnt alive by the village head Gajendra Singh (Danny) haunts us and her unheard cry for help Amma Humko bachai lo... lingers on much after the film is over, depicting the trials, turmoils and tribulations in the life of 40 plus well-dressed widow.
When B.R. Chopra launched his own banner B.R. films in 1956, his film Ek Hi Raasta explored the social issue of widow rehabilitation. When Meena Kumari's husband, Sunil Dutt dies in the film, instead of swallowing a suicide pill, she starts afresh by marrying Ashok Kumar. B.R. Chopra has never made feminist statements and talked about women empowerment yet this theme has always been a strong point in some of his films. B.R. Chopra has always ploughed his lonely furrow by being new and different, realising that sometime a single swallow makes a summer. It was adultery in Gumrah, the politics of rape in Insaaf Ka Tarazu, Muslim matrimonial laws in Nikah, rehabilitation of prostitutes in Sadhana, travails of an unwed mother in Dhool Ka Phool-B.R. films have always an incisive non-formula tale to tell.
His latest family drama Babul shows Chopra's penchant for highlighting a social issue and presenting a dramatically an appealing and progressive solution Babul is characteristic of Chopra's inclination towards making entertaining films with a message. The film is obviously bold and hard-hitting and exposes viewers to a new genre of thought-provoking cinema. In this film, Chopra once again deals with the delicate subject of rehabilitation of a widow. He makes a forceful plea that this is an issue that every family where the girl is married should think about seriously. When Balraj Kapoor's (AB) son Salmaan Khan dies in the prime of his life there is still a life full of loneliness darkness, despair ahead for his daughter-in-law Malvika (Rani Mukherjee) Left to herself, the damsel in distress is ready to mutely acquiesce to all kinds of toils, turmoils, tribulations. But her father in law Balraj Kapoor (Amitabh Bachchan) musters courage to go against all outdated social taboos, customs and conventions and faces all kind of opposition. He can not bring his son back to life but surely he brings happiness back into the life of his widowed daughter-in-law by encouraging her to remarry and start her life afresh and succeeds.
Hats off to B.R. Chopra and his son Ravi Chopra for taking up (the theme of widow rehabilitation) a theme that seems quite outdated in the present conservative Indian scenario.