Food talk
Say it with spinach
There are many ways to relish palak. Pushpesh Pant tempts us with the tried and tasty
paalang ka kaapha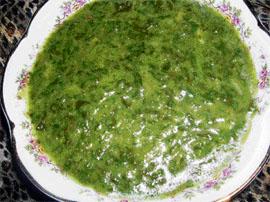 As they say some of the most satisfying pleasures in life are the simplest. For us paalang ka kaapha illustrates this brilliantly. Paalang is derived from the Sanskrit paalankya, meaning the good old spinach, and kaapha is the recipe of how the green leafs are prepared in rural Uttarakhand. There are many other ways the veggie, loved by the comic book hero Popeye, is popped in the hills — tinariya (crisply fried) and tapakiya (doled out in small spoonfuls to be just tasted and primarily to add colour to the thali).
Palak is used to enrich dal delicacies both in northern and southern India and palak pakora are hard to match when it comes to fritters. We always turn to palak kofta when we have had enough of the malai balls. We have, we must confess, enjoyed an eco-friendly green palak dosa and countless have been occasions when we have blessed our stars for the palak content in saag gosht or palak paneer. There are die-hard loyalists who swear by the Punjabi sarson ka saag or Kashmiri haak but for us nothing matches the delicious delight that kaapha promises.
We have relished greatly the Chinese steamed spinach or a single large leaf glazed in almost transparent cloak of batter and can't deny that occasionally the first saag of chaulai has tempted us to reconsider the rankings but such fleeting temptations pass without blemishing our culinary conscience and what remains is the afterglow or anticipation of kaapha.
Spinach enjoys a great reputation for its healthy properties — it is rich in iron and other traced minerals and like all other greens is believed to ensure our daily quota of vitamins. 'Overcooking' as indicated in this recipe does interfere with the vitamin intake but we don't qualify our recommendation. Kaapha has a unique texture and hue — not satin smooth like the saag nor emerald green like tinariya; it also does not require the leafs to be imported from the Vale — like in the case of Kashmiri haak — to ensure the genuine taste. In the original traditional satvik recipe, onions were eschewed but their incorporation, to our mind, enhances the kaapha's contemporary appeal.
Ingredients:
Spinach (washed well) 1 kg
Vegetable oil 1 tbsp
Hing a small pinch
Onions 2 (medium, sliced thin)
Ginger paste 1 tbsp
Green chillies 3-4
Rice flour 2 tbsp
Salt as per taste
Red chillies 2-3
Garlic cloves 6-8
Ginger 2 inch piece
(scraped, washed
and cut in thin strips)

Method: Boil spinach with one cup of water for about five minutes, remove from flame and mash with wooden churner. Avoid the mixer if possible. Keep aside.

Heat oil in a thick-bottomed karahi or pan, add hing and when it dissolves add onions and stir-fry till translucent. Add ginger paste and stir-fry for another minute. Now put in the mashed spinach and green chillies, pour in about 2 cups of hot water and bring to boil. Slowly add the rice flour, stir continuously to avoid lumps. Reduce heat and cook uncovered for about 20 minutes till a thick porridge like consistency is obtained.

Heat ghee in a frying pan and put in the garlic cloves and when these are lightly browned, put the whole red chillies. When the chillies darken remove and pour over the spinach. Garnish with ginger strips and serve hot with rice or roti.