Students win space competition
Tribune News Service
Students of Police DAV Public School who had been selected for the NASA's Asian Regional Space Settlement Design competition have now cleared the semi-final round held at Gurgaon. The 12-member team of the school along with their partners Team Force, Patiala, were given the project "Earth Mass Fusion Propulsion Settlement". They along with other four teams were given a 21-hour deadline for preparation and 35 minutes for a power point presentation. The 12 team members who had designed this project are Saumya Vij, Navdeep Kaur, Pawan Gambhir, Puneet Kumar, Sargam Badyal, Harneet Kaur, Shray Jain, Bhavneet Sharma, Bhawandeep Singh, Sagar Bhardwaj, Devshuni Chauhan and Milan Singh Solanki. The team has been guided by Mr Navdeep Sharma and Mr Karminder Singh.

| | |
| --- | --- |
| Students and staff of DIPS School, Karol Bagh, Ladhewali, celebrated Republic Day. | Students of Police DAV Public School, Jalandhar Cantt, have reached the final round of the NASA's Asian Regional Space Settlement Design competition. — Photo by S. S. Chopra |
Youth festival
Students of Apeejay College of Fine Arts have been declared champions in the National Youth Festival held at Chennai. The college represented Guru Nanak Dev University and has won the championship for the seventh consecutive year in a row. Apeejay students participated in all nine music items and won first prizes in six events ,including Indian group song, classical vocal, semi-classical vocal, ghazal, classical instrumental ,non-percussion and folk orchestra. Second prize came in two categories - Western group song and Western solo. Third prize was won in classical instrumental percussion.Their skit presented won the third prize. Mimicry by Ms Sugandha Mishra was placed first. On the spot collage by Ms Lalita was declared third.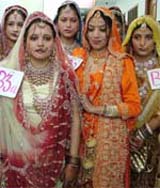 Participants from various colleges in bridal dresses during an inter college 'Beauty Gala' at BD Arya Girls College, Jalandhar Cantt, on Tuesday. —Photo by S.S. Chopra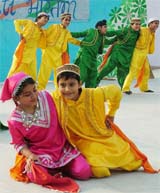 Students of Mayor World School Jalandhar, perform a Kashmiri dance during a fete on the school campus. —Photo by S.S. Chopra
Beauty contest
The Department of Cosmetology of BD Arya Girls' College organised an inter-college beauty contest on Tuesday.Over 130 students from 12 colleges participated. The beauty gala consisted of five rounds of sari draping, hair styling, traditional and Arabic mehndi, nail art and bridal make-up. In mehndi, Sweety of Hindu Kanya College, Kapurthala, and Nancy Nagpal of PCM SD College, Jalandhar ,won prizes. Anjana of Lyallpur Khalsa College for Women and Disha of BD Arya Girls' College were declared winners in saree draping. For hair styling, Amanpreet of KMV and Jaswinder of Guru Nanak College for Women received prizes. In nail art, Rajinder of KMV and Sukhpreet of PCM SD College were winners. Isha of PCM SD College and Sheetal of Guru Nanak College ,Nakodar, won prizes in bridal make-up.
Republic Day
Students and staff of DIPS School, Karol Bagh, Ladhewali, celebrated Republic Day. Students sang patriotic songs and dances on patriotic numbers. Ms Sarvesh Deol told the students about the importance of the day. Chairman, Mr Gurbachan Singh, and MD, Mr Tarwinder Singh felicitated the students.
Aptitude test
NIIT Ltd organised a national -level test at the CT Group of Institutes for assessing aptitude, analytical skills and IT knowledge of students. The pre-placement evaluation test was attempted by 418 students. The skills that were tested included knowledge of skills, C, C++, Java, Networking, SQL Networking, NET and Fundamentals. Nearly 50 per cent students are learnt to have cleared the test with good scores.
Inter-college fest
Lyallpur Khalsa College organised inter-college academic and cultural contest. Students of 18 colleges participated in quiz, extempore speech, choreography and group discussion. In quiz, Lyallpur Khalsa College stood first, followed by Apeejay and BBK DAV College. Extempore speech contest was won by Ambika of Hindu Kanya College, Kapurthala, Manik of BBK DAV College, Amritsar, and Gaurav of DAV College, Jalandhar. In group discussion, Arleen of the host team won the first prize while Arshpreet of Lyallpur Khalsa College for Women and Swinki of HMV College stood second and third, respectively. In choreography again, the host team clinched the first prize followed by those from KRM DAV College, Nakodar, and Guru Nanak College, Phagwara.
Placement
Lovely institutes will hold a joint campus placement on January 29 in which officials from Infosys will conduct interviews of 1800 short-listed candidates from all states. In a press conference, Mr Ashok Mittal, managing partner, said that candidates from as far as Calcutta and Hyderabad will visit the campus for a screening test. He said that 20 other companies will also hold joint campus interviews of candidates doing engineering, law and education courses.
Sports meet
Annual sports meet was organsied at MGN Public School, Urban Estate, which concluded on Tuesday. As many as 18 events were organised in which children from four houses participated and won medals. Karate show was presented by the students. Marchpast was done by the KG wing students and PT show was put up by senior children.
Republic Day
Students of Ambika Modern School held Republic Day celebrations on Thursday. An inter-house patriotic solo song competition and group song competitions were held. Sweets were distributed among the children.
Athletics championship
Two students of Police DAV Public have got medals in the CBSE National Athletics Championship held at Jamshedpur recently. Chanpreet Kaur of Police DAV Public School has won gold medal in long jump in under-16 category and Kultej Singh has won silver medal in discuss throw . In another junior open national athletics championship held at Haridwar, Kultej Singh has won gold medal in discuss throw with new national record of 41.6 mts. Chanpreet won bronze in long jump.
Six students of Police DAV Public School represented Punjab in a 12-member team that participated in national roller skating championship held at Jaipur and won third position. The team members were Harpreet Singh, Lovepreet Singh, Karanbir, Puneet Kumar, Gurpreet and Rupesh Sharma.
Extempore A Punjabi extempore competition was held for Classes VI and VIII at Police DAV Public School. Nearly 32 children participated in the contest and expressed their views on topic related to drug addiction, joint family, mother tongue Punjabi, student-teacher relationship and TV a menace. First position was bagged by Amritpal followed by Navdeep Kaur. Third rank went to Priya and Rajandeep.