Manifesto has unmasked Cong, says Badal
Chandigarh, January 30
The Shiromani Akali Dal today described the Congress election manifesto as "clinching documentary evidence of betrayal of people by the Chief Minister, Capt Amarinder Singh".
CM rubbishes claims on 'sale' of ticket
Promises to provide cheaper flour
Begowal (Kapurthala), January 30
Punjab Chief Minister Amarinder Singh rubbished the claims of some Congress leaders that some contestants had bought the party tickets paying crores of rupees. He was talking to mediapersons in Begowal after an election rally organised by Congress candidate Sukhpal Singh Khaira in Bibi Jagir Kaur's village here today.
EC gives Kang time; Valtoha poll on Feb 24
Chandigarh, January 30
The Election Commission has given time till 11 am of February 1 to the Animal Husbandry, Fisheries and Sports Minister, Punjab, Mr Jagmohan Singh Kang, to reply to a show-cause with regard to the speech that he delivered at the Republic Day function at Muktsar.
I was kidnapped: Sarpanch
Beas, January 30
The situation in Beas is still tense but under control even as the district administration has deployed a heavy police posse as a precautionary measure. Bibi Balbir Kaur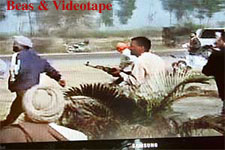 A video clip allegedly shows supporters and a gunman of Cong MLA Jasbir Singh Dimpa with assault rifles during a clash with Akali workers in Beas on Monday. Tribune photo: Rajiv Sharma
Shilpa finds another Big Brother
Chandigarh , January 30
Bollywood actress-cum-"racism victim" Shilpa Shetty may soon find herself playing the part of a political leader, and a campaigner, for the BJP in the real-life drama of politics boosting the party's prospects in the elections. Following her projection as a prey of intolerance on the Celebrity Big Brother realty show, the party has strategically decided to offer her the role of a politician.
Several Cong leaders join SAD
Mohali, January 30
Several Congress leaders today joined the SAD and said that they would work to ensure the victory for Mr Jasjit Singh, SAD-BJP candidate, contesting the Punjab elections from the Kharar constituency.
Bir Devinder supporters back SAD nominee
Mohali, January 30
The SAD-BJP candidate, Mr Jasjit Singh, contesting the Punjab elections from the Kharar constituency, has claimed that many supporters of the sitting MLA, Mr Bir Devinder Singh, yesterday joined him in electioneering.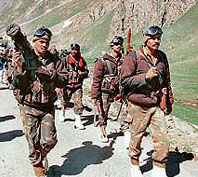 Soldiers will miss the date
Chandigarh, January 30
Thousands of soldiers posted in Army cantonments across Punjab have been denied the right to exercise their franchise in the Assembly elections because of confusion over the last date to register as voters. Army officials and the Ex-serviceman League, the front organisation spearheading the right-to-vote movement for soldiers at their place of posting, say that the Election Commission of India had earlier announced that these soldiers could register themselves as voters till February 4.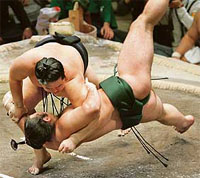 FEROZEPORE DISTRICT
11 stalwarts in the ring
Inderjit Zira may emerge as the dark horse
Ferozepore, January 30
As many as 11 stalwarts, including ministers, former ministers, parliamentary secretaries and former MPs , will battle it out in this border district of western Malwa. Of the eight constituencies, the ruling Congress has MLAs in six while the BJP and the Shiromani Akali Dal have one MLA each.
'Capt Kanwaljit bluffing farmers'
Mohali, January 30
Mr Balbir Singh Sidhu, Congress candidate contesting from the Kharar constituency, cautioned the voters here and said they should not be misled by the false promises being made by SAD leader Capt Kanwaljit Singh.
Kamboj harps on development
Rajpura, January 30
"Only the Congress can provide a stable government and continue the development works undertaken by the Amarinder Singh government to its logical conclusion," said Mr Hardyal Singh Kamboj, Congress candidate from the Rajpura constituency.

ME & MYSELF
More jobs this ex-cop's mission
Gurdaspur, January 30
"Unemployment among the youth is the biggest problem in the district. Terrorism in the border belt has hit the industry.

P.S. Bhinder
Congress woos youth in Moga
Moga, January 30
In order to offset the Shiromani Akali Dal's move to woo young voters by announcing lucrative positions for the youth in the government, the Congress has pressed into action its youth wing which is now busy tapping young minds by promising perquisites if the party is voted to power.
Congress expels eight for defiance
Chandigarh, January 30
The president of the Punjab Pradesh Congress Committee, Mr Shamsher Singh Dullo, today expelled eight workers from the primary membership of the Congress for defying the high command orders.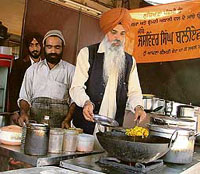 He is cooking poll curry
Ludhiana, January 30
From preparing curries to contesting elections from the Ludhiana West constituency, Mr Jasvinder Singh Balliewal, a dhaba owner, has been cooking dreams that his ''goodwill'' will earn him a seat in the Assembly.
Mr Jasvinder Singh Balliewal at his dhaba in Feroze Gandhi Market, Ludhiana. — Photo by Inderjeet Verma

Manpreet's men clash with rivals
Gidderbaha, January 30
Two persons were arrested following supporters of SAD candidate Manpreet Singh Badal and Independent candidate Sant Singh Brar clashed at Kothe Himmatpura last evening. Workers from both groups suffered injuries.
DC issues ban orders
Fatehgarh Sahib, January 30
To conduct the elections in a free and fair manner Mrs Jaspreet Talwar, Deputy Commissioner, in an order issued under Section 144 yesterday, banned the carrying of weapons, explosive material, iron rods, swords, knives, trishuls in public places.
Candidates work hard to woo voters
Fatehgarh Sahib. January 30
With 13 candidates in the fray for Sirhind Assembly constituency, a tough contest is ahead. All the candidates are visiting the villages, towns and colonies along with their supporters to woo the voters. The majority of the voters are keeping mum and not giving their opinion but attending the meetings, rallies and processions of all the candidates.
Poll observers appointed
Ropar, January 30
Any kind of complaint related to elections can be discussed or submitted to four independent observers appointed in the district to conduct a fair poll.
Observers appointed
Patiala, January 30
The Election Commission of India has deputed seven Election Observers (general) and three Expenditure Observers in Patiala Parliamentary constituency.
Malta deaths a live issue
Hoshiarpur, January 30
The families of 170-odd Indian youths, who were killed in the Malta boat tragedy a decade ago, have decided to form a pressure group.
MANIFESTO
Cong talks of farmer-friendly acquisition policy
Chandigarh, January 29
In an apparent "please all" manifesto released here today, the Congress has focused on the poor and the lower middle class by offering rice and wheat flour (atta) at Rs 2 per kg and pulses at Rs 20 per kg for the poorest of the poor. For families below the poverty line, this will be available at Rs 4 per kg.


| | |
| --- | --- |
| | General secretary of the AICC Janardhan Diwedi releases the Congress manifesto at Punjab Congress Bhavan in Chandigarh on Monday. Chief Minister Amarinder Singh and PPCC chief Shamsher Singh Dullo are also seen in the picture. — Tribune photo by Vinay Malik |
Amarinder: We'll win 75 seats
Patiala, January 29
Punjab Chief Minister Amarinder Singh today claimed that a perceptible wave was building up in favour of the Congress across the state and that the ruling party would win 75 seats.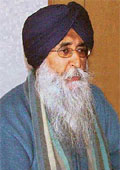 POLL CHASE
Mann speaks up for peasants, Dalits
Dhaula, January 29
"Mann Sahib has left for Dhaula village. You can meet him there ", says a Simranjit Singh Mann supporter at his party office here. Mr Mann is contesting from the Dhanaula constituency against Mr Kuldeep Singh Bhattal, younger brother of Deputy Chief Minister Rajinder Kaur Bhattal.


Simranjit Singh Mann
YOUTHSPEAK
Do they trust the netas? No
Chandigarh, January 29
Frustration writ large on their faces, a section of educated unemployed youth see no hope for a better future , whosoever comes to power after the Assembly elections.
An ageing House
Chandigarh, January 29
Though Census figures state that 70 per cent of the electorate in Punjab is below 40, hardly any party has given the "growing youth power" its due share while distributing tickets for the Assembly elections.
code uncode
Chandumajra, Bhattal fined
Sangrur, January 29
In a case of violation of the Model Code of Conduct, an amount of Rs 1,725 will be recovered by the administration from Ms Rajinder Kaur Bhattal, Congress candidate from the Lehra Assembly constituency.
1,034 left in the fray
Chandigarh, January 29
A total of 1034 candidates have been left in the fray for the elections to 117 seats of the Punjab Assembly. Today, last day for withdrawal of nominations, saw 151 contestants bowing out of the race. The total number of candidates who had filed their nomination papers was 1664.
Kharar seat: 12 candidates left in the fray
Mohali, January 29
Only one candidate withdrew from the Kharar constituency here today in connection with the Punjab elections, leaving a total of 12 candidates in the fray.
Cong buying voter cards from the poor: Badal
Babehali (Gurdaspur), January 29
The Congress is using cash to influence the electorate. Certain Congress leaders are buying voter identity cards from the poor whom they suspect will vote for against the party.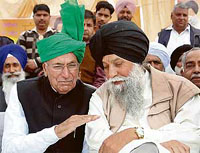 Chautala woos Gujjars for Kanwaljit
Congress steps up campaign
Dera Bassi, January 29
The election campaign for the Banur Assembly segment today picked up momentum with charges and counter-charges flying thick.


Mr Om Prakash Chautala and the SAD-BJP candidate from Banur, Capt Kanwaljit Singh, discuss a point during a rally in Mukandpur village, near Dera Bassi, on Monday. — Photo by J.S. Virdi

Cong, SAD expel rebels
Chandigarh, January 29
The Congress and the Shiromani Akali Dal today expelled rebel candidates who failed to withdraw in favour of the official nominees.
Phoney affair: Dogra leaves no stone unturned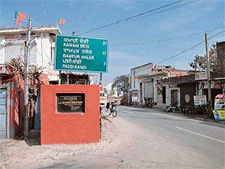 Dasuya, January 29
The Punjab Technical Education Minister, Mr Ramesh Chander Dogra, has been accused of going all out on a foundation stone-laying spree in the Dasuya Assembly segment where he is locked in a direct contest with the BJP-SAD candidate, Mr Amarjit Singh Sahi.



A foundation stone allegedly laid on January 1, 2007, at Cinema Chowk, Dasuya, but bearing the date of December 28, 2006.

CPI candidate dies in mishap
Amritsar, January 29
The CPI candidate from the Valtoha Assembly constituency, Mr Balwinder Singh (42), succumbed to his injuries at a private hospital here today.
Dal Khalsa to contest 2 seats
Hoshiarpur, January 29
The Dal Khalsa has decided to contest two seats and support the Shiromani Akali Dal (Amritsar).
Direct clash between alliance, Cong nominees
Ropar, January 29
Out of the three Assembly segments in Ropar district, the Nangal and Anandpur Sahib Assembly segments are all set to witness a direct clash between stalwarts of the Congress and SAD-BJP alliance in the coming Assembly elections.
Shiromani Akali Dal activists hold a protest ; and (right) policemen resort to a lathi charge to disperse the agitating SAD workers on the Beas-Jalandhar highway on Monday. — Tribune photos by Rajiv Sharma
Wipe out SAD: Sarna
Patiala, January 29
The former president of the Delhi Sikh Gurdwara Management Committee, Mr P.S. Sarna , has urged voters to wipe out the SAD-BJP combine in the forthcoming Assembly elections.
Mr Parkash Singh Badal campaigns at Burj Sindhwa; and (right) Mr Mahesh Inder Singh in Kheowali village in the Lambi Assembly segment. — Photos by Shamsher Singh Dhillon
poll chase
Cousins battle it out with poise, dignity
Badal, January 28
It is 7.30 a.m. at Badal, the native village of SAD supremo Parkash Singh Badal. As we are ushered into his house, we are told he is at a closed-door meeting with the secretary of the Shiromani Akali Dal (SAD), Dr Daljit Singh Cheema.
Fall in line, or face the axe, Cong to rebels
Chandigarh, January 28
Realising that rebels can damage the prospects of the party in the Assembly elections, the Congress today said "rebels have to withdraw or will be expelled".


For once, village elders feel wanted
Nangal/Anandpur Sahib, January 28
Election time has come as a blessing for village elders as they are getting attention from leaders of various parties who are trying to ensure their presence at electoral meetings to give credence to their poll campaign.



Village elders at an election meeting in Anandpur Sahib. — Tribune photo by Pradeep Tewari
Chandigarh, January 28
The alliance of the Left parties and the Balwant Singh Ramoowalia-led Lok Bhalai Party today announced that it would contest the Assembly elections on 48 seats and would have no tie-up with any of the splinter groups of the Akalis or the Congress.



Dr Joginder Dyal (left), member, national executive of the CPI, and Prof Balwant Singh, state secretary of the CPM, at a joint press conference in Chandigarh on Sunday. — A Tribune photograph
Archrivals meet again
Ludhiana, January 28
Known for the electorate's "mood swings", the Ludhiana Rural constituency will witness a major fight between the sitting Congress MLA, Mr Malkiat Singh Birmi, and his archrival and SAD candidate, Mr Hira Singh Gabria.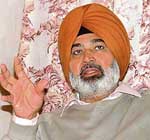 me & myself
Pending works may work against him
Ludhiana, January 28
When Mr Malkiat Singh Birmi, sitting MLA from Ludhiana Rural, passed out from Modi College, Patiala, in the early 1970s, he had never thought he would be a legislator, that too from an Assembly segment in Punjab's industrial hub.

Malkiat Singh Birmi
Vij's entry makes fight interesting
Jalandhar, January 28
The Hindu-dominated Assembly segment of Jalandhar (Central), that has a history of sending Congress and BJP candidates to the assembly almost alternately, will see a triangular fight this time.
Ousted farmers not to vote
Chandigarh, January 28
Be it the acquisition of their agricultural land to make space for Chandigarh in the fifties or setting up SEZs in Punjab, displacement has haunted them. Hundreds of families, whose land was acquired for the Punjab Capital Project to create Chandigarh, have been living like refugees on their own land.
Money talks: It's all about resources
Chandigarh, January 28
Ever thought how expensive is it to contest an Assembly election in Punjab? Well, legally one can spend a maximum of Rs 10 lakh, but in reality, the story is different.
mansa district
It is Cong versus Cong
Mansa, January 28
The Congress is fighting forces from within as well as outside in the four Assembly constituencies of Mansa.
code uncode
Forest Dept sits over transfers
Chandigarh, January 28
The state Forest Department continues to ignore the Election Commission of India's (ECI) guidelines regarding transfer of gazzetted officers in districts.
Notices to three candidates
Amritsar, January 28
Even as the candidates of certain political parties continued to violate the restrictions regarding printing of pamphlets, posters and other printing material, Mr Vimal Setia, Returning Officer for the Majitha Assembly segment, served notices on three candidates here yesterday.
Notices to Bhattal, Chandumajra
Sangrur, January 28
District Election Officer S.R. Ladhar today issued notices to Ms Rajinder Kaur Bhattal, Congress candidate from Lehra; Mr Prem Singh Chandumajra, SAD candidate from Lehra; Mr Surjit Singh Dhiman, Congress candidate from Dirba, and Mr Aman Arora, Congress candidate from Sunam, for violating the Model Code of Conduct.
RO: No votes on Baba's name
Bathinda, January 28
The Returning Officer here has served a notice on SAD candidate Sarup Chand Singla for whipping up religious sentiments during his election campaign.
BCs of Deon to boycott poll
Bathinda, January 28
Protesting against the alleged step-motherly treatment meted out to Backward Classes, a section of Deon village residents have decided to boycott the elections in the state.
Crackdown on bootleggers
Hoshiarpur, January 28
The police has launched a campaign against liquor smugglers in view of the Assembly elections in the district.
Saini backs Cong nominee
Mohali, January 28
In a jolt to the SAD, Mr Daljit Singh Saini, ex-president of the SAD Kharar circle extended his full support to Congress candidate from Kharar Balbir Singh Sidhu here, and assured to campaign for him. Besides it, an Independent candidate Parminder Singh Sona also announced to withdraw his candidature in favour of Mr Sidhu.
Rakesh Sharma kicks off campaign
Dera Bassi, January 28
The Congress candidate from the Banur Assembly segment, Mr Rakesh Sharma, has finally got his act together and formally kicked off his election campaign.
They want SEZ
Mukerian, January 27
This is one area in Punjab where farmers and traders are crying to get a special economic zone, but no one pays heed to their demand. Cutting across party lines, every candidate in the area is promising to compel the prospective government to bring in an SEZ in this area, much of which is unsuitable for agriculture.
BSM throws its lot with Congress
Phillaur, January 27
The Bahujan Samaj Morcha today announced to extend unconditional support to all Congress candidates. President of the morcha Satnam Singh Kainth criticised the policies of the Shiromani Akali Dal.
Chief Minister Amarinder Singh, flanked by Mr Satnam Singh Kainth (right) and Mr Jassi Khangura, addresses a press conference in Ludhiana on Friday.
— Tribune photo by Sayeed Ahmed
Chahal tab
A probing Q, a phone-sack and then back
Ludhiana, January 27
A reporter of a vernacular daily lost his job for "asking inconvenient questions" at the press conference of the Chief Minister here today. The journalist was, however, reinstated following vociferous protests from fellow colleagues.
Badal: Bid to muzzle press
Chandigarh, January 27
The Shiromani Akali Dal and the its alliance partner, the BJP, have come out strongly against the incident in which the reporter of a Punjabi daily was allegedly threatened at Ludhiana.


In Tarn Taran, it's about missing kids
Buchar Kalan ( Tarn Taran), January 27
Everyone in the border village of Buchar Kalan knows Shamsher Singh's house. But no one is really familiar with his whereabouts. As you ask the quaint villagers about the location of his quarters somewhere along the road leading to the international boundary, they look at your face weirdly, and hopefully, as if you are about to solve the mystery shrouding his movements.
Waiting for their voices to be heard over the election din, Manjit Kaur, mother of missing five-year-old Sheru, and another relative in Buchar Kalan village in Tarn Taran district. — Tribune photo by Pawan Sharma


They have ID-cards, but can't vote
Bathinda, January 27
Many of them have been residing in Ward No.10, Beant Nagar, for the past about two decades and were taken aback when they did not find their names in the fresh voter list. Upset over the denial of voting rights in the Assembly poll, they accused the staff involved in the preparation of electoral rolls of misguiding them.

Beant Nagar residents show their voter identity cards in Bathinda on Saturday. — Tribune photo by Kulbir Beera

Price hike will prove Cong's undoing: Jaitley
Gurdaspur, January 27
The BJP general secretary, Mr Arun Jaitley, today managed to get disgruntled leaders campaigning for the party. Mr Jaitley, along with the Gurdaspur BJP MP, Mr Vinod Khanna, held a meeting with BJP workers in the Pathankot and Sujnapur Assembly constituencies.

Cricketer-turned-politician and BJP candidate for the Amritsar Lok Sabha seat Navjot Singh Sidhu addresses a press conference with party leader Arun Jaitley in Amritsar on Friday. — PTI photo
The Lalls and Lallis of the state
Chandigarh, January 27
If Haryana boasts of several Lals as political heavyweights, Punjab has its own share of Lals and Lallis. The difference, if any, is in connotation of the word Lal or Lalli or Lalji...
parallel economy
Corporates decide to please all
Chandigarh, January 27
With campaigning gathering steam, it is not just the fortunes of politicians and political parties, but also that of big corporates, at stake.
294 papers rejected in 17 dists
Chandigarh, January 27
Nomination papers of 294 candidates in 17 of the total 20 districts were rejected during scrutiny today. Twentyeight nominees, the largest number, were rejected in Jalandhar district.
Parliamentary Secys resign
Chandigarh, January 27
Almost all Chief Parliamentary Secretaries and Parliamentary Secretaries in Punjab have submitted their resignations as a precautionary step to guard against disqualification in the Assembly elections. The resignations have been accepted.
Phagwara: Old rivals to slug it out
Phagwara, January 27
Both Mr Joginder Singh Mann of the Congress and Chaudhury Swarna Ram of the BJP, candidates for the Phagwara (SC) seat, are trying to get credit for the Satnam Pura railway over bridge, the construction of which is under way.
Triangular contest in Hoshiarpur
Hoshiarpur, January 27
The Hoshiarpur Assembly segment is witnessing a triangular contest among the Bharatiya Janata Party-SAD alliance, the Congress and the Bhaujan Samaj Party. The BJP has fielded Mr Tikshan Sood, who won the two previous elections.
Farmers' posers to parties
Chandigarh, January 25
A substantial section of farmers in Punjab is still undecided as to which party to support in the coming Assembly elections. These farmers have some posers for frontrunners of political power in the state.
Sidhu, Singla file papers amid chaos
Amritsar, January 25
Supporters of the BJP and the Congress as well as mediapersons jostled with one another to enter the office of the District Returning Officer as Mr Navjot Singh Sidhu, cricketer-turned- politician, and Mr Surinder Singla arrived in the District Courts complex to file papers for the Amritsar Lok Sabha seat here today.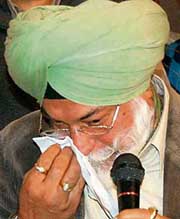 Bir mellows down; not to contest
Mohali, January 25
In a reversal of stand, sitting MLA from Kharar Bir Devinder Singh today said he would neither stand as an Independent candidate nor quit the Congress. In what he described as his "last press" conference till the elections, he said he was felt hurt and humiliated at the treatment meted out to him by the party high command.



Bir Devinder Singh breaks down at a Press conference in Mohali on Thursday. — Tribune photo by Vicky Gharu

Not in fray for CM's post, says Sukhbir
Hisar, January 25
Rajya Sabha member and former Punjab Chief Minister Parkash Singh Badal's son Sukhbir Badal said here today that he was not in the fray for the post of the Punjab Chief Minister.
Fidayeen attack feared during poll
Jalandhar, January 25
Jammu and Kashmir-based militants may carry out a fidayeen (suicide) attack in Punjab in an attempt to disrupt the ongoing process of assembly elections.
EC whip: Contestants fall in line
Bathinda, January 25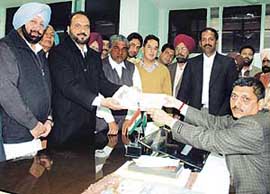 With the Election Commission cracking the whip on top leaders of political parties , the official nominees of the ruling party today fell in line and took utmost care to adhere to the Model Code of Conduct. Congress candidate from Bathinda Harminder Singh Jassi was very careful as he filed papers in the presence of Chief Minister Capt Amarinder Singh.
Congress candidate from Bathinda Harminder Singh Jassi files his nomination papers in the presence of Chief Minister Capt Amarinder Singh in Bathinda on Thursday. — Tribune photo by Kulbir Beera

1.69 cr voters; 17,000 booths
Chandigarh, January 25
Punjabis love their fairs and festivals. Ditto for elections. The number of contestants in an election has been on an upswing with observers claiming that there could be more candidates luring the over 1.69 crore voters than the last time.
Hussainiwalas want trade route back
Ferozepore, January 25
The electorate here has one issue - revival of trade with Pakistan through the Hussainiwala route. Once, the trade was stopped in 1971, the economy changed. Hotels, restaurants, cinema houses, and trading houses handling cargo closed down. Various spin-offs with them like transporters, porters, taxi operators also shifted base.
ENTHUSIASM UNBOUND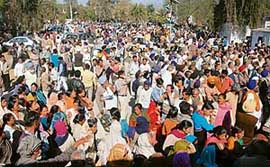 SAD-BJP supporters outside the office of the Returning Officer at Anandpur Sahib on Thursday. — Tribune photo by Pradeep Tewari
Big stink in Ludhiana
Ludhiana, January 25
A need as basic as a urinal has emerged as the main poll issue for shopkeepers and residents of Block-I in Sarabha Nagar.
District Report
Hoshiarpur open to grab
Hoshiarpur , January 25
The eight Assembly segments of the Hoshiarpur parliamentary constituency are keeping all contenders on the tenterhooks, showing no clear preference. Having taken a lead in campaigning in other parts of the state, the Shiromani Akali Dal candidates have completed round one in four of the eight segments it is contesting from, but poll partner Bharatiya Janata Party has been a let down.
Jasjit Singh files papers
Mohali, January 25
SAD-BJP alliance candidate from the Kharar constituency Jasjit Singh put up an impressive show of strength at Dasehra ground before filing his nomination papers here today.
ME & MYSELF
Jobs, education on his mind
Ghanaur, January 25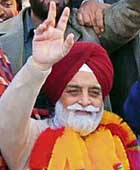 His priority is employment generation and providing quality education in the Ghanaur Assembly segment in the home district of the Punjab Chief Minister, Capt Amarinder Singh. "After the creation of infrastructure such as roads, drinking water facilities and flood-control measures during the past five years, the main focus is going to be on provision for quality education in the predominantly-rural constituency if the Amrinder Singh government is voted back to power," says Mr Jasjit Singh Randhawa, Minister for Cooperation and Horticulture.
For councillors, all roads lead to Punjab
Chandigarh, January 25
Come Monday and local councillors and politicians will be more visible in Punjab than the city. With less than three weeks left for polling in the Assembly elections, the local political fraternity is all set to start campaigning there in support of their respective party candidates.
1.78 lakh voters to decide candidates' fate in Banur
Dera Bassi, January 25
Over 1.78 lakh voters will decide the fate of candidates in the Banur Assembly segment. According to sources, as many as 31 polling stations have been declared "hyper-sensitive" and 32 "sensitive" out of the 173 polling stations in the segment. Of the 1,78,603 voters, there are 93,849 males voters and 84,754 female voters.
It's development vs anti-incumbency in Banur
Banur, January 25
With the last date for filing nominations ending today, battle lines have been drawn for the crucial Banur Assembly segment in the run-up to the February 13 elections to the Punjab Assembly.
1,662 nominations
Chandigarh, January 25
A total of 736 candidates today filed their nominations, the last day for filing nominations for the Punjab Vidhan Sabha elections.
Khanna's men to oppose Sood
Hoshiarpur, January 25
Mr Tikshan Sood, MLA, received a jolt when a majority of office-bearers of the district unit close to Mr Avinash Rai Khanna, MP and BJP chief , Punjab, resigned soon after he filed his nomination papers here yesterday.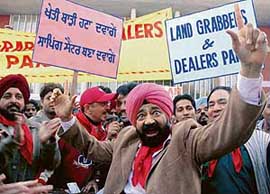 This party for 9 to 5 corruption
Chandigarh, January 25
Chandigarh's comedian Jaspal Bhatti, (in)famous for lampooning politicians, is at it again. With elections to the Punjab Assembly round the corner, the satirist today found yet another way to mock at the "corrupt" political class by floating the "Land Grabbers and Dealers Party".
A PARTY WITH A DIFFERENCE: Jaspal Bhatti and members of the Nonsense Club at the launch of the "Land Grabbers and Dealers Party" at the Sector 17 Plaza in Chandigarh. — Tribune photo by Manoj Mahajan

Notices issued to SAD, Cong candidates
Mohali, January 25
The SDM-cum-Returning Officer, Mr Sandeep Hans, has issued notices to the SAD and the Congress candidates asking them to furnish details of the expenditure incurred on rallies that were held by them at the Dasehra ground in Phase VIII here.
Uma's party fields 19
Chandigarh, January 25
On the last day of filing of nomination papers, the Bharatiya Jan Shakti Party fielded 19 candidates, including two women, besides deciding to support 11 others.

First Gujjar woman in fray
Balachaur (Nawanshahr), January 25
When you meet her for the first time, she appears like any woman next door. A Gujjar and first woman contestant from Balachaur, Ms Santosh Kataria, has a simple, straight and yet a confident style of eloquence.
EC deputes 3 Observers
Fatehgarh Sahib, January 25
The EC of India has deputed three Election Observers for the Sirhind and Amloh(R) Assembly constituencies of Fatehgarh Sahib district.
POLL BYTES
AISAD merges with SAD
LUDHIANA: The All-India Shiromani Akali Dal, led by Mr Jaswant Singh Mann, on Friday merged with the newly constituted Shiromani Akali Dal. Mr Arnrik Singh Aliwal will be acting president.