Chorus in Tataland
Netted: Corus in $13 billion deal
Shiv Kumar
Tribune News Service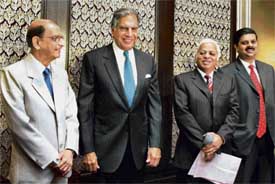 Ratan Tata (second from left), Chairman of Tata Steel, N.A. Soonawala, Vice-Chairman, Tata Sons, B.Muthuraman and Kaushik Chatterjee of Tata Steel at a press conference to announce acquisition of Corus in Mumbai on Wednesday. — PTI photo

Mumbai, January 31
The two-month-long suspense over the acquisition of British steelmaker Corus came to an end early this morning here with the Tatas beating Brazil's CSN to bag the company.

With both bidders locked in a battle for Corus, the race for Corus went into an auction process as mandated by Britain's takeover laws. The auction was to have lasted 10 hours but concluded in 8.5 hours when the Tatas bid five pence higher than CSN's 603 pence per share to win Corus and emerge as the world's fifth largest steel maker.

With the price paid by the Tatas, the enterprise value of Corus has been pegged at $13 billion.

The Tatas said here today that they would now approach the Board of Corus Group Plc to formally accept the bid. The acquisition is to be completed in about six weeks.

The acquisition of Corus marks the largest such takeover by an Indian company.

"This feels good as it shows resilience of the Indian economy. Global perception about India is changing. Consolidation in the industry is an important step for competitiveness," said Mr Kamal Nath, Minister for Commerce and Industry, in a statement.

The auction process comprising nine rounds called by the UK Takeover Panel began at 10 p.m. (IST) on Tuesday.

Tata Steel had initially bid $9.2 billion against CSN's higher $9.6 billion last month, prompting the UK Takeover Panel to intervene and pick the winner through open bidding.

Under the auction norms, each suitor was required to raise bids by a minimum of five pence per share.

Tata Group Chairman Ratan Tata, who was up all night to monitor the auction process, insisted that he had paid a fair price for the acquisition. "We have to pay for getting the company... as a prudent management, we had taken a view that we would not go beyond a point..we did not reach that point... had we reached, we

would have walked away," Tata said shortly after the deal was concluded.

Tata Steel would pump in around $ 4.1 billion with the rest coming from financiers, Ratan Tata said. Tata Sons, the holding company of Tata Steel, is expected to come up with the money.

Mr Tata added the deal was a moment of great fulfilment for India. "Now Tata Steel has a global footprint and we can fulfil our global aspirations," he said.

Mr Ratan Tata said the acquisition marked the entry of Indian steel companies in Europe. "Tata will have a major role in creating the presence of Indian companies in Europe. Ours will grow and integrate with Tata Steel. Some of Corus' members will stay back with us and I look forward to a worthwhile business," he said.

Corus, which brings in a capacity of 19 millions tones per annum, will also help the Indian steel giant in improving its technology. "Europe requires high-quality service and Corus will help us in fulfilling those needs. Corus will also help Tata Steel in improving our technology," Tata Steel Managing Director B.Muthuraman explained.

The Managing Director said that Corus management and work practices were similar to Tata Steel and they were "planning to form an executive committee for the two companies".

Meanwhile, analysts continue to be sceptical about the long-term prospects of Tata Steel's takeover of Corus. Standard & Poor's Ratings Services said today that it maintained its 'BBB' long-term corporate credit ratings on Tata Steel Ltd (Tata Steel) on CreditWatch with negative implications. At the same time, Standard & Poor's retained its 'BBB' foreign currency rating on Tata Steel's senior unsecured bank loans of $750 million and $500 million on CreditWatch with negative implications.