Windows Vista is finally here
Naveen S Garewal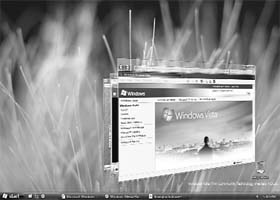 Microsoft's new operating system, Windows Vista has finally been launched globally across 70 countries. This has been accompanied by the IT giant's much awaited 2007 Office System. Though in India the operating system was formally launched in Mumbai on Tuesday, it is already available at the 1500 Microsoft resellers in the country.
Codenamed Longhorn, Vista will be available in four consumer editions and has a host of new interactive features that include a redesigned user interface and visual style, named Windows Aero, an acronym for Authentic, Energetic, Reflective, and Open. Windows Vista will phase out the Windows XP operating system, which has been the operating system of choice for more than five years.
According to Microsoft, the operating system has made remarkable changes in terms of search, security, connectivity and ease of usage. Some of the most significant features included in Windows Vista include an updated graphical user interface and visual style, improved searching features, new multimedia creation tools such as Windows DVD Maker, and completely redesigned networking, audio, print, and display sub-systems.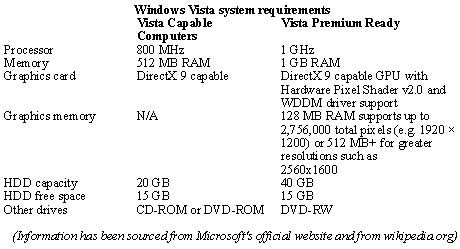 Vista also aims to increase the level of communication between machines on a home network using peer-to-peer technology, making it easier to share files and digital media between computers and devices. For developers, Vista introduces version 3.0 of the .NET Framework, which aims to make it significantly easier for developers to write high-quality applications than with the traditional Windows API.
The genuine Windows Vista Loaded PCs in India will retail at a starting price of Rs 22,000 while Microsoft 2007 Office consumer edition starts at Rs 6,000. The four editions of Windows Vista that will retails across the globe are Ultimate, Windows Vista Home Premium, Windows Vista Home Basic and Windows Vista Starter. The Microsoft 2007 Office is available in two editions of Office Home and Student 2007 and Office Basic 2007.
Microsoft expects to reach 18 million customers in the next 30 days of the launch. Company sources in Mumbai said that it had already sold nearly nine lakh licenced editions to corporates. Vista is also available for download from Microsoft's website.
Microsoft's primary stated objective in developing Windows Vista has been company CEO Bill Gates' concern for security. One of the most common criticism of Windows XP and other version of Windows has been its susceptibility to hacking and vulnerability to malware, viruses and buffer overflows. Vista incorporates a number of Digital Rights Management technologies aimed at restricting the copying of protected digital media, and the usability of new features such as User Account Control.
To run Vista a computer will need to have a 800 MHZ processor and 512 MB RAM, besides 15 GB free hard disk space and a CD /DVD Rom.
Pros: Good for graphic intensive applications.
Very high on security.
Multiple applications.
Integrated resources for multimedia applications.
User friendly.
Built in speech recognition
Cons: Requires high end hardware equipment.
Memory hungry.
High initial procurement cost.
Overkill for simple data entry operations.
Glitches are likely to surface from time to time.
Current hardware may not support Vista.
New features / Changes in Vista
Windows Aero: a new hardware-based graphical user interface to make Vista aesthetically pleasing

Windows Shell: Different from Windows XP, it offers a new range of organisation, navigation, and search capabilities.

Windows Explorer: Its task pane has been removed, integrating the relevant task options into the toolbar.

Instant Search: Search as you type is significantly faster.

User Account Control is perhaps the most significant and visible of these changes. User Account Control is a security technology that makes it possible for users to use their computer with fewer privileges by default.

BitLocker Drive Encryption, a data protection feature included in the Enterprise and Ultimate editions of Vista that provides encryption for the entire operating system volume.

Windows Sidebar: A transparent panel anchored to the side of the screen where a user can place Desktop Gadgets, which are small applets designed for a specialised purpose (such as displaying the weather or sports scores).

Integrated Explorer 7: It has new user interface, tabbed browsing, RSS, a search box, improved printing, Page Zoom, Quick Tabs.

Windows Media Player 11, a major revamp of Microsoft's programme for playing and organising music and video. Has ability to share music libraries over a network with other Vista machines, Xbox 360 integration, and support for other Media Center Extenders.

Backup and Restore Center: Allows scheduled periodic backups of files. It also features CompletePC Backup (available only to Ultimate, Business, and Enterprise versions).

Windows Mail: A replacement for Outlook Express that includes a completely replaced mail store that improves stability, and enables real-time search. Windows Calendar is a new calendar and task application.

Windows Photo Gallery: WPG can import from digital cameras, tag and rate individual items, adjust colors and exposure, create and display slideshows (with pan and fade effects), and burn slideshows to DVD.

Windows DVD Maker, a companion program to Windows Movie Maker, which provides the ability to create video DVDs based on a user's content.

Windows Meeting Space is the replacement for NetMeeting.

Windows Media Center, which was previously exclusively bundled as a separate version of Windows XP, known as Windows XP Media Center Edition, will be incorporated into the Home Premium and Ultimate editions of Windows Vista.

Windows Mobility Center is a new control panel that centralises the most relevant information related to mobile computing.

Parental controls: Allows administrators to control which websites, programs, and games each standard user can use and install.

Windows SideShow: Enables the auxiliary displays on newer laptops or on supported Windows Mobile devices.

Speech recognition is fully integrated into Vista.