PUNJAB

HARYANA

JAMMU & KASHMIR

HIMACHAL

REGIONAL BRIEFS

NATION

OPINIONS

MAILBAG

BUSINESS

SPORTS

WORLD


M A I N N E W S
Bibi style — Notes & votes
Aditi Tandon
Tribune News Service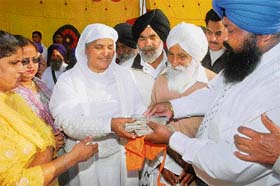 Jaswinder Billa of Miani Bhagupurian makes an offering of Rs 2 lakh to Bibi Jagir Kaur, head of Sant Prem Singh dera, Begowal, when she stopped by the village during her campaign on Thursday. — Tribune photo by Pawan Sharma
Bholath, February 2
It's raining money on Bibi Jagir Kaur these days. She steps out of her dera to garner votes every morning and returns richer by several lakhs each night. No wonder in Bholath, the constituency she has represented twice, she is known as a 'note and a vote catcher.' But before any eyebrows are raised, she makes herself clear. "The offering is made to the dera that my father-in-law Sant Prem Singh founded," she says.
She starts her day listening to people's problems at the dera and goes on to attend weddings and bhogs. Her campaign is intensely personal. In Bholath heartland, heads bow instinctively to the Akali heavyweight and hands rain money. The offerings get heavier with every stop. Packets filled with lakhs lie scattered around in Bibi's Qualis as she covers 128 villages, one by one.
About money, Bibi remains casual, so do the people. After all, she arranges Dalit weddings on every November 17, her grandson's birthday. She arranged for the wedding of 450 couples last year.
"People here have a tradition of offering notes and votes," jokes the Bibi, complacency surrounding her persona. She cracks jokes, make faces and dons a girlish charm as easily as she dons a hardline former SGPC chief's mantle.
She seeks votes as a matter of right: "Development took place only during our regime. People are not blind. They won't be bought over," says the Bibi, halting first at Ballochak, a Dalit village, which defeated her last time. She makes a speech here, deriding opponents without naming them. "They have not given you drinking water, pensions, jobs, roads or education. Sant Prem Singh and the Akalis have given you that. Your choice is your destiny," she says and leaves, but not without collecting Rs 15,000 the village has offered.
At Feroze Sangowal, a Lubana village, the sarpanch's family offers her Rs 50,000. the Bibi halts for tea at his residence. Then the rally begins amid slogans. At all other halts, things are much the same. Only the amount of offering changes. At Fatehgarh, the village offers Rs 1 lakh. At Dolowal, Baba Kuldeep Singh, a small dera head, offers Rs 61,000. Waiting in line to make an offering is a representative of Mr Charanjit Chadha from the Chief Khalsa Diwan. He requests Bibi to "honour him by accepting Rs 2 lakh."
Then comes Miani, Bibi's favourite village, where a riot of saffron greets her. Offerings also get better as people vie for Bibi's attention. Kashmir Singh, back from US to vote, offers her Rs 1 lakh, but is soon outdone by Jaswinder Billa, who presents Rs 2 lakh.
It is 5 pm and 7 lakh are already lying in the Qualis. There are four more villages to go and, perhaps, four more offerings too.