Realty rules repo rate
Demand will continue to dictate the market, finds out S. Satyanarayanan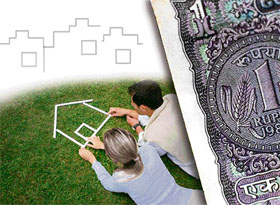 The RBI Governor's announcement of hiking the repo rate by 0.25 percentage point and tightening of provisioning requirements on loans to the real estate sector is all set to increase the cost of loans to the realtors and thus enhance the prospects of new house owners having to pay more to own a house. However, analysts strongly feel that the RBI's step, aimed at checking the credit flow to the real estate sector in the backdrop of inflationary trend, is unlikely to dampen the boom in the sector.
Genuine buyers pin hopes on Budget
Will FM shatter 'dream houses' of small investors, questions R. Suryamurthy
With inflation soaring and the Reserve Bank of India (RBI) taking policy measures to rein in on the money supply, it is expected that the banks would raise the interest rate on housing loans.
Alternative building material unit for Panchkula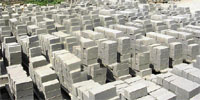 Lower costs of construction, greater durability and earthquake-resistant buildings - these are just a few benefits that flow from using alternative construction material for buildings. And, shortly this material will be easily available, courtesy a recent initiative of Panchkula administration.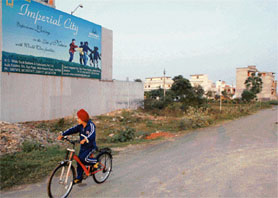 Buyers go slow in Amritsar
Property business turns sluggish in PUDA-approved colonies, says Ashok Sethi
As the winter sets in and the temperatures plummet, the enthusiasm generated in the real estate of the Holy City two years ago with the thaw in the Indo-Pak relations has also been on the wane for the couple of weeks.
Itching to offload their investment, a large number of financers and real estate developers have been offering several options.

All's not well with Gurgaon condominiums
Builders bend rules to suit their needs, says Ravi S. Singh
Condominium culture is here to stay, defining top tier way of living. However, the seamy side portrays an allegedly unholy nexus between those in government and the private players who build condominiums much to the dismay of the purchasers of apartments in them.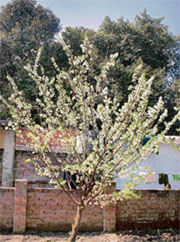 GREEN HOUSE
Choose fruit-bearing trees for bigger houses
Always select region-suitable plants, suggests Satish Narula
We have recently been discussing the horticulture for those living in apartments. Let us now familiarise ourselves with a few 'on-the-ground' realities. Those on the ground have the main advantage of mother earth. Go in for the plantation of best of the trees but with some planning.
TAX tips
Computing gains post-acquisition
Q. I had purchased an agricultural land about 20 years back on which I was carrying on the operations for about 10 years. Thereafter, I could not carry on such operations on account of a visit outside India where I stayed for about a period of five years.
Spanish villas in Chennai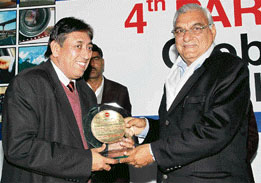 Alliance Group, a Bangalore-based real estate developer with over Rs 2,250 worth of projects in hand, has announced its entry into Chennai with the launch of Bougainvi1lea, an upmarket 300-villa project at Porur.
Mr Vinod Behl, Editor of India's first real estate and infrastructure monthly, Realty Plus, receives a trophy from Haryana Chief Minister Bhupinder Singh Hooda. Mr Behl has been honoured with the Outstanding Achievement Award for meritorious contribution towards creating wider awareness and interest for infrastructure development.

Buzz on Bourses
Welspun to open outlets
Ludhiana: Welspun Retail Limited, part of Welspun Group, is planning to open 200 retail outlets under the brand of 'Spaces' and 'Home Mart' across the country within next fiscal and targeting a turnover of Rs 500 crore within next five years. "We have plans to strengthen our footprint across the country by opening 200 new retail outlets on home furnishing products in 2007-08. The stores will cover Tier II and Tier III cities.