AUDIOSCAN
A spiritual treat
Kabir by Jagjit Singh (Times Music)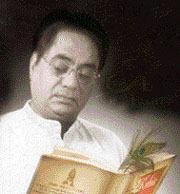 Of late, Jagjit Singh has been concentrating more and more on spiritual singing. The results are elevating, to say the least. When he sang in praise of Krishna, many had opined that this was about the best of his career. Well, he has excelled himself yet again while rendering Kabir.
Kabir's philosophy is simple and exalted at the same time. True to this tradition, Jagjit too has performed in an extremely simple way. Music has also been composed and arranged by Jagjit. The album opens with Paani mein Meen pyaasi re`85. As the nectar flows from the pen of one of the greatest personalities of the Bhakti Movement, Jagjit only has to speak it out in a no-frills manner.
Other gems like Rehna nahin des birana hai `85, Hari bun kaun sahay `85 and Apne karam ki `85 unfold the entire philosophy of Kabir before us.
These and other compositions form a wonderful amalgam of Hindu and Muslim philosophy. Kabir tells you to bring into union the personal soul (jivatma) with God (Parmatma). All bhajans are soaked in pristine devotion.
My favourites are dohas like Dukh mein sumiran sab kare sukh mein kare na koye. Jo sukh mein sumiran kare to dukh kahe ko hoye `85; Aisi vaani boliye, man ka aapa khoye.Apna tan sheetal kare, auran ko sukh hoye`85; and Bada hua to kya hua, jaise ped khajoor. Panthi ko chhaya nahin, phal lage ati dur", which figure at the very end.
Anwar (Sa Re Ga Ma)
Listening to some of the songs of this film, you are bound to feel that these have been rendered by some close relative of the late Ustad Nusrat Fateh Ali Khan. But make no mistake. The singer is actually Pankaj Awasthi, who does not happen to be even remotely connected with the Pakistani maestro.
The range of his voice and his training manage to create rare magic. To cap it all, he has also composed all the songs that he has contributed.
Music for the rest of them has been rendered by Mithoon and Ghungroo (just one song).
The album opens with Maula mere maula`85, sung with tremendous feeling by Roop Kumar Rathod. After that it is Pankaj Awasthi all the way. What haunting ambience he generates while rendering Dilbar mera`85, Jo maine aas lagayee `85, Into the Black`85 and Mela – Shadow of Sunlight`85!
If Megha Sriram attracts attention through her Bangla khula khula`85 amidst such domination, it is only because her singing is a true replica of the kind done by nautch girls in days of yore. The lyrics are explicit, which she renders with gay abandon. The lyrics of Dharam Sarthi seem destined to be a big hit. No wonder the song also has a remix version.
In Javeda Zindagi `85, the only duet that the album has, Kshitij and Shilpa Rao give a good account of themselves.
The music scene is surely undergoing a sea change. Otherwise, who would have dared a few years ago to weave an entire album along semi-classical lines.
— ASC