Golden warriors
The fortunes of their teams rest on them. They are a force to reckon with and have been record-setters many times over. These cricketers have another thing in common: they are all past 35, close to retirement but still going stronger than ever. The upcoming World Cup could see them at their best.
Abhijit Chatterjee on the lasting winners, who have not let age tamper with their cricketing skills. Time, in turn, has only lent them more experience and bettered their performance.
AGE OF GLORY: (From left) Sanath Jayasuriya, Brian Lara, Inzamam-ul-Haq and Adam Gilchrist
They are akin to the experienced gladiators who are willing to go on and on. The long years on the cricket field have not dimmed their skills, or their exuberance. Even now they are willing to learn new tricks. At a time when most of their contemporaries have retired and are looking at a life beyond the game, these warriors are getting ready for the greatest cricketing show, the ICC World Cup, which begins on March 13. Going by their present form, it would not be surprising if they leave a big impact on the event.
Of late, one-day cricket has become a physically grueling game. There was, it seemed, no place for older players and anybody on the wrong side of 30 was considered too old for the slam-bang version. But these golden warriors, all over 35 and spread across several countries, have started getting ready for the World Cup and, if all goes according to the script, should play a stellar role in the campaigns of their teams.
In India, players like Sourav Ganguly or VVS Laxman found it difficult to find a place in the one-day squad not only due to their form but also due to their age (both are about 33) and the effect it had on their fielding abilities. But things are changing. While the former has not only regained but cemented his place in the playing eleven with a superb return to form, Laxman finds himself in the players shortlisted for the World Cup squad.
True, the fielding of the seniors might not be as sharp as that of young players like Mohammad Kaif and Suresh Raina, but they more than make up for it with their batting skills and experience.
Spin wizard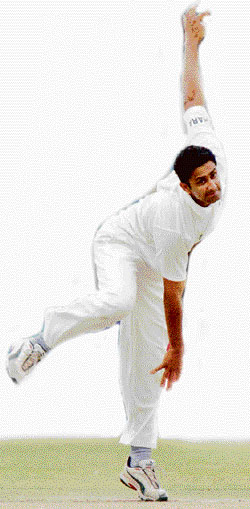 Anil Kumble has fought hard to regain his place in the one-day squad
As far as India is concerned, the spotlight will be on Anil Kumble, whose golden fingers have won many a Tests for India. Kumble's performance on the tour of the West Indies last year has helped him claw his way back into the one-day side. He might prove to be India's trump card during the World Cup in the Caribbean.
Born on October 17, 1970, Kumble looks as good, may be better, as he did when he made his debut in one-dayers against Sri Lanka in Sharjah in April, 1990, the year he also got his Test cap. Since then he has picked up 331 one-day wickets and 547 Test wickets and looks good for more. The selectors have given him the option of deciding which of the matches he wants to play. A player with no airs who allows his bowling to do all the talking, the Karnataka leggie has been a role model for spinners around the world.
Kumble's performance in ODIs peaked in 1996, the year the World Cup was held in the Indian subcontinent. That year he claimed 61 one-day wickets at an average of 20.24. Known as "Jumbo" to his team-mates, Kumble is an ideal foil for India's pace attack.
Master blaster
A year senior to Kumble is Sri Lanka's batting pivot Sanath Jayasuriya, who is likely to play a major role in his team's fortunes in the World Cup. Powerfully built, Jayasuriya is one of the finest cricketers to emerge from the island nation. Not only has he shouldered Sri Lanka's batting but has also contributed as a slow left-arm orthodox spinner, as his 284 one-day wickets will testify.
Born on June 30, 1969, Jayasuriya was promoted up the batting order on Sri Lanka's tour of Australia in 1995-96 and since then he has never looked back. His explosive batting helped his team win the 1996 World Cup and he was also adjudged the player of the tournament. All but one of his 23 centuries have come at the top of the batting order and with four centuries in 2006, Jayasuriya has already given notice that he is still at the peak of his powers.
Run machine
Hosts West Indies, who have won the World Cup twice, will be looking up to their skipper Brian Lara to take a crack at their third crown. Lara, on the wrong side of 37, could well be the senior most player of the World Cup. One of the greatest batsmen the game has seen, Lara has so far scored over 21,000 international runs, with 11,953 coming in Tests, in which he holds the world record for the highest individual score (400). But more than the records, it is the electrifying presence of Lara on the field that galvanises the Windies to perform better.
In September, 2004, he led the West Indies to a surprise victory in the ICC Champions Trophy in England. The team would now be hoping that he repeats the feat for the World Cup at home. Last year, Lara was reappointed captain of the squad for the third time and would probably want to sign off in style. Like all players of his age, his reflexes have slowed down a bit but his appetite for runs and his commitment to the cause of the team can never be faulted.
Fast and furious
Of all the cricketers it is the fast bowler who is most vulnerable to wear and tear. The playing career of a fast bowler is shorter compared to that of a batsman or a spinner. But this assumption has been proved wrong by 36-year-old Australian Glenn McGrath. He has announced that the World Cup will be his swansong. During his illustrious career, he has claimed 342 wickets in one-dayers and 557 in Tests. McGrath (together with the now retired Shane Warne) has been a leading contributor to Australia's domination in international cricket. He rewrote the World Cup record books in the 2003 edition when he had figures of seven for 15 against the hapless Namibians, who are probably yet to recover from that nightmare.
McGrath contemplated retirement soon after the last World Cup when he was plagued by a nagging ankle injury but he bounced back with yet another five-wicket haul against Sri Lanka at Darwin in July, 2004. Three months later, at Nagpur, he became the first Australian fast bowler to play 100 Test matches and then reaffirmed his greatness by destroying Pakistan at Perth with figures of eight for 24. This was his best Test bowling figures and the second-best ever by any Australian.
Swashbuckler
McGrath will be depending a lot on the safe hands of Adam Gilchrist behind the stumps during the World Cup. Born on November 14, 1971, the Australian wicketkeeper-batsman, made his ODI debut at Faridabad in October, 1996, and since then has gone from strength to strength. His Test debut came about two weeks later against Pakistan, at Brisbane. In a career spanning 253 one-dayers and 90 Tests, Gilchrist has scored over 13,000 runs and has claimed nearly 800 victims. His recent form has been patchy, but he is still one of the sweetest timers of the ball in the world.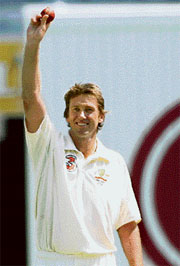 Having retired from Test cricket, Glenn McGrath will quit one-dayers after the World Cup
Gentle giant
His easy gait and apparent laid-back attitude hides the great cricketing skills which Pakistan's Inzamam-ul-Haq has. At 36, he will be among the oldest players at the World Cup. Making his one-day debut against the West Indies in 1991, Inzamam — Inzy to friends as well as foes — has so far played 370 ODIs in which he has scored over 11,500 runs at an average of just below 40. His Test record is even more impressive, with over 8,600 runs at an average of 50.38. His running between the wickets is ridiculously bad, but the power and range of his strokes is amazing.
He was in his early twenties when he shot into limelight with a match-winning whirlwind knock against New Zealand in the semifinal of the 1992 World Cup. Pakistan went on to beat England in the final, in which Inzamam came up with a valuable cameo. As he gets ready for what would be his last World Cup, the Pakistan team would be hoping for an encore from the great batsman.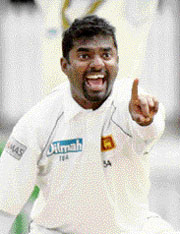 The Sri Lankan team continues to bank on Muralitharan to knock off rival batsmen
Next in line
Like Anil Kumble, another spinner who should leave his mark on the World Cup is Muttiah Muralitharan, who will turn 35 during the last phase of the event. With 432 wickets in one-dayers (and another 674 in Tests), the class of the spinner, popularly called Murali, has been never in doubt.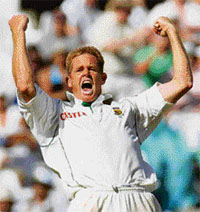 South Africa's Shaun Pollock has been among the best all-rounders in the world for the past decade or so
The Sri Lankan bowler has been in the eye of a storm over his action, especially his doosra, and has been called for chucking in Australia. But this in no way can take away his record (he is set to overtake Australian spinner Shane Warne later this year). But, with plenty of cricket left in Murali, there is every possibility that when he decides to finally retire from international cricket, no contemporary would be anywhere near his record.
The World Cup could also be the swansong of veteran players like Shaun Pollock of South Africa and Stephen Fleming of New Zealand. The left-handed New Zealand batsman has been leading his team since 1997 and is the longest-serving captain in international cricket.
Removed as captain after South Africa's poor performance in the 2003 World Cup, a tournament in which they were among the favourites, Pollock has contributed handsomely with the bat and the ball consistently. Recently, he was the player of the series against India in Tests as well as one-dayers.