stamped Impressions
Heís made a difference to Nawanshahr
Reeta Sharma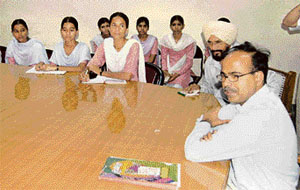 Krishan Kumar interacts with students learning computer skills under the Sarv Sikhya Abhiyan
Deputy Commissioner of Nawanshahr Krishan Kumar is in news once again. Sometime last year we mentioned in this column how well he had streamlined and computerised the pubic utility services offered by the Nawanshahr administration.
Now, he has done the state proud by effectively checking the incidence of foeticide. This one-man army did not use any dictatorial methods to curb the killings of girls much before their birth. He not only succeeded in motivating the youth to spread awareness through demonstrations and protests but also plugged all loopholes in the system, which were instrumental in increasing foeticide in Punjab.
Krishan Kumar has ensured that the greedy and self-centred politicians do not take advantage of voters. During the last assembly election, it was shocking to note that many politicians had distributed not only free alcohol but also drugs along with injections. As expected, this time the quantum of alcohol and drugs for distribution is bound to rise because of the obsessive desire of the politicians to grab power.
It is for the first time in the history of Punjab that a deputy commissioner has used his powers to obstruct the free flow of alcohol in his district. Krishan Kumar passed an order under Section 144 of the CrPC, banning vends to sell liquor without recording the identity and age of the buyer. Besides, except to the licence holders, vends would be able to sell only two bottles to a person at a time. The buyers will have to show a proof of identity, be it their voter card, driving licence, ration card or passport. Also, persons below the age of 25 cannot buy liquor as per the Punjab state excise policy.
But this policy has never been enforced in the state as even children are frequently seen buying liquor for their fathers and teenagers for themselves. After Krishan Kumarís orders, liquor vendors in Nawanshahr will not be able to flout the rules openly. Politicians will find it difficult to freely distribute alcohol to the voters.
As expected, the liquor lobby has gone to the court against this order. However, what is significant to note is that Krishan Kumar is driven by that passion of a public servant that is largely missing in the bureaucrats of the country. This is visible in his every action.
Take yet another example wherein he has not only used Sarv Sikhya Abhiyan to make girls of Nawanshahr computer savvy but has also ensured that the companies outsourcing should make use of their services for data compiling. These girls were earlier unable to get employment, as the Sarv Sikhya Abhiyan lay underutilised.
For optimum use of this scheme, he opened as many as 14 centres in Nawanshahr district in addition to the one already being run by the Red Cross. The Department of Sainik Welfare also runs a centre to train girls in computers. As computers have become an integral part of our lives and all official dealings are bound to become online, the job prospects of these girls have brightened. With the Punjab Government going in for computerisation in a big way, Nawanshahr district itself will need hundreds of computer-skilled workers in the immediate future. Trained girls from these centres have already been picked up by private banks, insurance companies and call centres. These centres are also being utilised for outsourcing by the local Lions Club, Rotary and schools.
Krishan Kumar continues to surprise with his innovative approach to serve people. Just recently he handed over the Red Cross Canteen on a rather reasonable rent to a womenís self-help group. The members of this group are young widows and other needy women. There are 10 women working in this canteen, which now speaks of improved hygiene and a sparkling sitting area.
Remember the Suvidha Centre that Krishan Kumar founded in his district? It has become a model worth emuating for the entire country. All inquiries of the public are attended to at this centre within minutes. Nobody has to slog in queues. Any dealings with the deputy commissionerís office, which are always in plenty, are handled in a jiffy. NRIs of Nawanshahr could not have been happier and proud of India as now whatever certificate or information they want is made available to them on phone or online and the delivery is guaranteed through courier within 15 days.