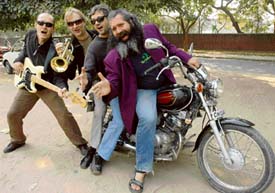 All that Jazz
The foursome from France is all set to take music lovers on a trip of their kind of music, says Smriti Sharma
Going by their looks and outfits one might just mistake them for rock stars, but they are the hip-n-happening jazz musicians who are here to play their kind of jazz music and this one, they promise is going to be rocking. And for the first time, music lovers will get to listen to a fusion of piano and synthesiser. When it comes to jazz, even this foursome, agrees, Miles Davis is an unbeatable king of jazz. Ask them what's their definition of jazz and they are quick to add, "attitude, language, tradition, an act of integrating concepts and improvisation. It's about breaking the boundaries, no matter what the accompanying instruments are'.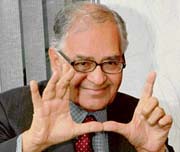 Roving eye
Going by the number of filmmakers and Bollywood stars visiting the city for work and pleasure, the city seems to have finally arrived on the filmi circuit. Keeping the inflow intact, Friday saw veteran cameraman and director of over a 100 documentaries, G.L. Bharadwaj in town.



FRAMING INDIA: G.L. Bharadwaj — Photo by Parvesh Chauhan
COOL STUFF
Flatter your looks
Designer Mini Singh has something very special and trendy for you to celebrate spring. She has designed some rarest and cool stylish options in perfect soothing colour combinations and different shades like greenish yellow, wine red, onion red, pink, pretty purple, magnetic magenta and chocolate. And, the ranges include sarees, salwar suits, lehengas, short trousers, kurtis and short cocktail dresses.
WORD PLAY
PREFIXES II
Last week we looked at the prefixes 'ante' and 'anti' and how they change the meaning of the word they are attached to. Today we see how the prefixes circum-and-de-operate.
BON APPETIT
A Steamy Affair
There's something about steamed puddings — very old-fashioned, very comforting and very British indeed. They are relatively less popular because this is the jet-age and no one has the time and patience required for the laborious steaming process.


More than a 1000 words
Pradeep Tewari, winner of the prestigious 4th Annual Photoshare Photo Contest
Parbina Rashid
It was by sheer chance that the assignment to cover an athletic meet for slum children organised by Pustak, a voluntary organisation, fell into Pradeep Tewari's lap. But the scene he captured had nothing to do with luck or co-incidence. It was years of experience of covering sport events that got him the right shot and the 'Best of Show' award at the 4th Annual Photoshare Photo Contest sponsored by the INFO Project at the John Hopkins Bloomberg School of Public Health.


WINESOME: The man and his award winning picture
Sizzling delights
Courtesy the ever-proliferating hotel industry in the city, food festivals are tickling the discerning foodie's palette like never before. Italian, Mexican, Chinese, Thai, Lebanese, Punjabi tadka, it's all here.
FILM & FASHION
Stefani plays cupid
American pop star Gwen Stefani sees a possibility of Brangelina's daughter Shiloh Nouvel becoming her future daughter-in-law. Gwen is playing cupid to her eight-month-old son, Kingston Rossdale who regularly plays with Brad Pitt and Angelina Jolie's baby daughter.
As clear as crystal
In the world of glass, crystal of any kind is considered supreme. Elite homes display their crystal artefacts with great pride. It is a prestigious and costly possession.
---