Science in the time of hi-tech
Is there as much focus on basic science as there is on technology and inventions? Srabanti Chakrabarti poses for this question to renowned names in the field of science and technology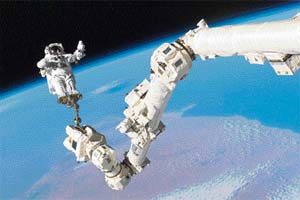 IN 2004, 39.2 million students became graduates and 9.3 million students qualified as postgraduates in India. Out of them 8.6 and 1.8 million, respectively, were science students, says the India Science Report, 2005.
In the budget outlay for 2005-06, the Finance Minister announced an unprecedented grant of Rs 100 crore for modernisation of the Indian Institute of Science, Bangalore. In the next annual close to the same amount was kept aside for modernisation of IITs.
— In 2005, no less than 57 per cent of the students at the plus-two level expressed their desire to pursue science for higher studies.
The Government of India spends around 4 per cent of the country's GDP on education.
These figures, from official documents, suggest an increasing interest amongst students in science and the government supporting and facilitating it with special grants to different institutions and through budget outlays.
This trend is not without any reason. The government today acknowledges the fact that the best way to transform a developing country to a developed one is to ride piggyback on science and technology.
But are the scientists doing justice to the faith reposed in them by the nation? Are they making good use of the funds? Are they coming up with inventions and discoveries that will help the country turn into a developed country? The answers are both 'yes' and 'no'. While the technologists have been more than successful in creating a happy story post-Independence, it doesn't look like everything is hunky-dory when it comes to basic science.
Be it space technology, telecom, software, pharmacology or nuclear technology, we have crossed new barriers in the last few decades and made it possible for the overall development of the nation to take place. But the same cannot be said about basic science.
Agrees Dr Ashok Jhunjhunwala, professor of electrical engineering and Head, Telecommunications and Computer Network group, IIT, Chennai, "This has happened because there has been more work done by the industry. The collaboration between academia and industry has worked very well in the last few decades and thus the resultant success stories in the fields of communication technology, bio-technology, drug discovery and auto and auto components technology."
Dr Jhunjhunwala, who received the Padma Shri in 2002 and is on the Prime Minister's Scientific Advisory Committee, adds, "The other reason behind the success is the fact that technology involves more of team and interdisciplinary work. In India, we have always achieved success in fields where we have been able to get teamwork going and bring in inter-disciplinary work."
Dr Jhunjhunwala's revolutionary CORDECT technology for rural telephony is a perfect example. Using completely indigenously developed technology, Dr Jhunjhunwala and his team of engineers could bring down the cost of implementing telecom solutions in rural areas by 75 per cent. His visionary approach of partnering with the industry also worked wonders and today his technology and implementation model is being replicated in a number of developing countries.
Dr B. K. Mathur, Head of the Department of Physics, IIT, Kharagpur, disagrees with the opinion that technology has progressed more than basic science in India, "This is not entirely true. Technological progress becomes visible immediately because of its commercial value." This, he feels, is the reason behind the thinking that there has been more happening on the technology front.
Dr Sugata Sanyal from the School of Technology and Computer Science, however, has a different opinion and feels that we have still not made much progress in basic technology. He argues, "Fundamental progress in technology is still happening abroad. We are just applying those concepts. Though we are capable of making path-breaking discoveries, we are still using copies of technology developed abroad and mostly customising it."
Dr Sanyal maintains that countries in the West are using Indian brain and developing fundamental technology much better. "We have a huge IT force but they are mostly busy doing outsourced jobs as the return on investment is high. Have you ever thought about how much new technology development is happening in India? Not much, if you ask me. We can do much more. We are lacking in utilisation and proper coordination," he explains.
Explains Dr Mathur, "Based on indigenous technological developments or adaptation of foreign technology, the progress in our country is phenomenal. But, let me also confirm that development in fundamental scientific research is not lagging behind either. Unfortunately, scientific progress becomes visible only when it glows in technological terms or development of commercially viable applications."
This, Dr Mathur admits, gives rise to the thought that there is not much happening in basic science.
Dr Sanyal asserts the possible reason behind this could be our education system. He says, "Our education system allows very little focus for the student to try out new things and invent something. The approach is self-limiting and doesn't encourage any experiments whatsoever."
There was the occasional shade of brilliance though in the last few decades. The Ray Chaudhuri equation, developed by physicist Amal K. Raychaudhuri helped stalwarts like Stephen Hawking and Roger Penrose in their work and the same is well-acknowledged all over the world.
Jayant Narlikar's work on cosmology also deserves mention as one of the major achievements in Indian science post-Independence. The director of the Inter-University Centre for Astronomy and Astrophysics, Narlikar worked with legendary physicist Fred Hoyle to come up with the famed Hoyle-Narlikar theory.
And, of course, there is physicist Ashoke Sen's work on string theory (a concept in modern physics according to which everything in the universe is made up of one-dimensional objects like strings and not particles as is believed).
Dr Sanyal corroborates, "Contrary to popular belief, we are doing very well in science. People here are better in theoretical science than in practical engineering. To reiterate again, we have tremendous potential — it is a pity that we are working for others, not for our motherland."
Chips in Dr Mathur, "Guess we need to do more on marketing of our scientific progress to make it visible."
Adds Dr Jhunjhunwala, "The thought of end of science is definitely not correct. Technology thrives on basic science and today we are reaping what basic science did in the past. But for tomorrow, as well as for some pressing problems of today, basic science alone needs to work. I also feel that some more inter-disciplinary work is needed."
Dr Sanyal puts forward another example, "Have we conquered AIDS, cancer, worry, irrationality? Unfortunately, no. And it is the job of basic science to get answer to all these. The more we conquer problems, the more problems will come up, so there is no lack of problem, no limit to learning and no limit of science."
So, one feels, all that is required to move forward is better synergy between the cause and the effect to ensure that both science and technology in our country are aligned and move together to transform India into a developed nation.